Character archetypes
Caradoc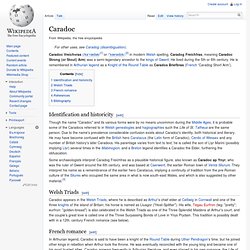 Caradoc Vreichvras ( pron.: / k ə ˈ r æ d ə k / [ 1 ] or / ˈ k ær ə d ɒ k / ; [ 2 ] in modern Welsh spelling, Caradog Freichfras , meaning Caradoc Strong (or Stout) Arm ) was a semi-legendary ancestor to the kings of Gwent . He lived during the 5th or 6th century. He is remembered in Arthurian legend as a Knight of the Round Table as Carados Briefbras ( French 'Caradog Short Arm'). [ edit ] Identification and historicity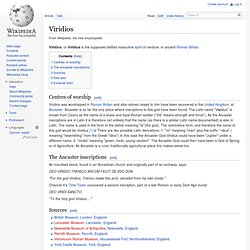 Viridios , or Viridius is the supposed deified masculine spirit of verdure, in ancient Celtic polytheism . [ edit ] Centres of worship Viridios was worshipped in Roman Britain and altar-stones raised to him have been recovered in the United Kingdom , at Ancaster . Ancaster is so far the only place where inscriptions to this god have been found. The Latin name "Vi s idius" is known from Cicero as the name of a brave and loyal Roman soldier ("Vis" means strength and force"). As the Ancaster inscriptions are in Latin it is therefore not unlikely that the name (as there is a similar Latin name documented) is also in Latin.
Viridios
Category:Cephalophores
Ysbaddaden
Ysbaddaden props up his eyelids (Illustration by John D. Batten , 1892) Ysbaddaden Bencawr ; "Ysbaddaden, Chief of Giants," is the primary antagonist of the Welsh romance Culhwch ac Olwen .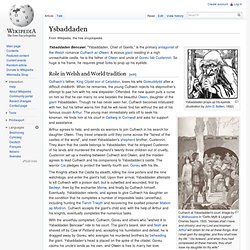 Bronze hand used in the worship of Sabazios ( British Museum ). Roman 1st-2nd century CE. Hands decorated with religious symbols were designed to stand in sanctuaries or, like this one, were attached to poles for processional use. Sabazios ( Ancient Greek : Σαβάζιος ) is the nomadic horseman and sky father god of the Phrygians and Thracians .
Sabazios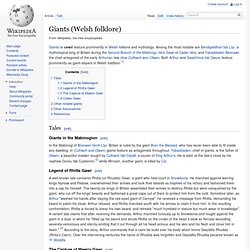 Giants (Welsh folklore)
Giants or cewri feature prominently in Welsh folklore and mythology. Among the most notable are Bendigeidfran fab Llyr , a mythological king of Britain during the Second Branch of the Mabinogi , Idris Gawr of Cader Idris , and Ysbaddaden Bencawr , the chief antagonist of the early Arthurian tale How Culhwch won Olwen . Both Arthur and Gwalchmai fab Gwyar feature prominently as giant-slayers in Welsh tradition. [ 1 ]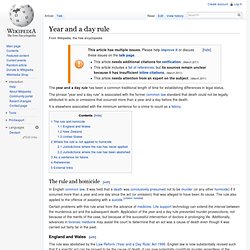 The year and a day rule has been a common traditional length of time for establishing differences in legal status. The phrase "year and a day rule" is associated with the former common law standard that death could not be legally attributed to acts or omissions that occurred more than a year and a day before the death. It is elsewhere associated with the minimum sentence for a crime to count as a felony .
Year and a day rule
Green Man
A Green Man is a sculpture , drawing , or other representation of a face surrounded by or made from leaves . Branches or vines may sprout from the nose, mouth, nostrils or other parts of the face and these shoots may bear flowers or fruit. Commonly used as a decorative architectural ornament , Green Men are frequently found on carvings in churches and other buildings (both secular and ecclesiastical ). "The Green Man" is also a popular name for English public houses and various interpretations of the name appear on inn signs, which sometimes show a full figure rather than just the head.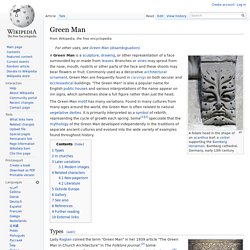 Dying god
Saint George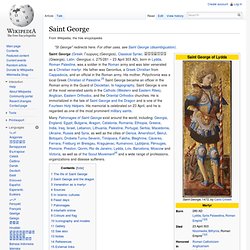 Saint George (c. 275/281 – 23 April 303) was a Greek who became an officer in the Roman army. His father was the Greek Gerondios from Cappadocia Asia Minor and his mother was the Greek Polychronia from the city Lyda . Lyda was a Greek city in Palestine from the times of the conquest of Alexander the Great (333 BC), however it is now known as its Hebrew name Lod and is now a part of modern Israel .
Mother goddess
Mother goddess is a term used to refer to a goddess who represents motherhood, fertility , creation, or who embodies the bounty of the Earth . When equated with the Earth or the natural world such goddesses are sometimes referred to as Mother Earth or as the Earth Mother . Many different goddesses have represented motherhood in one way or another, and some have been associated with the birth of humanity as a whole. Others have represented the fertility of the earth. [ edit ] Paleolithic figures The Venus of Dolní Věstonice , one of the earliest known depictions of the human body, dates to approximately 29,000–25,000 BC ( Gravettian culture of the Upper Paleolithic era)