Gardening
Welcome
Montana Plant Life - Flora and Identification of Edible, Medicinal and Poisonous Plants
Project Homestead
The snow is finally subsiding here, and I'm reappearing after a long respite. Such a busy and wonderful Winter has melted into a sweet Spring. Why? Well, because the balance of life seems to be finally tipping in the direction of ease. So much of the past couple of years has seemed, well, .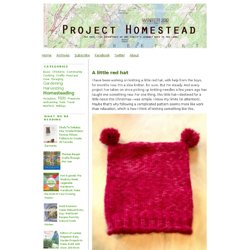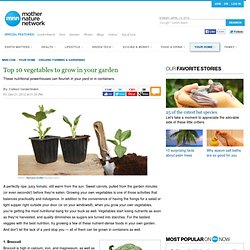 A perfectly ripe, juicy tomato, still warm from the sun. Sweet carrots, pulled from the garden minutes (or even seconds!) before they're eaten. Growing your own vegetables is one of those activities that balances practicality and indulgence.
Top Ten Most Nutritious Vegetables and How to Grow Them in Your Garden : TreeHugger - StumbleUpon
– "Organic gardening is not just a middle-class hobby. It's part of the wider environmental movement, it's part of a sustainable future. I believe that you could feed the whole world using organic methods." -- Jackie Gear, Executive Director of the HDRA, Britain's Organic Association, 1991. – "The truth, so effectively suppressed that it is now almost impossible to believe, is that organic farming is the key to feeding the world." – "Biotech has bamboozled us all -- Studies suggest that traditional farming methods are still the best", The Guardian, August 24, 2000 http://www.guardian.co.uk/lifeandstyle/ 2000/aug/24/foodanddrink.ethicalfood – "Organic farming could produce enough food to feed large populations, according to British scientists at the Festival of Science in Sheffield." – "Organic farming can 'feed the world'", BBC Science, September 14, 1999 http://www.purefood.org/Organic/orgfeedworld.cfm– "Feeding the world?"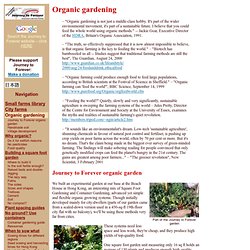 Organic gardening: Journey to Forever organic garden - square foot gardening, container gardening, how to grow healthy food anywhere - StumbleUpon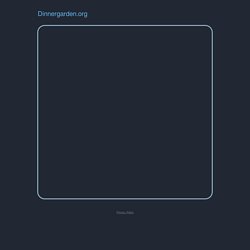 Grow your own ginger Ginger is an essential ingredient in Asian cooking. Growing your own is easy and provides an endless supply of ginger for your cooking. You also get an ingredient that is new to most American palates: ginger grass.
Grow plants from your groceries, like ginger root and pineapple! - StumbleUpon
Do-It-Yourself Soil Test - How to Test Soil Acidity/Alkalinity without a Test Kit - StumbleUpon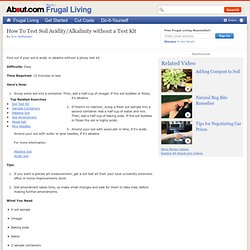 Find out if your soil is acidic or alkaline without a pricey test kit. Difficulty: Easy Time Required: 15 minutes or less Here's How: Scoop some soil into a container.
FREE Two-Day Shipping is available to Amazon Prime members. To join, select "Yes, I want FREE Two-Day Shipping with Amazon Prime" above the Add to Cart button and confirm your Amazon Prime free trial sign-up during checkout. Amazon Prime members enjoy: Unlimited Free Two-Day Shipping Instant streaming of over 40,000 movies and TV episodes A Kindle book to borrow for free each month - with no due dates Important: Your credit card will NOT be charged when you start your free trial or if you cancel during the trial period. If you're happy with Amazon Prime, do nothing.
Montana Native Plants & Early Peoples (9780917298295): Jeff Hart, Jacqueline Moore
Kitchen Compost Pail (Bucket, Bin) – DIY, Easy, and Frugal
Making Dirt – Part 1 Note: This is part one of a two part article on compost. Read part two – DIY vermicomposting worm farm – here.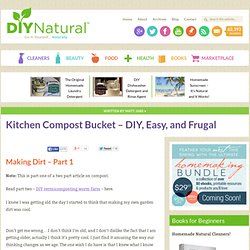 unnamed pearl
It took over 20 years of gardening to realize that I didn't have to work so hard to achieve a fruitful harvest. As the limitless energy of my youth gradually gave way to the physical realities of mid-life, the slow accretion of experience eventually led to an awareness that less work can result in greater crop yields. Inspired in part by Masanobu Fukuoka's book, One Straw Revolution, my family experimented with gardening methods which could increase yields with less effort. Fukuoka spent over three decades perfecting his so-called "do-nothing" technique: commonsense, sustainable practices that all but eliminate the use of pesticides, fertilizer, tillage, and perhaps most significantly, wasteful effort. Here are the strategies we used which enabled us to greatly increase our garden yield, while requiring less time and less work. 1.
5 Secrets to a 'No-work' Garden | Eartheasy Blog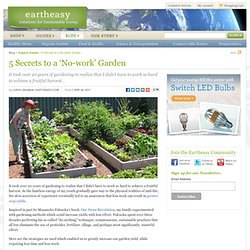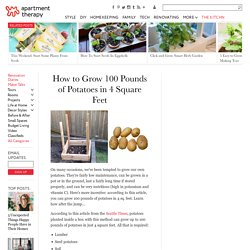 On many occasions, we've been tempted to grow our own potatoes. They're fairly low maintenance, can be grown in a pot or in the ground, last a fairly long time if stored properly, and can be very nutritious (high in potassium and vitamin C). Here's more incentive: according to this article, you can grow 100 pounds of potatoes in 4 sq. feet. Learn how after the jump... According to this article from the Seattle Times, potatoes planted inside a box with this method can grow up to 100 pounds of potatoes in just 4 square feet.
How to Grow 100 Pounds of Potatoes in 4 Square Feet | Apartment Therapy Re-Nest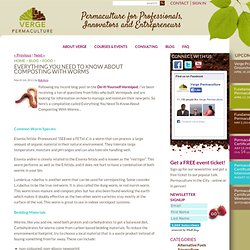 Everything You Need to Know About Composting With Worms | Verge Permaculture
Following my recent blog post on the Do-It-Yourself Vermipod, I've been receiving a ton of questions from folks who built Vermipods and are looking for information on how to manage and maintain their new pets. So here's a compilation called Everything You Need To Know About Composting With Worms… Common Worm Species Eisenia fetida: Pronounced "iSEEnee a FETid a", is a worm that can process a large amount of organic material in their natural environment. They tolerate large temperature, moisture and pH ranges and can also tolerate handling well. Eisenia andrei is closely related to the Eisenia fetida and is known as the "red tiger".
The DIY Modern Outdoor Succulent Planter #2 | Apartment Therapy Los Angeles
Make Your Own Pop Bottle Drip Irrigation System | You Grow Girl
The last time I forgot to water my outdoor potted plants and discovered them completely wilted and hanging on the cusp of near death, I decided it was time to take action. Some of the plants on my deck receive a full, searing sun all day long during the hottest mid summer days. While these plants thrive under such conditions if properly taken care of, they will die quickly if they don't receive enough water.
Seeds of Change Homepage
How to build My 50 Dollar Greenhouse » The Door Garden
First off – you really can build this thing very cheaply, but to do so you have to recycle, freecycle, and scrounge. If you just go out and buy new everything it will probably cost over $200 – still not bad all in all.This Article is featured in Jan 2010 issue of Birds and Blooms Magazine!Want to find out if this thing works before you read all this? Read 6 months in the Greenhouse first.Want to see what happens when a few inches of wet snow accumulates on this? Collapse!Building the Greenhouse Doors is addressed in a separate article – isn't this enough for one weekend?
Sustainable Everyday Project
The aim of the Beehive Tower is to provide the Canary Wharf community of city dwellers a place to garden and live. The tower's hexagonal mega structural lattice contains greenhouse spaces that also serve as a place for people to meet and socialize. Each hexagon is 8 stories high and contains 8 duplex apartments.
Beehive Tower is a Honeycomb Inspired Vertical Farm for London
Nutritional Integrity Many vegetables today lack nutrition from over-hybridization. Recent tests are showing that many of the vegetables, grains and other produce you buy, INCLUDING ORGANIC PRODUCE, are nutrient-deficient. If you want to truly be in charge of your nutritional intake, you must home garden. If you want the higher nutrition of original varieties you must use non-hybrids. Economic security and independence Growing your own food, now, is becoming an economic necessity for many.
Non-Hybrid Seeds | Non-Hybrid Vegetable Fruit Grain Herb Seeds