Herb Garden
Get flash to fully experience Pearltrees
Allium schoenoprasum Chives are bulb plants, although the bulbs are so tiny that you might not realize they're there. These plants produce beautiful, globelike pink and lavender blossoms. A perennial, chives grow to about 18 inches high and thrive in Zones 3 to 9. Growing Guide
Sweet basil is a bushy annual, 1 to 2 feet high, with glossy opposite leaves and spikes of white flowers. Basil leaves are used in cooking, imparting their anise (licorice) flavor to dishes. Many cultivars are available with different nuances of taste, size, and appearance, including cultivars with cinnamon, clove, lemon, and lime overtones, as well as purple-leaved types such as 'Dark Opal' and 'Rubin'. One of the most popular herbs in the garden, basil adds fine flavor to tomato dishes, salads, and pesto.
Illuminate your backyard with these easy glow-in-the-dark stepping-stones. Alison Auth Heidi Hess Here's a nifty idea that's both affordable and virtually foolproof. With some concrete and a little glow-in-the-dark paint, you can have an illuminated pathway in nothing flat, perfect for midnight strolls under a full moon. The beauty of these stepping-stones is that it doesn't matter how long, short, wide or narrow your area is.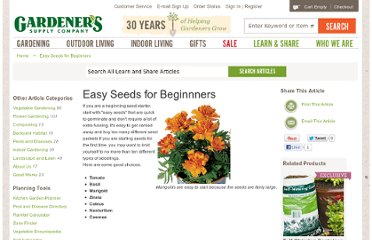 If you are a beginning seed starter, start with "easy seeds" that are quick to germinate and don't require a lot of extra fussing. It's easy to get carried away and buy too many different seed packets If you are starting seeds for the first time, you may want to limit yourself to no more than ten different types of seedlings. Here are some good choices: Tomato Basil Marigold Zinnia Coleus Nasturtium Cosmos
There are several good reasons to start your own plants from seed. You have a wider range of varieties open to you than you would have if you purchased plants from your local nursery. It's much more economical. For the price of one plant you can buy a few packets of seed, resulting in dozens (and up to hundreds) of plants. And, it's fun.
Over 60 varieties of herb seeds to choose from. #HR 33 - ANGELICA (Angelica archangelica) - The dried leaves of angelica can be used in an infusion (tea) to improve energy, stimulate circulation, reduce flatulence and as a warming expectorant. Has antibacterial and antifungal qualities. Prefers a partly sunny location, rich soil and plenty of moisture. Sends up ribbed stalks the second year of growth, bearing light green flowers. Height - 6 feet.
Thursday, March 28, 2013 Back to the Arboretum Home Page Arboretum Information || Events & Education || Gardens & Horticulture || Research Activities New Plant Introductions || Support the Arboretum || Comments Last Updated March 2, 2012 9:30 AM URL = http://www.usna.usda.gov/Hardzone/index.html narj
How many times has your grocery store been out of fresh basil, rosemary or mint? With a little planning, you can build your own 24-hour supply of garden-fresh herbs. Even a small garden can infuse your kitchen with heavenly aromas and striking flavor. When growing herbs, location is key.
Many Herbs are herbaceous; they die back to the ground in winter. Thoughtful pruning is not necessary for these varieties, just chop it off to the ground any old time. Usually this will be when you harvest or when you cut back to get rid of the flowers. At the very least, you will do this at the end of the growing season. Some herbaceous herbs are Oregano, Chives, Sweet Fennel, Winter Savory, Tarragon, Bee Balm and Mint. Herbaceous Herbs can even be mowed several times a year to keep them free from old and dead branches.