Garden
Raised garden beds. After assembly, all you see are clean lines without exposed unsightly nails, bolts, screws or pins.
All of the exposed edges of the wood are individually beveled and hand sanded to a furniture-like finish...no sharp corners. Because of the superior quality and aesthetic appeal, many of our raised beds have been approved for use in communities governed by homeowner and condominium associations. The raised garden bed pictured on the top left shows the center support brace which ensures the integrity of the raised bed, eliminating any possibility of the sides bowing due to the weight of the soil. We include a center support brace and center posts in all our raised beds which are over 5 feet long. Each raised garden bed can also be adapted with an. Local Harvest / Farmers Markets / Family Farms / CSA / Organic Food.
Crop rotation
Garden planning. Seeds. Specific plants. Weekend Gardener - Horticulture for Busy People. Generate your own vegetable planting calendar on-line. I've put together a planting calendar that will calculate the planting dates for crops for whatever zone you're in.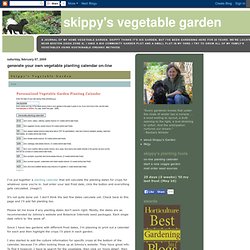 Just enter your last frost date, click the button and everything gets calculated. (magic!) Plant Hardiness Zone Map. USDA Plant Hardiness Zone Map The 2012 USDA Plant Hardiness Zone Map is the standard by which gardeners and growers can determine which plants are most likely to thrive at a location.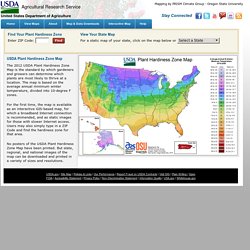 The map is based on the average annual minimum winter temperature, divided into 10-degree F zones. For the first time, the map is available as an interactive GIS-based map, for which a broadband Internet connection is recommended, and as static images for those with slower Internet access. Users may also simply type in a ZIP Code and find the hardiness zone for that area. The Salvia Divinorum Grower's Guide - [www.rhodium.ws]
Contents ContentsEntering The UroborosStarting From An Unrooted CuttingConstructing A Humidity ChamberRooting In WaterWaiting For Roots To FormPlanting In SoilConstructing A Humidity TentGrowing Outside A Humidity TentOptimum Growing Parameters Soil Temperature Misting, Watering & Feeding Light Hydroponic Cultivation Growing Medium Nutrient Management Pests White Flies Spider Mites Aphids Scale Snails Problems Browning Leaf EdgesYellow LeavesSlow Growth Pruning For Maximum Leaf ProductionHarvesting LeavesDrying LeavesProducing SeedTaking CuttingsTail-To-MouthBibliographySources For Salvia DivinorumInformation Resources `Few have heard of it.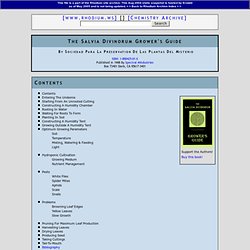 Fewer know what it looks like. Fewer still have ever met the sagely ally, yet the alliance forms invisible links wherever it goes...' Earthmaker. Gardening for Bees in Michigan. Beginner guide to growing chile peppers. By Julian Livsey This guide is for anyone who has somehow hit on the idea that it would be fun to grow chile peppers.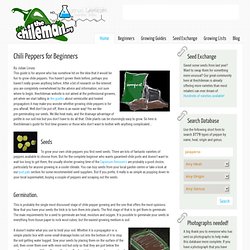 You haven't grown them before, perhaps you haven't really grown anything before. After a bit of research on the internet you are completely overwhelmed by the advice and information; not sure where to begin. thechileman website is not aimed at the prefessional growers, yet when we start talking in the guides about vermiculite and heated propagators it may make you wonder whether growing chile peppers is for you afterall. Well don't be put off, there is an easier way! Yes we like pre-germinating our seeds. Tomato Dirt: growing tomatoes, gardening tips, tomato facts. Gardeners Supply Company - Garden Supplies, Tools, and Gardening Tips.
Gardening. Garden Guides, Your Guide to Everything Gardening. CyberBeeNet (Biology, Research, Beekeeping) Free garden journal and gardening organizer. Home Farming. Vegetable Gardening @ the Vegetable Patch: manage your beds with crop rotation and keep pests and diseases at bay. Looking for a safe organic way to keep pests and disease under control in your vegetable patch?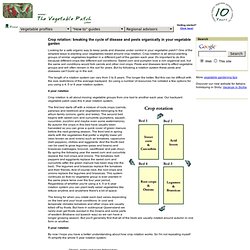 One of the simplest ways is planting your vegetables based around crop rotation. Crop rotation is all about planting groups of similar vegetables together in a different part of the garden each year. It's important to do this because different crops like different soil conditions. Sweet corn and pumpkin love a rich organical soil, but the same soil conditions would fork carrots and other root crops. Pests and diseases tend to effect vegetable groups and will often remain in the soil for years. l424.pdf (application/pdf Object) GardenWeb - The Internet's Garden Community. Learn2Grow. Index. Garden Organic - celebrating 50 years of organic growing - organic gardening, farming and food. New Home Page. SULIS - Sustainable Urban Landscape Information Series: U of MN.
Michigan Interactive USDA Plant Hardiness Zone Map. Let's garden lansing. National Arboretum - USDA Plant Hardiness Zone Map. Wednesday, April 16, 2014 Back to the Arboretum Home Page Arboretum Information || Events & Education || Gardens & Horticulture || Research ActivitiesNew Plant Introductions || Support the Arboretum || Comments.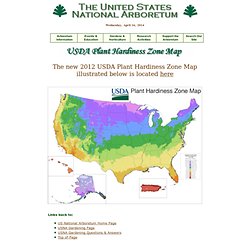 Build a Geodesic Dome Solar Greenhouse to Grow Your Own Food. What do you do when you want to grow your own food, but live here?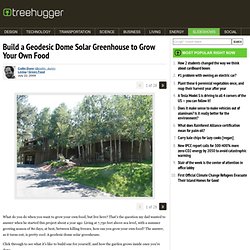 That's the question my dad wanted to answer when he started this project about a year ago: Living at 7,750 feet above sea level, with a summer growing season of 80 days, at best, between killing freezes, how can you grow your own food? The answer, as it turns out, is pretty cool: A geodesic dome solar greenhouse. Click through to see what it's like to build one for yourself, and how the garden grows inside once you're done.
Photo credit: Jim Dunn. Nests_for_native_bees_fact_sheet_xerces_society.pdf (application/pdf Object)
---