Kid Games
Origami-Club: Free & Easy Origami Diagrams Online. If you love the art of paper folding, then you will definitely get hooked with this website.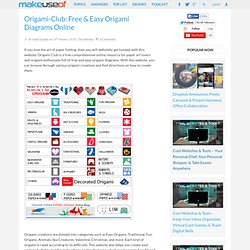 Origami Club is a free comprehensive online resource for paper art lovers and origami enthusiasts full of free and easy origami diagrams. With this website, you can browse through various origami creations and find directions on how to create them. Origami creations are divided into categories such as Easy Origami, Traditional, Fun Origami, Animals, Sea Creatures, Valentine, Christmas, and more. Each kind of origami is rated according to its difficulty. This website also helps you create your origami by following the instructions on the diagrams which can be printed on B5 and A4 paper. Sporcle – Cool Games That Make Learning Fun Again. You've seen the "make your kids love learning!"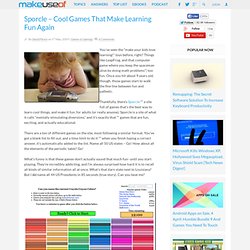 Toys before, right? Things like LeapFrog, and that computer game where you keep the spaceman alive by doing math problems"¦ too fun. 4 Great Papercraft Websites To Waste Time. Whether you're bored at work, like to stimulate the nostalgia, or just love to craft, paper modelling is a real fun way for you or your kids to waste time.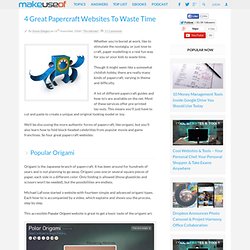 Though it might seem like a somewhat childish hobby, there are really many kinds of papercraft, varying in theme and difficulty. A lot of different papercraft guides and how-to's are available on the net. Most of these services offer pre-printed lay-outs. This means you'll just have to cut and paste to create a unique and original looking model or toy.
We'll be discussing the more authentic forms of papercraft, like origami, but you'll also learn how to fold block-headed celebrities from popular movie and game franchises. 10 Interactive Games To Teach Your Kids Alphabets & Numbers. In the Web 2.0 age, is it any wonder that they are online and browser based education tools?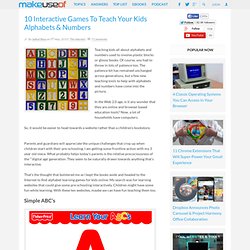 Now, a lot of households have computers. So, it would be easier to head towards a website rather than a children's bookstore. Parents and guardians will appreciate the unique challenges that crop up when children start with their pre-schooling. I am getting some frontline action with my 3 year old niece. 5 Websites To Keep Kids Busy & Happy. Sometimes you just have to get some work done, when all your child wants to do is play with you.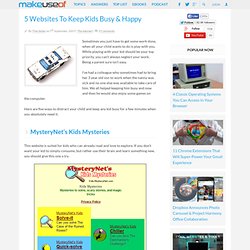 While playing with your kid should be your top priority, you can't always neglect your work. Being a parent sure isn't easy. 5 Cool Free Internet Games for Kids That'll Make them Love Math. For most of us, math is a red rag and kids are no different.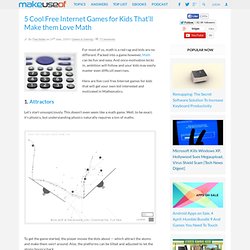 Packed into a game however, Math can be fun and easy. And once motivation kicks in, ambition will follow and your kids may easily master even difficult exercises. Here are five cool free Internet games for kids that will get your own kid interested and motivated in Mathematics. Amanita Design.
---