Crosswords
Crossword Puzzles. Free Online Crossword Puzzles. Boatload of Crosswords is the world's largest supply of crossword puzzles.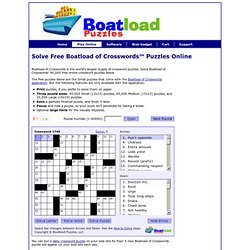 Solve Boatload of Crosswords' 40,000 free online crossword puzzles below. The free puzzles below are the Small puzzles that come with the Boatload of Crosswords application. But the following features are only available with the application: Free Online Crossword Puzzles. USATODAY.com - Life Section puzzles. Free Online Quick Crossword No. 598. The Daily Crossword Puzzle Index - standard American crossword p. The Daily Crossword Puzzle Welcome to the Daily Crossword Puzzle.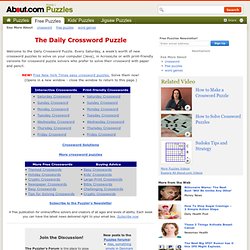 Every Saturday, a week's worth of new crossword puzzles to solve on your computer (Java), in AcrossLite or with print-friendly versions for crossword puzzle solvers who prefer to solve their crossword with paper and pencil. NEW! Free New York Times easy crossword puzzles. Daily Crossword Puzzles. Crosswords & Puzzles (washingtonpost.com) OnlineCrosswords.net - Free Daily Crossword Puzzles.
---