Gamemakers
ClicZone - JClic. JClic is a platform for the creation, playing and evaluation of multimedia educational activities, developed in the Java platform.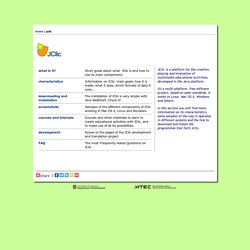 It's a multi-platform, free software project, based on open standards. It works in Linux, Mac OS X, Windows and Solaris. In this section you will find more information on its characteristics, some samples of the way it operates in different systems and the link to download and install the programmes that form JClic. Make Ur Own Game. Multimedia Learning Resources - Educaplay. Hot Potatoes Home Page. :: zondle (beta) – games to support learning - welcome! :: Activiscope.com. Create Activiscope resources for free!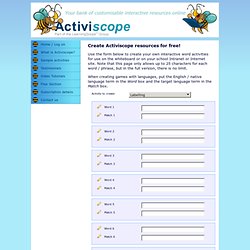 Use the form below to create your own interactive word activities for use on the whiteboard or on your school Intranet or Internet site. Note that this page only allows up to 25 characters for each word / phrase, but in the full version, there is no limit. When creating games with languages, put the English / native language term in the Word box and the target language term in the Match box. .: Ardora :: Creación de actividades escolares :. Free Puzzlemaker.
Create Your Own Games. Create A Quiz: Free Quiz Creation Tool by ProProfs. Free Flashcards Maker: Create Free Online Flash Cards. OCSD Interactive Games. Design Your Own Games Pre-Made Games Matching Game Directions- In this game you can match up words.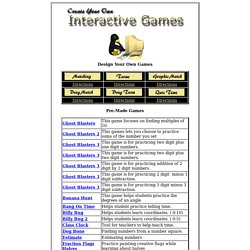 You have two columns to work in . Type in your words in the first column and the matching words in the second column. VignettesLearning.Com. Microsoft Word Games - Board Game Templates by Dr. Jeff Ertzberger UNC Wilmington. Printable Board Games Create your own game board such as "Science Time" or "Ms.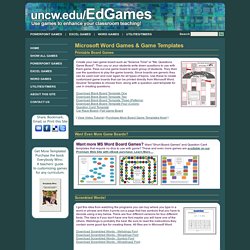 Questions Game Board". Then you or your students write down questions to use with them game. PowerPoint Games. What is Louie Thinking (Pyramid Game Show) Similar to Pyramid Game.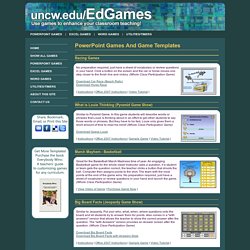 In this game students will describe words or phrases that Louie is thinking about in an effort to get other students to say those words or phrases. But they have to be fast, Louie only gives them a short amount of time to read his mind! (Whole Class Participation Game) Download Guess Louie. Microsoft Excel Games and Templates. Bingo Card Generator That's right just input all your words or numbers into the cells and hit print.
Then click the shuffle button and hit print again. Free Spelling Games And Activities For Kids - By KidsSpell.com. Spelling & Vocabulary Website: SpellingCity. Fun and Free Educational Review Games by Review Game Zone. Bubbabrain, K-12+, AP/IB, SAT Interactive vocabulary practice! JeopardyLabs - Online Jeopardy Template. Magic Studio™ Word Games - Hangman. Super Teacher Tools. Languages Online. ContentGenerator.net - create your own Educational Flash games. What2Learn. ClassTools.net: Create interactive flash tools / games for education.
Kids Games - Play Educational and Fun Online Kids Games! Play Kids Games. Flash cards, vocabulary memorization, and study games. Stu's Quiz Boxes! Student Response Network. Barking & Dagenham College. Sandfields Comprehensive School, Free Flash Resources for Teachers. Quiz Section. WordLearner.com :: Learn Words in Any Language. Flash learning objects. Free demo objects. These activities allow you to create true multimedia activities without having to download any specialised software.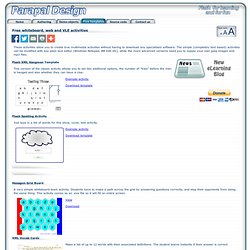 The simple (completely text based) activities can be modified with any plain text editor (Windows Notepad, BB Edit etc), while the more advanced versions need you to supply your own jpeg images and mp3 files. This version of the classic activity allows you to set two additional options, the number of "tries" before the man is hanged and also whether they can have a clue. Example activity.
---