Nouvelles série
Game of Thrones Opening - Metal Edition. Penny Arcade! - The Song Of Something Something. Khal Drogo vs Conan. Game of Thrones Anticipation Station | tor.com | Science fiction and fantasy | Blog posts. A little over a month away from the premiere of HBO's Game of Thrones and excitement for all things George R.R.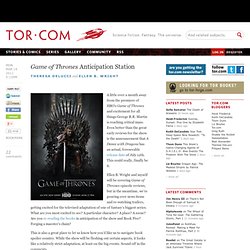 Martin is reaching critical mass. Even better than the great early reviews for the show is the announcement that A Dance with Dragons has an actual, foreseeable release date of July 12th. This could really, finally be it. Ellen B. Mad Movies n°240. Le Trône de Fer : A Dance With Dragons en juillet 2011 ! Après de nombreuses dates de sorties (2007, 2008, 2009...), A Dance With Dragons, cinquième volume de la série Le Trône de Fer (A Song of Ice and Fire), est annoncé pour sortir le 12 juillet 2011.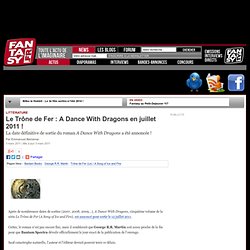 Certes, le roman n'est pas encore fini, mais il semblerait que George R.R. Martin soit assez proche de la fin pour que Bantam Spectra dévoile officiellement le jour exact de la publication de l'ouvrage. Sauf catastrophe naturelle, l'auteur et l'éditeur devrait pouvoir tenir ce délais. Il aura fallu plus de dix ans à Martin pour achever ce roman, censé être à l'origine le troisième, puis le quatrième de la saga. "Hasard" du calendrier, le roman sortira à une semaine près, lors de la diffusion du dernier épisode de la série télévisée Game of Thrones. Game of Thrones: Homepage. Game of Thrones. 'Game of Thrones' Begins Sunday on HBO. With the amount of money apparently spent on "Game of Thrones," the fantasy epic set in a quasi-medieval somewhereland beginning Sunday on , a show like "Mad Men" might have the financing to continue into the second term of a Malia Obama presidency.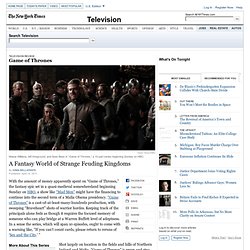 "Game of Thrones" is a cast-of-at-least-many-hundreds production, with sweeping "Braveheart" shots of warrior hordes. Keeping track of the principals alone feels as though it requires the focused memory of someone who can play bridge at a Warren Buffett level of adeptness. In a sense the series, which will span 10 episodes, ought to come with a warning like, "If you can't count cards, please return to reruns of '.' " Shot largely on location in the fields and hills of Northern Ireland and Malta, "Game of Thrones" is green and ripe and good-looking.
Game of Thrones (série télévisée) Un article de Wikipédia, l'encyclopédie libre.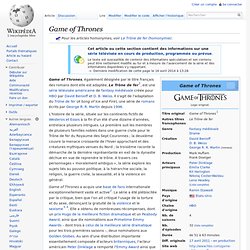 Game of Thrones Logo original. L'histoire de la série, située sur les continents fictifs de Westeros et Essos à la fin d'un été d'une dizaine d'années, entrelace plusieurs intrigues. La première suit les membres de plusieurs familles nobles dans une guerre civile pour le Trône de fer du Royaume des Sept Couronnes ; la deuxième couvre la menace croissante de l'hiver approchant et des créatures mythiques venues du Nord ; la troisième raconte la démarche de la dernière représentante en exil de la dynastie déchue en vue de reprendre le trône. À travers ces personnages « moralement ambigus », la série explore les sujets liés au pouvoir politique, à la hiérarchie sociale, la religion, la guerre civile, la sexualité, et à la violence en général. Game of Thrones: TV Review. Barely a few minutes into HBO's epic Game of Thrones series, it's clear that the hype was right and the wait was worth it.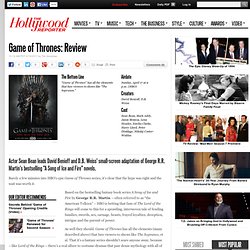 Based on the bestselling fantasy book series A Song of Ice and Fire by George R.R. Martin – often referred to as "the American Tolkien" – HBO is betting that fans of The Lord of the Rings will come to this for a sprawling, interwoven tale of feuding families, swords, sex, carnage, beasts, frayed loyalties, deception, intrigue and the pursuit of power.
As well they should. Game of Thrones has all the elements (many described above) that lure viewers to shows like The Sopranos, et al. That it's a fantasy series shouldn't scare anyone away, because – like Lord of the Rings – there's a real allure to costume-dramas that pair dense mythology with all of the crowd-pleasing elements of war, honor, pride, lust, power and, yes, even humor. Game of Thrones : la saison 2 se précise. Mais, non, toujours pas de feu vert officiel même s'il ne faudra sûrement pas attendre bien longtemps avant de l'avoir.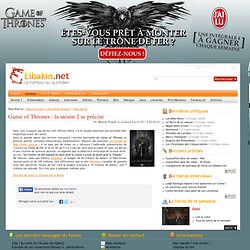 Dans la grande danse des articles entourant l'arrivée prochaine de Game of Thrones se glissent parfois certaines informations intéressantes. Prenons par exemple cet article du Wall Street Journal : il ne paie pas de mine, on y retrouve l'habituelle présentation de l'univers du Trône de Fer et on se dit qu'il n'y a rien de neuf sous le soleil. Et puis, au détour d'une citation de Gemma Jackson, on apprend que la directrice artistique de la série était, je cite, en Croatie, où elle repérait les lieux pour la saison 2 avant de partir pour la Turquie. Par ailleurs, alors que Variety annonçait un budget de 60 millions de dollars, le Wall Street Journal parle lui de 100 millions.
Le Trône de fer : nouvelle bande annonce - Les actus Séries. Alors que nous vous dévoilions il y a quelques jours un nouveau poster promotionnel, Le Trône de fer (Game of Thrones) revient avec deux vidéos dont une bande annonce très efficace et qui centralise toutes les thématiques de la série HBO. on aura des aperçus du rendu visuel exceptionnel de cette adaptation de l'oeuvre héroïc-fantasy de George R.R Martin.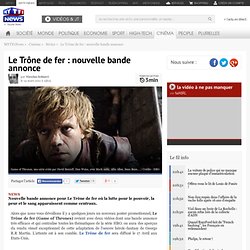 L'attente est à son comble. Le Trône de fer sera diffusé le 17 Avril aux Etats-Unis. Le Trône de Fer, la série TV. Winter Is Coming - News and rumors about HBO's Game of Thrones. Game of Thrones Pilot Synopsis: "Winter is Coming" Game of Thrones is coming to HBO.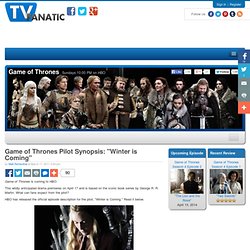 This wildly anticipated drama premieres on April 17 and is based on the iconic book series by George R. R. Game of thrones France, le blog sur la série tv HBO inspirée du Trône de fer. HBO to present the flavors of Westeros in NYC and LA! - Winter Is Coming. HBO has teamed up with an award-winning gourmet chef for a very unique promotional campaign that ties into The Maester's Path.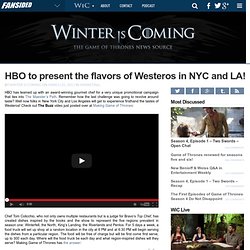 Remember how the last challenge was going to revolve around taste? Well now folks in New York City and Los Angeles will get to experience firsthand the tastes of Westeros! HBO - Making Game of Thrones. Le Trône de fer : un nouveau trailer excellent ! - Les actus Séries. Après The Pacific et Boardwalk Empire, une autre série évènement devrait bientôt faire les beaux jours de la chaîne câblée HBO : Le Trône de fer (Game of Thrones), adaptation de la fameuse saga d'héroïc-fantasy de George R.R Martin...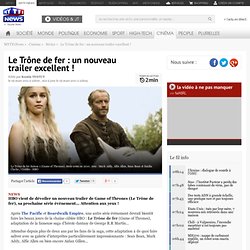 Attendue depuis plus de deux ans par les fans de la saga, cette adaptation à de quoi faire saliver avec sa galerie d'interprètes particulièrement impressionnante : Sean Bean, Mark Addy, Alfie Allen ou bien encore Aidan Gillen... Histoire de nous en mettre encore plein les yeux, HBO vient justement de dévoiler un nouveau et long trailer de la série... AnnuSeries.com : Game Of Thrones - Fiche, guide des épisodes et distribution. Pitch Game of Thrones est l'adaptation du premier tome éponyme de la série littéraire d'heroic fantasy, A Song Of Fire And Ice de George R. R. Making Game of Thrones : un gros documentaire en ligne. Toujours aussi confiante sur le succès de son dernier bébé, HBO se la joue grand seigneur. Seulement quelques jours après avoir mis en ligne le premier quart d'heure du pilote, le network américain continue la promotion de Game of Thrones avec cette fois 25 nouvelles minutes d'images.
Si cette vidéo reprend un grand nombre de visuels déjà mis en ligne par le passé, plusieurs moments restent inédits. L'histoire, les personnages et l'environnement sont une nouvelle fois présentés par George R.R. The Women in Game of Thrones: Cersei Lannister | tor.com | Science fiction and fantasy | Blog posts. Beware: This post has as many spoilers as Cersei has men thinking she's gorgeous... Cersei Lannister from George R.R. Martin's A Game Of Thrones is a strong, beautiful, powerful woman who will do anything to—well, she'll do anything. This Sunday, HBO premieres its Game Of Thrones miniseries, and Cersei's actions and motivations inspire much of the plot. Her diabolicalness is legend (for readers of the books, at least), and it's not until the fourth book in the series, A Feast For Crows, that we actually get events told from her point of view. His lord father had come first, escorting the queen.
---