Anglais
With the amount of money apparently spent on "Game of Thrones," the fantasy epic set in a quasi-medieval somewhereland beginning Sunday on , a show like "Mad Men" might have the financing to continue into the second term of a Malia Obama presidency. "Game of Thrones" is a cast-of-at-least-many-hundreds production, with sweeping "Braveheart" shots of warrior hordes. Keeping track of the principals alone feels as though it requires the focused memory of someone who can play bridge at a Warren Buffett level of adeptness. In a sense the series, which will span 10 episodes, ought to come with a warning like, "If you can't count cards, please return to reruns of '.' " Shot largely on location in the fields and hills of Northern Ireland and Malta, "Game of Thrones" is green and ripe and good-looking.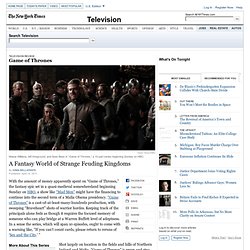 'Game of Thrones' Begins Sunday on HBO
'Game of Thrones:' Proof That If You Put Enough Dirty Sex In Your Nerd Show, Girls Will Watch It Too
If you aren't already DVR-ing it, "Game of Thrones" is HBO's latest buzz show, that basically depicts a power struggle for the throne in a medieval-ish fantasy world. It's based on an obscure novel by George R.R. Martin, which, let's face it, was never really for women.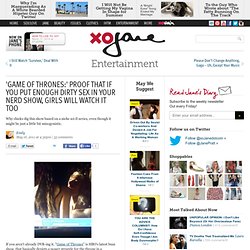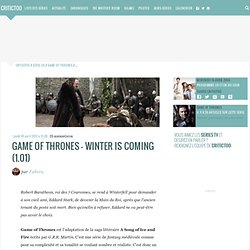 Robert Baratheon, roi des 7 Couronnes, se rend à Winterfell pour demander à son vieil ami, Eddard Stark, de devenir la Main du Roi, après que l'ancien tenant du poste soit mort. Bien qu'enclin à refuser, Eddard ne va peut-être pas avoir le choix. Game of Thrones est l'adaptation de la saga littéraire A Song of Ice and Fire écrite par G.R.R.
Game of Thrones – Winter is Coming (1.01) | Critiques et actualité des séries TV sur Critictoo
The first 10 minutes or so of HBO's new epic fantasy series "Game of Thrones" are spent celebrating the glories of cable, i.e. bloody violence (beheadings, hacked off body parts, eviscerated guts steaming in the snow) and HBO sex (female semi-frontal nudity, non-missionary position intercourse and unnecessarily graphic sound effects.) Unless you are a minor, you should not be deterred by any of this because "Game of Thrones," written and produced by David Benioff and D.B Weiss, quickly becomes a great and thundering series of political and psychological intrigue bristling with vivid characters, cross-hatched with tantalizing plotlines and seasoned with a splash of fantasy.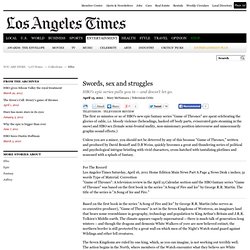 'Game of Thrones': Television review - latimes.com
gameofthrones - io9
April 17, 2011 | 11:43 a.m. The first episode of "Game of Thrones" premieres tonight on HBO and if you want the the full experience check out this free Scribd offfering from Random House with an exclusive novella of the series, as well as a Q&A with author George R.R. Martin. Come back after the show and leave a comment — did it live up to the hype? Bean: "Life keeps putting a sword in my hand"
'Game of Thrones': An E-book to prepare for the coming winter | Hero Complex – Los Angeles Times
In yesterday's New Yorker, Laura Miller (a former colleague of mine from Salon) published an excellent profile of George R. R. Martin—author of the novels on which HBO's Game of Thrones is based—which focused on the increased demands by fans on creators in an era of ever-more online kibitzing and access. GRRM, for years, has been beset by a splinter group of fans who have groused about the increasing time he takes between books. Ironically, Martin took aim at another pop-culture work that has been the subject of endless fan analysis, pressure and complaint: Lost. Count GRRM among the fans who hated the finale.
Geek Fight! Lost, Thrones Camps Square Off Over GRRM's Dis of Finale - Tuned In - TIME.com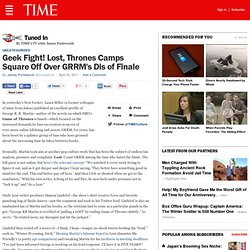 Filling In the Backstory: Robert's Rebellion « Del Rey and Spectra - Science Fiction and Fantasy Books, Graphic Novels, and More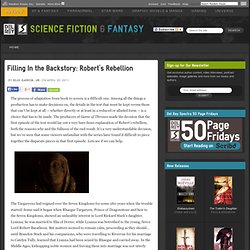 The process of adaptation from book to screen is a difficult one. Among all the things a production has to make decisions on, the details in the text that must be kept versus those that can't be kept at all — whether directly or at least in a reduced or alluded form — is a choice that has to be made. The producers of Game of Thrones made the decision that the first episode of the text would lay out a very bare-bone explanation of Robert's rebellion, both the reasons why and the fullness of the end result.
Apologies for the belated open thread. I'll get right to it. It's been a Game of Thrones week here at Raked, so I'm going to go back to Winterfell for our open thread. Near the end of the first episode, dastardly Jaime Lannister shoves little Bran Stark out of a tower window. from Lexicopia.blogspot.com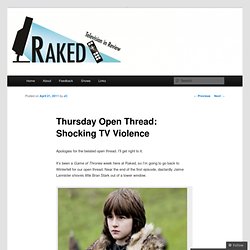 Thursday Open Thread: Shocking TV Violence « Raked
"Game of Thrones," episode 2: Will women be tuning in?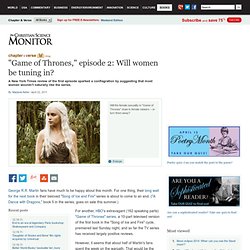 George R.R. Martin fans have much to be happy about this month. For one thing, their long wait for the next book in their beloved "Song of Ice and Fire" series is about to come to an end. ("A Dance with Dragons," book 5 in the series, goes on sale this summer.)
adf.ly - shrink your URLs and get paid!
'Game of Thrones': Five reasons HBO series may be a royal success | Hero Complex – Los Angeles Times
Jan. 30, 2011 | 8:44 a.m. Dense and compelling, packed with deceit and danger, the "A Song of Ice and Fire" series has been a bookshelf sensation for author George R. R. Martin. Now the medieval fantasy epic is moving to the screen as HBO presents "Game of Thrones," an ambitious new series from creators David Benioff and Dan Weiss that premieres April 17.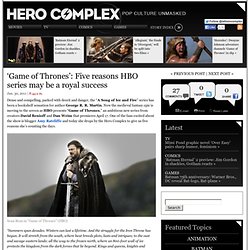 March 15, 2011 | 4:11 p.m. Sean Bean in "Game of Thrones" (Nick Briggs/HBO) Gargantuan dire wolves, frozen tundras, corrupt royals, brutal deflowerings, gullets slit wide open — oh, and don't forget the debauched dwarf.
'Game of Thrones' is epic with a different ring: 'Frodo never gets to go to a brothel' | Hero Complex – Los Angeles Times
'Game of Thrones' Is a Genius Fantasy Saga and Not Just for Geeks | Rolling Stone Culture
Former Hollyoaks beauty Roxanne McKee gets steamy with co-star Harry in Game Of Thrones The show is really racy and sexy. I know viewers will find it very exciting to watch. Roxanne McKee
Foxy Roxanne McKee bares all in royal blush
Ayra taking sword-fighting lessons. Courtesy of HBO. It's always a strange phenomenon when real-life news is more exciting than the plot developments of an action-laced fantasy series. Then again, even without last night's bin Laden news, the third episode of Game of Thrones—"Lord Snow"—would have had a difficult time generating more excitement than the latest installment of Undercover Boss.
Game of Thrones: The Gratuitous Sex Was Better Than Character Development | Little Gold Men
"The Kingsroad" April 24th, 2011 "You're not supposed to be here."
Game of Thrones – "The Kingsroad"
Maisie Williams and Sean Bean in "Game of Thrones." Credit: HBO A review of episode 2 of "Game of Thrones" coming up just as soon as I speak for the grotesques...
Game of Thrones - The Kings Road: Lie down with dogs
Game of Thrones : When fiction becomes reality and reality becomes fiction - National game of thrones
His Beautiful Dark Twisted Fantasy: George R. R. Martin Talks 'Game of Thrones'