Video
Darim
Organic Motion
Organic Motion and Kinect Integration for Real-Time Markerless Motion Capture - R&D Preview
Pixbend digital video codec SDK overview
CRI Movie 2 What is "CRI Movie 2"? CRI Movie2 is CRI's next-generation movie playback engine. With unrivaled movie quality, support for all next-gen platforms and hi-def movie playback via a component-based architecture. High-quality movies CRI Movie2 is the next-generation of CRI's award winning codec, Sofdec.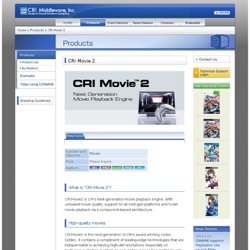 CRI Movie 2 - CRI Middleware, Inc.
Bink Video!
Bink 2.3 Video is now shipping! Bink 2.3 is massively better than Bink 1. You'll be shocked at how low you can get the data rate! Even better, Bink 2 can be much faster than Bink 1, due to its multi-core scaling and SIMD design (up to 70% of the instructions executed on a frame are SIMD). It is really fast - it can play 4K video frames (3840x2160) in 4 ms on PCs and 11 ms on Sony PS4 or Xbox One!
Scaleform Video | scaleform
Click here to learn how one of the largest mobile game developers leveraged the power of the Scaleform SDK to create Tiny Thief. Visit the AppStore to download this free, highly addictive tower defense game published using the Scaleform Mobile SDK. Our low priced licenses now include FMOD for audio support and render to texture capabilities for Unity developers. Click here to view render to texture in action. Autodesk® Gameware Navigation® is an artificial intelligence middleware providing automatic NavMesh generation, pathfinding, and path following in complex game environments. Learn more.