Video
Darim
Organic Motion
Organic Motion and Kinect Integration for Real-Time Markerless Motion Capture - R&D Preview
Pixbend digital video codec SDK overview
CRI Movie 2 What is "CRI Movie 2"? CRI Movie2 is CRI's next-generation movie playback engine. With unrivaled movie quality, support for all next-gen platforms and hi-def movie playback via a component-based architecture. High-quality movies CRI Movie2 is the next-generation of CRI's award winning codec, Sofdec.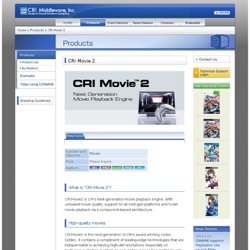 CRI Movie 2 - CRI Middleware, Inc.
Bink Video!
Bink is the defacto video codec for games. It has been licensed for over 6,200 games on 14 different platforms! Most game developers are shocked to find that they can get Bink videos playing in less than an hour - including tricky stuff like pixel shaders. Bink feels like a codec that you wrote custom for your game - it just works like you would expect it to. You can also check out what our customers think , or you can read more about Bink on your game platform .
Scaleform Video | scaleform
Join us at booth 1240 to see all the new products and updated features Autodesk has to offer. Visit the AppStore to download this free, highly addictive tower defense game published using the Scaleform Mobile SDK. Our low priced licenses now include FMOD for audio support and render to texture capabilities for Unity developers. Click here to view render to texture in action. Autodesk® Gameware Navigation® is an artificial intelligence middleware providing automatic NavMesh generation, pathfinding, and path following in complex game environments. Learn more.