Video
Darim
Organic Motion
Organic Motion and Kinect Integration for Real-Time Markerless Motion Capture - R&D Preview
Hi, welcome to the RAD Game Tools website! Here at RAD, we make video game development tools. In fact, at least one of our products is built into almost every video game made today.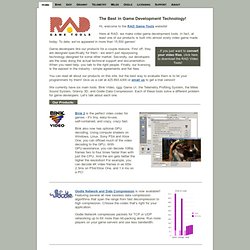 Pixbend digital video codec SDK overview
Bink Video!
Bink 2.4 Video is now shipping! Bink 2.4 now ships with optional GPU decoding! Using compute shaders on Windows, Linux, Sony PS4 and Xbox One, you can offload much of the video decoding. This is two to four times faster than CPU-only decode (and even more for 4K video). Decode 4K video frames in 2.3ms on PS4/Xbox One, and 1.4 ms on a PC!
Scaleform Video | scaleform
Gameware Product Manager, Ankur Mohan, talks about the latest Gameware releases at GDC 2014. Click here to watch the video. Click here to learn how one of the largest mobile game developers leveraged the power of the Scaleform SDK to create Tiny Thief. Visit the AppStore to download this free, highly addictive tower defense game published using the Scaleform Mobile SDK. Our low priced licenses now include FMOD for audio support and render to texture capabilities for Unity developers. Click here to view render to texture in action.