Interface
Game & App Developer. [Special Edition] Kinect for Windows coming February 1, 2012 | Coding4Fun Kinect Projects. Kinect Fun Labs. YVision. Kinect for Windows SDK Beta Launch. Channel 9 and Microsoft Research are excited to announce the Kinect for Windows SDK Beta available to download To mark the launch we hosted a 24 hour CodeCamp on the Microsoft campus in Redmond, Washington.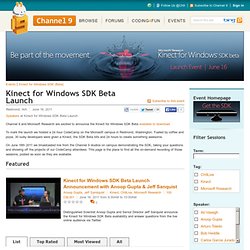 Fueled by coffee and pizza, 30 lucky developers were given a Kinect, the SDK Beta bits and 24 hours to create something awesome. On June 16th 2011 we broadcasted live from the Channel 9 studios on campus demonstrating the SDK, taking your questions and showing off the projects of our CodeCamp attendees. This page is the place to find all the on-demand recording of those sessions, posted as soon as they are available. The WebKit Open Source Project.
PyMT | Extensions / Information about Webkit PyMT port. Introduction Webkit port is designed to have a embedded webbrowser inside PyMT, and also having a html widget.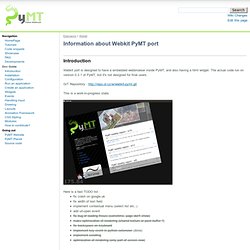 The actual code run on version 0.3.1 of PyMT, but it's not designed for final users. GIT Repository : News. Paris, France – September 29th, 2011: Omegame today announced the user interface of Driver: San Francisco has been authored with Menus Master.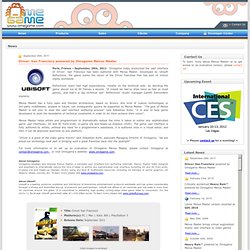 Developed by Ubisoft Reflections, the game marks the return of the Driver franchise that has sold 14 million copies worldwide. Reflections' team had high expectations, notably on the technical side, by deciding the game should run at 60 frames a second. Iggy Game UI. Iggy is our new, powerful system for creating graphical user interfaces using content created in Adobe Flash.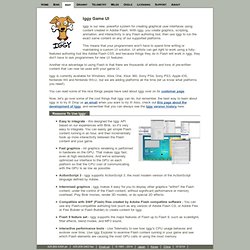 With Iggy, you create graphics, scripting, animation, and interactivity in any Flash authoring tool, then use Iggy to run the exact same content on any of our supported platforms. This means that your programmers won't have to spend time writing or maintaining a custom UI solution. UI artists can get right to work using a fully-featured authoring tool like Adobe Flash CS5, and because things they do in Flash will work in Iggy, they don't have to ask programmers for new UI features. Another nice advantage to using Flash is that there are thousands of artists and tons of pre-written content that can now be used with your game UI. Iggy is currently available for Windows, Xbox One, Xbox 360, Sony PS4, Sony PS3, Apple iOS, Nintendo Wii and Nintendo Wii-U, but we are adding platforms all the time (let us know what platforms you need!)
Berkelium: Awesomium.
---