AI
AiGameDev.com | Your Online Hub for Game/AI. Introduction to Artificial Intelligence - Fall 2011. Sign In Forgot password?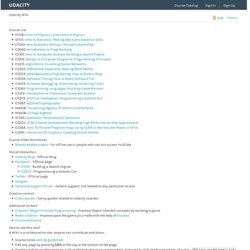 Or Sign Up Full Name Terms of Service or Course Catalog Udacity Wiki Course List. Nerogame.org. Arrabales_CIG09. Massive Software :: Gallery :: Simulation. What is Golaem ? | Golaem. DI-Guy : Realistic human characters for extraordinary realtime simulation. XSG - Xtreme Strategy Games. Xaitment - the leading developer of solutions for artificial intelligence (AI middleware) for computer games and simulations (game AI, navgraph, navmesh, pathfinding, pathsearch, movement, fsm, game logic, behavior, ontology and thinking) - Home | xaitmen. TruSoft: Artificial Contender™ Stottler Henke Artificial Intelligence Software Solutions. Storytron. SpirOps AI - Scientific Research Lab in Artificial Intelligence. Procedural Arts. Products | Presagis. PathEngine - Intelligent agent movement.
INSTINCT Maker : intelligent behavior - artificial intelligence - video games - robotic. Havok Behavior. Navpower. Autodesk Kynapse. Kynapse has been succeeded by Autodesk® Gameware Navigation, a completely new product that was designed by the same team that has been working on Kynapse for nearly a decade.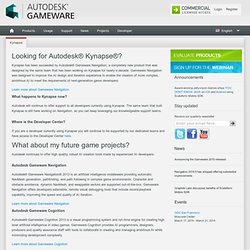 Gameware Navigation was designed to improve the AI design and iteration experience to enable the creation of more complex, ambitious AI to meet the requirements of next-generation game developers. Learn more about Gameware Navigation What happens to Kynapse now? :::::ARTIFICIAL - We bring bytes alive::::: AIseek | home.
---