AI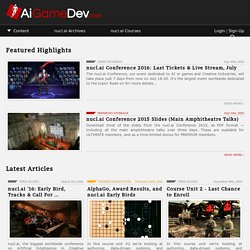 Open Editorial January 3rd, 2014 Games of the Year: The 2013 AiGameDev.com Awards ... In our 2013 Awards for Game AI, find out the winning games in categories from technology to design and of course the overall winner. The games this year have raised the bar in many places for artificial intelligence, including autonomous buddy behavior, search-based techniques to find optimal moves, and non-character AI such as music ... Open Tutorial July 16th, 2013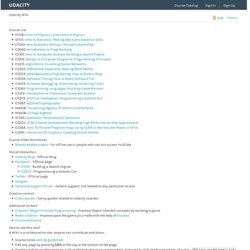 Sign In Forgot password? or Sign Up Full Name Terms of Service or Course Catalog Udacity Wiki Course List
nerogame.org
Arrabales_CIG09
Massive Software :: Gallery :: Simulation
What is Golaem ? | Golaem
DI-Guy : Realistic human characters for extraordinary realtime simulation
XSG - Xtreme Strategy Games
New Release! See how Northstar can help your project. Downloads
xaitment - the leading developer of solutions for artificial intelligence (AI middleware) for computer games and simulations (game AI, navgraph, navmesh, pathfinding, pathsearch, movement, fsm, game logic, behavior, ontology and thinking) - Home | xaitmen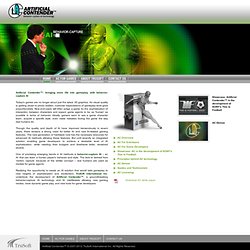 Today's games are no longer about just the latest 3D graphics. As visual quality is getting closer to photo realism, customer expectations of gameplay level grow proportionately. Now end-users will often judge a game by the sophistication of interaction between characters and expect game agents to be as 'human' as possible in terms of behavior. Ideally, gamers want to see a game character learn, acquire a specific style, even make mistakes during the game the way real humans do.
TruSoft: Artificial Contender™
Stottler Henke Artificial Intelligence Software Solutions
Storytron is currently in a medically-induced coma while we re-design the technology. We have retained some of the tutorial and explanatory material from the old website. This will permit you to explore what is still the most advanced technology for interactive storytelling ever built. Author's Guide to Storytron Tutorial A Storytron Wiki created by Bill Maya An explanation of what went wrong earlier Plans for future Storytron Contact me!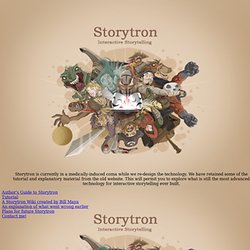 SpirOps AI - Scientific Research Lab in Artificial Intelligence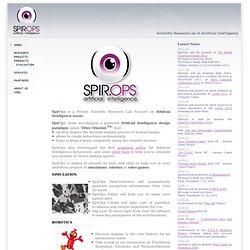 SpirOps is a Private Scientific Research Lab focused on Artificial Intelligence issues. SpirOps' team developped a patented Artificial Intelligence design paradigm called "Drive Oriented TM" that: cleverly mimics the decision making process of human beings.allows to create behaviours incrementally.helps to keep a linear complexity along the creation process. SpirOps also developped the first graphical editor for Artificial Intelligence behaviours, and some other tools to help you to simulate any number of choice making agents. SpirOps is willing to provide its tools and skills to help you in your ambitious projects of simulations, robotics or video games.
Procedural Arts
Products | Presagis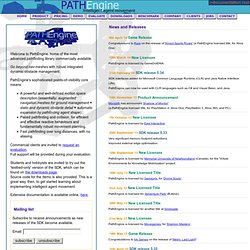 News and Releases Congratulations to Rare on the release of 'Kinect Sports Rivals' (a PathEngine licensed title, for Xbox One) PathEngine is licensed by GameDotDNA. SDK interfaces added for Microsoft Common Language Runtime (CLR) and Java Native Interface (JNI). PathEngine can now be used with CLR languages such as C# and Visual Basic, and Java. Monolith has announced 'Shadow of Mordor' (a PathEngine licensed title, for PlayStation 4, Xbox One, PlayStation 3, Xbox 360, and PC).
PathEngine - Intelligent agent movement
INSTINCT Maker : intelligent behavior - artificial intelligence - video games - robotic
Havok Behavior
Navpower
Kynapse has been succeeded by Autodesk® Gameware Navigation, a completely new product that was designed by the same team that has been working on Kynapse for nearly a decade. Gameware Navigation was designed to improve the AI design and iteration experience to enable the creation of more complex, ambitious AI to meet the requirements of next-generation game developers. Learn more about Gameware Navigation What happens to Kynapse now?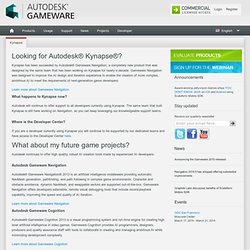 Autodesk Kynapse
:::::ARTIFICIAL - We bring bytes alive:::::
AIseek | home
LiveAI
LiveAI can be used to create revolutionary new genres of computer games. But at its core, it is simple to understand what LiveAI does. LiveAI learns the actions, detailed movements and precise timing of a game player by watching how they play. It does this by observing how you react to different game world contexts and building a statistical model of your behavior.