AI
nerogame.org
Arrabales_CIG09
Massive Software :: Gallery :: Simulation
What is Golaem ? | Golaem
DI-Guy : Realistic human characters for extraordinary realtime simulation
XSG - Xtreme Strategy Games
xaitment - the leading developer of solutions for artificial intelligence (AI middleware) for computer games and simulations (game AI, navgraph, navmesh, pathfinding, pathsearch, movement, fsm, game logic, behavior, ontology and thinking) - Home | xaitmen
TruSoft: Artificial Contender™
Stottler Henke Artificial Intelligence Software Solutions
SpirOps AI - Scientific Research Lab in Artificial Intelligence
Procedural Arts
Products | Presagis
PathEngine - Intelligent agent movement
INSTINCT Maker : intelligent behavior - artificial intelligence - video games - robotic
Havok Behavior
Navpower
Kynapse has been succeeded by Autodesk® Gameware Navigation, a completely new product that was designed by the same team that has been working on Kynapse for nearly a decade. Gameware Navigation was designed to improve the AI design and iteration experience to enable the creation of more complex, ambitious AI to meet the requirements of next-generation game developers. Learn more about Gameware Navigation What happens to Kynapse now?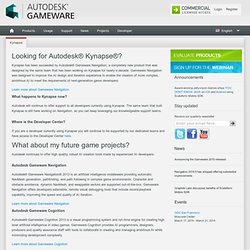 Autodesk Kynapse
:::::ARTIFICIAL - We bring bytes alive:::::
AIseek | home
LiveAI
LiveAI can be used to create revolutionary new genres of computer games. But at its core, it is simple to understand what LiveAI does. LiveAI learns the actions, detailed movements and precise timing of a game player by watching how they play. It does this by observing how you react to different game world contexts and building a statistical model of your behavior.