Galaxy S
Helly Bean. Coming from GB: 1.Download from the website( Link ) the version you want to flash and the addons file for the version of the rom you downloaded. 2.Move the rom and addons zip files to the sdcard. 3a.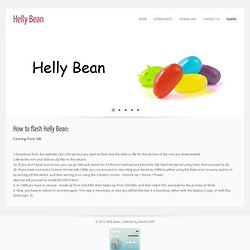 If you don't have root access, you can go Xda and search for CF-Root or Semaphore Kernel for GB. Flash the kernel using Odin, then proceed to 3b. 3b. If you have root and a Custom Kernel with CWM, you can proceed to rebooting your device to CWM by either using the Reboot to recovery option, or by turning off the device, and then turning it on using the 3 button combo - Volume Up + Home + Power. Next we will proceed to install the CM10 Rom. 4.
Video-Tuto] Démontage complet et changement d'écran. Bon !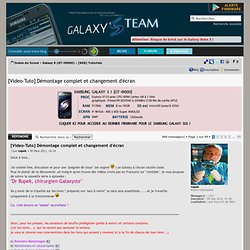 C'est le grand jour..... Rupek's Trans-World Productions presents..... le Galaxy mis à nu .... une série très "X" Nota: Avant l'opération,enlevez le capot AR, la batterie, les cartes SIM et mémoires externe,ainsi que les 7 vis cruciformes à l'arrière du GS et mettez de coté . How to control your Android via PC. AirDroid is an Android app that allows you to control your device remotely from your computer.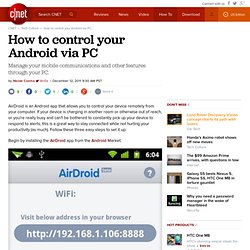 If your device is charging in another room or otherwise out of reach, or you're really busy and can't be bothered to constantly pick up your device to respond to alerts, this is a great way to stay connected while not hurting your productivity (as much). Follow these three easy steps to set it up: Begin by installing the AirDroid app from the Android Market. Step 1: Open AirDroid and hit the Start button to launch the server. Step 2: Open a browser and enter the URL listed in the top field. Share and Discover Android and iPhone Homescreen.
Samfirmware.com. How to Flash a Galaxy S Phone back to stock | AndroidGalaxy.NET. There are many reasons why you may want to return your Galaxy S to stock form.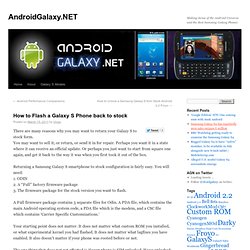 You may want to sell it, or return, or send it in for repair. Perhaps you want it in a state where it can receive an official update. Or perhaps you just want to start from square one again, and get it back to the way it was when you first took it out of the box. Returning a Samsung Galaxy S smartphone to stock configuration is fairly easy. You will need: 1. CyanogenMod. Un article de Wikipédia, l'encyclopédie libre.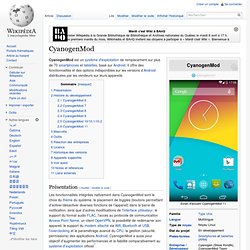 CyanogenMod est un système d'exploitation de remplacement sur plus de 70 smartphones et tablettes, basé sur Android. Il offre des fonctionnalités et des options indisponibles sur les versions d'Android distribuées par les vendeurs sur leurs appareils. Présentation[modifier | modifier le code] CyanogenMod est développé sous licence open source, basé sur les versions officielles d'Android créées par Google mais en ajoutant du code tiers.
CyanogenMod 9 (4.0.x) CyanogenMod 10 (4.1.x) CyanogenMod 10.2 (4.3.x) Which BLN-Kernel for the SGS - Important NO VOODOO-COLOR. [APP] BLN control - the official BLN settings app by neldar. [APP] BLN control - the official BLN settings app by neldar This app does only work, if you have a kernel with BacklightNotification (bln) mod on your phone installed.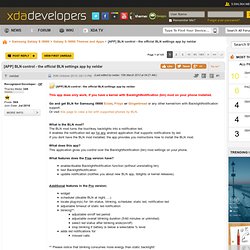 Go and get BLN for Samsung i9000 Eclair, Froyo or Gingerbread or any other kernel/rom with BacklightNotification support. ROM Manager : L'application qui vous manquait après le root. Il faut l'avouer, ces derniers temps le root facile est à portée de main.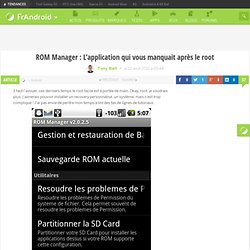 Okay, root, je voudrais plus, j'aimerais pouvoir installer un recovery personnalisé, un système, mais c'est trop compliqué ! J'ai pas envie de perdre mon temps à lire des tas de lignes de tutoriaux. Heureusement pour subvenir à ces besoins une application existe, cette application se nomme ROM Manager, certains doivent sans doute déjà la connaitre, mais pour les autres, il est, je pense intéressant de l'exposer.
ROM Manager est là pour vous faciliter la vie afin de rendre le temps de compréhension infime. Les fonctionnalités de la version gratuite : Page d'index. Samsung Galaxy S I9000. Voir le Forum - Samsung Galaxy. Samsung Galaxy S Pro : un grand smartphone Android à clavier cou. Galaxy S : Samsung annonce les accessoires ! | FrAndroid - LA communauté francophone Android. Mercredi 11 août Mercredi 11 août 2010 à 23:06 par Ulrich Rozier dans Actualités Générales Je vous avais présenté deux applications de "dock" pour la maison et la voiture.
Pour profiter de façon optimale de ses deux applications, le Samsung Galaxy S avait besoin de deux accessoires supplémentaires : des supports pour la voiture et pour la maison. Samsung vient de présenter deux accessoires spécialement conçus pour le Galaxy S : un pour la voiture et l'autre pour la maison. Le dock pour la voiture peut être utilisé sur le pare brise par exemple, idéale pour transformer son Galaxy S en GPS. Le Samsung Galaxy S a une sortie vidéo bien cachée. Publié par Olivier Le 5 juillet 2010 à 12h01 Dans Actualité Le Samsung Galaxy S adopte en effet une fonction sortie vidéo plutôt bien caché puisqu'il ne s'agit pas, comme la plupart des smartphones de dernière génération, d'une sortie mini-hdmi mais… du port jack 3.5 millimètres !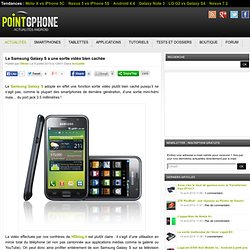 La vidéo effectuée par nos confrères de HDblog.it est plutôt claire : il s'agit d'une utilisation en miroir total du téléphone (et non pas cantonnée aux applications médias comme la galerie ou YouTube). Samsung Galaxy S Power Pack surfaces in German newsletter. We have already talked about a slew of official Galaxy S accessories that surfaced early this month along with the new smartphone.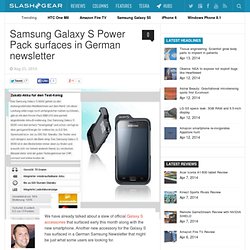 Another new accessory for the Galaxy S has surfaced in a German Samsung Newsletter that might be just what some users are looking for. If you find the battery on your Galaxy S doesn't last as long as you want it too, the new Galaxy S Power Pack EBB-U10 might be just the thing for you. The device is a carry case to protect your phone that also has a battery inside for more run time. Samsung Galaxy S - Le Samsung Galaxy S aurait la sortie vidéo via une prise casque 3.5mm. Qui aurait pensé qu'une prise casque 3.5mm puisse également gérer la vidéo ?
Le Galaxy S dans ces diverses variantes offrirait la sortie vidéo via son prise casque 3.5mm. La version internationale du Samsung Galaxy S a une option sortie TV inclus dans les paramètres d'affichage, vous permettant de choisir le standard de votre TV (PAL ou NTSC).
---