CyanogenMod 9 (4.0.x)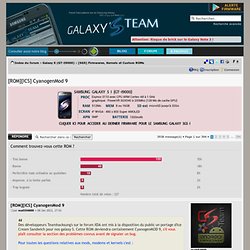 Des développeurs Teamhacksung's sur le forum XDA ont mis à la disposition du public un portage d'Ice Cream Sandwich pour nos galaxy S.
ROM A.O.S.P][CM9 RC0] Teamhacksung's ICS (BUILD 16)
Flashing tutorial for dummies [ics sgs team rom]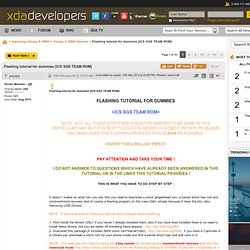 Flashing tutorial for dummies [ICS SGS TEAM ROM] It doesn`t matter on what rom you are, first you need to download a stock gingerbread rom, a kernel which has root and clockworkmod recovery and of course a flashing program (in this case Odin, simply because it does the job), also Samsung USB Drivers : NOTE : It would be best to have your phone fully charged before flashing 1.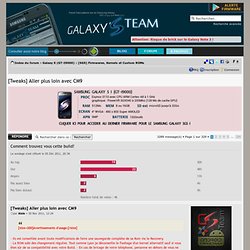 Tweaks] Aller plus loin avec CM9
- Ils est conseillée avant toute modifications de faire une sauvegarde complète de sa Rom via le Recovery.- La ROM subi des changement régulier. Tout comme Lyon je déconseille le flashage d'un kernel alternatif sauf si vous êtes sûr de sa compatibilité avec votre Build. - En cas de bricage de votre téléphone, personne en dehors de vous ne pourra en être tenu pour responsable.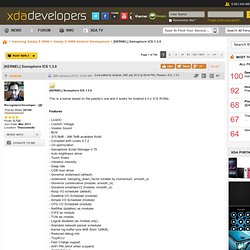 [KERNEL] Semaphore ICS 0.9.1
[KERNEL] Semaphore ICS 1.3.0
[APP] 360 Launcher Beta 1.5.1 | More and more goodies! | More themes added!
This is really cool. i like how it can import setting/layouot/application shortcuts from other launchers. I have this now on the lateest MiUi I am running (MiUiScottland) and seems to be all good.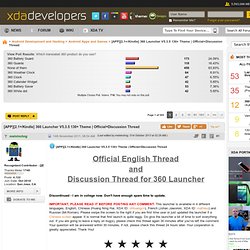 [ROM] DroidNation Revolutionized!
[ROM] DroidNation Revolutionized V3! [JVU BASE!] DroidNation Revolutionized ROM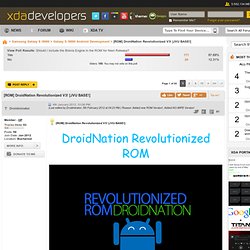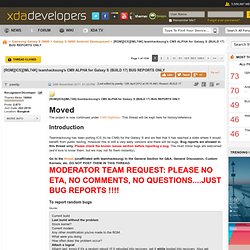 [ROM][ICS][IML74K] teamhacksung's CM9 ALPHA for Galaxy S (BUILD 17) BUG REPORTS ONLY Moved The project is now continued under CM9 Nightlies. This thread will be kept here for history/reference.
[ROM][ICS][ITL41D] teamhacksung's ICS Port for Galaxy S (BUILD 5)
Perka[MOD]ICS based on teamhacksung's ICS Port [08-01-2012] B13 New charge anim!!
[FAQ][DISCUSSION] CyanogenMod 9 Alpha Builds
ics.samsung-updates.com/ICSI9000/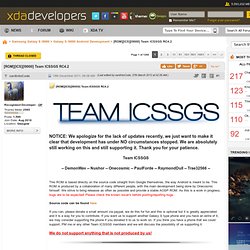 [ROM][ICS] Onecosmic's ICS Port Android 4.0.3 RC1
[ROM][ICS][I9000] Team ICSSGS RC4.2
Android 4 : test d'Ice Cream Sandwich
Là c'est bel et bien officiel, Samsung vient de dévoiler la liste des ses terminaux qui disposeront prochainement de la mise à jour vers Android Ice Cream Sandwich (4.0).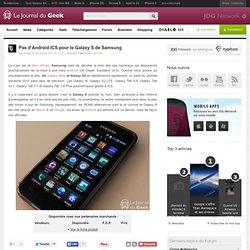 Pas d'Android ICS pour le Galaxy S de Samsung