CyanogenMod 9 (4.0.x)
ROM A.O.S.P][CM9 RC0] Teamhacksung's ICS (BUILD 16) Des développeurs Teamhacksung's sur le forum XDA ont mis à la disposition du public un portage d'Ice Cream Sandwich pour nos galaxy S.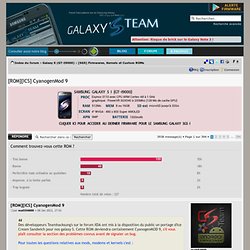 Cette ROM deviendra certainement CyanogenMOD 9, s'il vous plaît consulter la section des problèmes connus avant de signaler un bug.Pour toutes les questions relatives aux mods, modems et kernels c'est :- Tweaks : Aller plus loin avec CM9 dirigé par Alois- Tweaks: Aller plus loin avec ICS tenu par Smartg2os. Version stable finaleLien direct CM9.0 - Lien direct CM9.1 Dernière Nightlylien sur le site cyanogenchangelog en anglais Rom Build 17 Obsolètelien direct. Flashing tutorial for dummies [ics sgs team rom] Flashing tutorial for dummies [ICS SGS TEAM ROM] It doesn`t matter on what rom you are, first you need to download a stock gingerbread rom, a kernel which has root and clockworkmod recovery and of course a flashing program (in this case Odin, simply because it does the job), also Samsung USB Drivers : NOTE : It would be best to have your phone fully charged before flashing 1.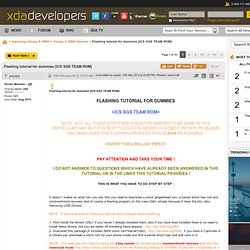 Tweaks] Aller plus loin avec CM9. - Ils est conseillée avant toute modifications de faire une sauvegarde complète de sa Rom via le Recovery.- La ROM subi des changement régulier.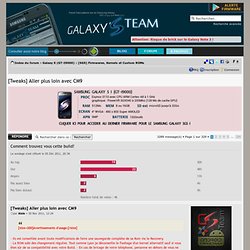 Tout comme Lyon je déconseille le flashage d'un kernel alternatif sauf si vous êtes sûr de sa compatibilité avec votre Build. - En cas de bricage de votre téléphone, personne en dehors de vous ne pourra en être tenu pour responsable. La perte de Recovery peut ce régler en flashant le Initial-Kernel-CM7 (Miroir) avec Odin (décochez "auto-reboot").
Enlevez puis remettez la batterie, démarrez en Recovery et réinstallez le dernier Build(17) ! La perte du mode Download ? Voici un sujet pour vous aider à en sortir. [KERNEL] Semaphore ICS 0.9.1. [KERNEL] Semaphore ICS 1.3.0 This is a kernel based on the pawitp's one and it works for Android 4.0.x ICS ROMs.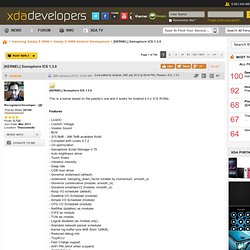 Features. [APP] 360 Launcher Beta 1.5.1 | More and more goodies! | More themes added! This is really cool. i like how it can import setting/layouot/application shortcuts from other launchers.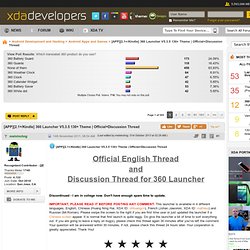 I have this now on the lateest MiUi I am running (MiUiScottland) and seems to be all good. It even seems to be styled a bit like MiUi. The weather widget does not seem to want to find me in Tasmania, Australia. I like to folder animation, reminds me a bit of Simi Folder and I think the standard GB folder. Thanks for the translation. DroidNation Revolutionized! [ROM] DroidNation Revolutionized V3!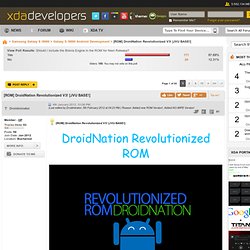 [JVU BASE!] DroidNation Revolutionized ROM. [ROM][ICS][ITL41D] teamhacksung's ICS Port for Galaxy S (BUILD 5) [ROM][ICS][IML74K] teamhacksung's CM9 ALPHA for Galaxy S (BUILD 17) BUG REPORTS ONLY Moved The project is now continued under CM9 Nightlies.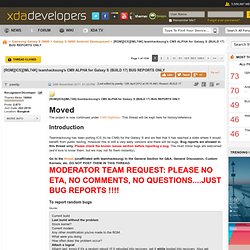 This thread will be kept here for history/reference. Perka[MOD]ICS based on teamhacksung's ICS Port [08-01-2012] B13 New charge anim!! Quote: This is for activating CRT off anim and SIP As for the Extended Power Menu, I dont know, maybe if there is a good guide for it, as I am no Dev im a copy/paste man Overglow?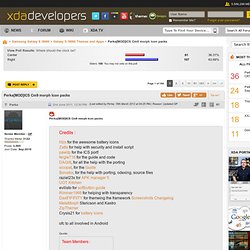 Maybe Ill give it a go. [FAQ][DISCUSSION] CyanogenMod 9 Alpha Builds. Ics.samsung-updates.com/ICSI9000/ [ROM][ICS] Onecosmic's ICS Port Android 4.0.3 RC1. [ROM][ICS][I9000] Team ICSSGS RC4.2 NOTICE: We apologize for the lack of updates recently, we just want to make it clear that development has under NO circumstances stopped.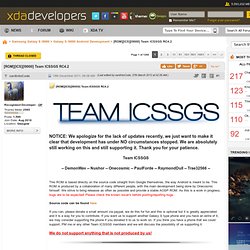 We are absolutely still working on this and still supporting it. Thank you for your patience. Android 4 : test d'Ice Cream Sandwich. Pas d'Android ICS pour le Galaxy S de Samsung. Là c'est bel et bien officiel, Samsung vient de dévoiler la liste des ses terminaux qui disposeront prochainement de la mise à jour vers Android Ice Cream Sandwich (4.0).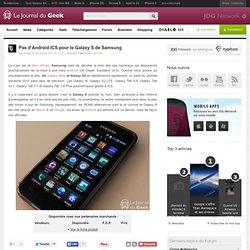 Comme nous avions pu précédemment le dire, les Galaxy Note et Galaxy S2 en bénéficieront rapidement, on parle du premier trimestre 2012 sans plus de précision. Les Galaxy R, Galaxy S2 LTE, Galaxy Tab 8.9, Galaxy Tab 10.1, Galaxy Tab 7.7 et Galaxy Tab 7.0 Plus pourront aussi goûter à ICS. Il y a cependant un grand absent, c'est le Galaxy S premier du nom, bien qu'écoulé à des millions d'exemplaires (et il s'en vend encore pas mal), ce smartphone ne rentre visiblement plus dans le plan des mises à jour de Samsung. Heureusement, les ROMs alternatives sont là et comme le Galaxy S est très proche du Nexus S de Google, nul doute qu'Android 4.0 arrivera sur ce dernier, mais de façon non officielle.