Gadgets and Gizmos
New Gadgets, hi tech gizmos, Cool gifts, Latest Technology, Weird and unique Gadget, Buy Online Gadgets shop. | Geekie Gadgets. Hi Tech Spy Gadgets | Shop the Latest Cool New Electronic Gadgets. Brookstone. The Sharper Image. ThinkGeek. Bend Seating. Japan Trend Shop.
David Weatherhead's Primary Clocks. Posted by Ray | 9 Aug 2011 | Comments (0) Last week saw the opening of A Product of Geometry, featuring work by David Weatherhead and Sophie Cheung, at Glasgow's GOODD Ltd exhibition space.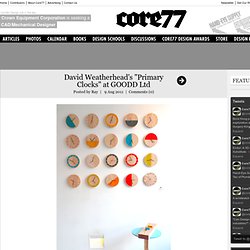 The exhibition examines the process of the object; The perception that each object has a purpose and meaning to it, without the user aware of the story that each object is born from. The show will also focus on the work and process of London based product designer David Weatherhead. David's objects have an inherent easily identifiable quality with inspiration and interest points taken from everything from the Bauhaus to a road safety sign to a triangular back reflector on a trailer. Weatherhead has been exploring his interest in "the everyday and the design of objects with a particular gesture and semantic" for clients such as Seletti, DesignMarketo and, of course, GOODD since he completed his MA in Design Products at RCA in 2007.
MXYPLYZYK. Gadgets. Quirky. Greatgreengadgets.com. Portable solar chargers are often strong enough for cell phones and MP3 players, but when it comes to serious electronics such as the laptop, that you can't do without even in the wilderness, they can't cope.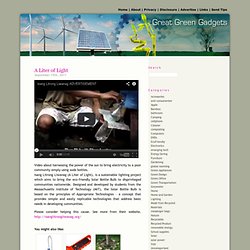 This big capacity solar charger and battery changes all that. It can produce 20,000mAh and will keep your laptop functional wherever you are, even miles from the nearest electricity supply. It can also power cellphones and other devices, so you don't need to bring more than one charger with you. It can also be recharged from car charger or AC when necessary. It has 29 adaptor tips and measures 11" x 8" x 0.7" and comes with a carry bag too. Kikkerland Design. MobileWhack.com. Tech Guide for Foodies. It's no secret that technology has made discovering food and eating well more accessible than ever before.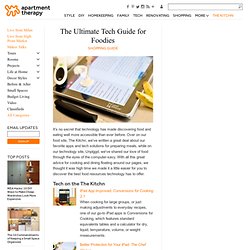 Over on our food site, The Kitchn, we've written a great deal about our favorite apps and tech solutions for preparing meals, while on our technology site, Unplggd, we've shared our love of food through the eyes of the computer-savy. With all this great advice for cooking and dining floating around our pages, we thought it was high time we made it a little easier for you to discover the best food resources technology has to offer. Chefs Organize Recipes Digitally.
---