China
China Banks May Miss Loan Target for 2012, Officials Say
Related China's biggest banks may fall short of loan targets for the first time in at least seven years as an economic slowdown crimps demand for credit, three bank officials with knowledge of the matter said. A decline in lending in April and May means it's likely the banks' total new loans for 2012 will be about 7 trillion yuan ($1.1 trillion), less than an estimated government goal of 8 trillion yuan to 8.5 trillion yuan, said one of the officials, declining to be identified because the person isn't authorized to speak publicly. Banks are relying on small and mid-sized companies for loan growth after demand from the biggest state- owned borrowers dropped, the people said.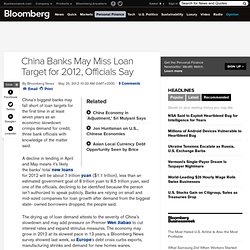 Guest Post: Is China Really Liquidating Treasuries?
Submitted by John Aziz of Azizonomics Is China Really Liquidating Treasuries? The news that China has become the first sovereign to establish a direct sales relationship with the U.S. Treasury (therefore cutting out the middleman and bypassing Wall Street ) raises a few interesting questions.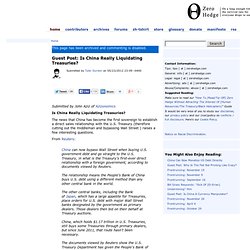 China airline cuts flights to Philippines - Xinhua | English.news.cn
BEIJING, May 15 (Xinhua) -- China Southern Airlines, one of the three major Chinese airlines, on Tuesday announced it is cutting flights to the Philippines as tourist numbers shrink amid tensions in the South China Sea. China Southern will reduce its number of flights between China's Guangzhou city and Manila, capital of the Philippines, to just one a day on certain dates from May 26 to June 30. The airline normally operates two flights daily on the route. A spokesman for the airline said the adjustment was made in accordance with the cancellation of "a large number of tourist groups" lately. Major Chinese travel agencies have announced cancellation of package tours to the Philippines upon travel safety advice issued by the National Tourism Administration earlier this month. It came after the Chinese Embassy in the Philippines warned Chinese citizens of "massive anti-China demonstrations" related to the Huangyan Island incident.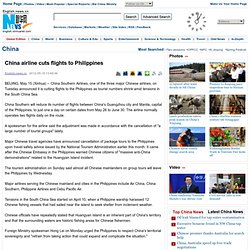 China to Invest in Coal Gasification - with GEs help - OIL - eWallstreeter
The sea rises in China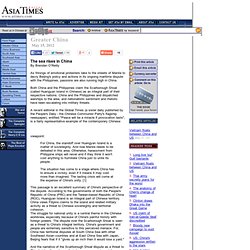 The sea rises in ChinaBy Brendan O'Reilly As throngs of emotional protesters take to the streets of Manila to decry Beijing's policy and actions in its ongoing maritime dispute with the Philippines, passions are also running high in China. Both China and the Philippines claim the Scarborough Shoal (called Huangyan Island in Chinese) as an integral part of their respective nations. China and the Philippines and dispatched warships to the area, and nationalistic sentiment and rhetoric have been escalating into military threats.
China Is Developing a Grid Better for Coal Than Renewables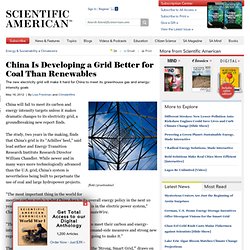 WRONG GRID?: China is building an electricity grid focused on coal rather than renewables, which will make it hard for the country to meet its greenhouse gas-emission reduction goals.Image: flickr/practicalowl China will fail to meet its carbon and energy intensity targets unless it makes dramatic changes to its electricity grid, a groundbreaking new report finds. The study, two years in the making, finds that China's grid is its "Achilles' heel," said lead author and Energy Transition Research Institute Research Director William Chandler. While newer and in many ways more technologically advanced than the U.S. grid, China's system is nevertheless being built to perpetuate the use of coal and large hydropower projects.
China Is Developing a Grid Better for Coal Than Renewables
Gao Xiqing, president of China Investment Corp., said the nation's sovereign wealth fund has stopped buying European government debt on concerns about the region's financial turmoil. CIC will continue to look for new investments in Europe as part of its strategy to boost allocations to infrastructure, private-equity assets as well as emerging markets to help boost returns, Gao said. CIC, with an estimated $440 billion in assets, is the world's fifth-largest country fund, according to Sovereign Wealth Fund Institute.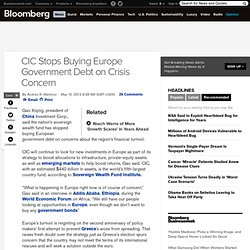 China Stops Buying Europe Government Debt on Crisis Concern | GoldSilver.com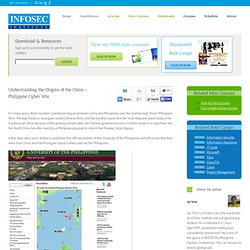 Understanding the Origins of the China – Philippine Cyber War
For many years, there has been a territorial dispute between China and Philippines over the Scarborough Shoal (Philippine Term: Panatag Shoal) or Huangyan Island (Chinese Term) and the Spratlys Island. But the most disputed island today is the Scarborough Shoal because of the growing tension after the Chinese government sent a military vessel or a navy fleet into the South China Sea after rejecting a Philippine proposal to submit the Panatag Shoal dispute. A few days later, some defacers vandalized the official website of the University of the Philippines and left a note that they were from China and that Huangyan Island is theirs and not the Philippines. News spread regarding the defacement and intrusion of the hackers, who claim to be from China, and because of that a hacker who goes by the handle busabos retaliated and defaced three Chinese domains: star.chinaumu.org, v.cyol.com and ploft.cn.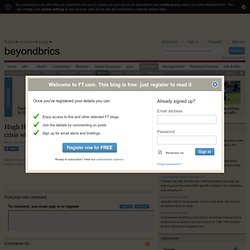 beyondbrics The emerging markets hub News and comment from more than 40 emerging economies, headed by Brazil, Russia, India and China. 'Like' our beyondbrics Facebook page, where we showcase a top story of the day After more than three years of fully open access, readers now need to register on FT.com to read beyondbrics articles for free.
Hugh Hendry: forget Europe and the US, the next crisis will be in China