Anonymous
Anonymous hacks Reliance's Internet filtering server. Internet Service Providers in India are blocking torrent, file sharing and some video sharing websites due to court orders.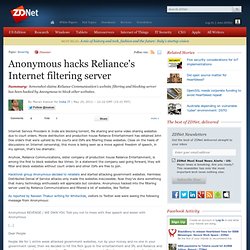 Movie distribution and production house Reliance Entertainment has obtained John Doe orders that were upheld by the courts and ISPs are filtering these websites. Close on the heels of discussions on Internet censorship, this move is being seen as a move against freedom of speech, in my opinion, that's too dramatic. Anonymous News. Anonymous. 'Anonymous' Didn't Take Down Our Site, Chicago Police Say. Diplomats from around the globe gathering May 20-21 in Chicago for the 2012 NATO Summit were met with protestors lining the streets to express disagreement with the organization's policies.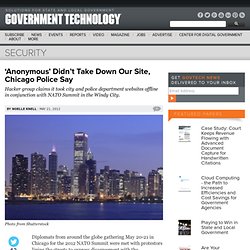 Many reports claim the physical protests, which resulted in many arrests, have been accompanied by virtual protests as well. A news report by Reuters, as well as an article on Huffington Post, stated that malicious hackers affiliated with Anonymous successfully took the websites of the city of Chicago, as well as the Chicago Police Department, offline for a time on Sunday, May 20. A short video on Cyber War News featuring a representative outfitted in attire now closely associated with "hacktivist" group Anonymous states that the group is "actively engaged in actions against the Chicago Police Department," encouraging others to follow suit. But the Chicago Police Department told Government Technology, via email, that news reports got it wrong, asserting that their online presence was unaffected. The Pirate Bay returns, Anonymous hater takes credit for DDoS. After being the victim of a massive Distributed Denial of Service (DDoS) attack by an unknown party, The Pirate Bay has returned (and by the way, so has Wikileaks).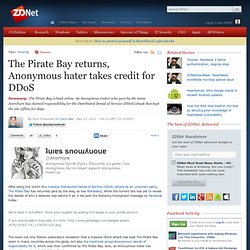 While the torrent site has yet to reveal the details of who it believes was behind it all, it did post the following triumphant message on Facebook today: We're back in full effect! Show your support by adding this badge to your profile picture! If you wanna add it manually, it's here: The news not only follows yesterday's revelation that a massive DDoS attack has kept The Pirate Bay down in many countries across the globe, but also the hacktivist group Anonymous' denial of responsibility for it, which was then confirmed by The Pirate Bay. Anonymous-linked hactivists attacked City of Chicago websites. A sampling of the most recent attacks by Anonymous. Anonymous To Launch Operation Defense in Attempt to Stop CISPA. The US House of Representatives voted to pass CISPA- Cyber Intelligence Sharing and Protection Act today amidst uproar in the cyber world.
Today, the United States House of representatives voted in to pass the controversial CISPA bill that most people argue will be the end of privacy. The bill is meant to give the federal government and businesses protection in law so that they can be able to share threats in the cyber world in an effort to forestall attacks online. The bill is supported by over 100 members of the House of Representatives and is set to be discussed by the end of the week. CISPA will be the first bill that faces a vote in Congress after the Stop Online Privacy Act (SOPA) was voted in January. However, a good percentage of the public and even the Obama administration feel that the bill is not clear enough on what the government can and cannot monitor online. Anonymous Hackers Monthly Roundup: Top 5 April Cyber-Attacks [PHOTOS] A few years ago the Anonymous movement was unknown outside of the murkiest corners of the internet.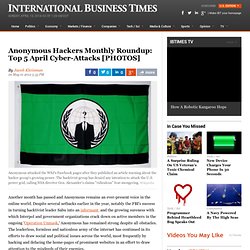 Today their commitment to a number of worthy causes, notably censorship and human rights violations, and their brash refusal to stand down from these causes has brought the faceless organization into the public eye. Time Magazine ranked Anonymous the 36th most influential person in the world after the group came in first place in Time's 2012 online poll. A student at Baylore University wrote their honors thesis on Anonymous, and a documentary We Are Legion: The Story of the Hacktivists premiered at SXSW. Here are five high-profile hacks carried out and endorsed by Anonymous, which demonstrate the method and range of their operations in the past month: Anonymous Hackers Featured In 'Call Of Duty: Black Ops 2' Trailer [VIDEO] The trailer for upcoming dystopian shooter videogame Call of Duty: Black Ops 2 was available yesterday online following news that Activision would release the game on Nov. 13.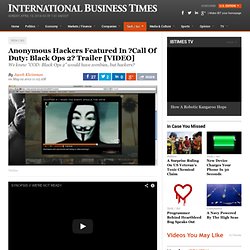 The live-action synopsis portrays a future in which the United States' military forces have been hacked by either enemy nations or terrorists, bringing war to a 21st century Los Angeles. Included in the trailer is a single shot of an unidentified person wearing a Guy Fawkes mask, the unofficial symbol of Anonymous, shown while the narrator explains that the enemy can be anywhere and can be anyone. Hackers plan attack on Russian government sites. How Call of Duty Is Making Anonymous "the Enemy" Parliament gives up on hunt for Toews' 'Anonymous' tormentor. Share photos and videos on Twitter. "Building a Better Anonymous" Series: Part 5 « Cognitive Dissidents. A contemplative Anon (Artwork by Mar - sudux.com) By Josh Corman & Brian Martin If you are new to this series, please begin with Part 0 and the index.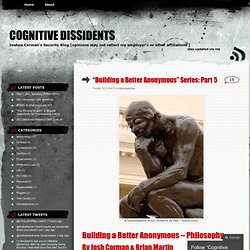 NOTE: We will post each installment here for the security industry to garner feedback for about one week prior to posting to Forbes.com and a more mainstream and business readership. Please comment toward improving/clarifying the content. Acknowledgements. Mass sick day encouraged for May 1 - Business. Two Toronto groups are exhorting Canadian workers to call in sick en masse next Tuesday, on May Day, as a protest against "the attacks of the one per cent.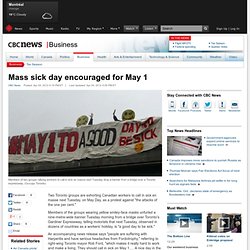 " Members of the groups wearing yellow smiley-face masks unfurled a nine-metre-wide banner Tuesday morning from a bridge over Toronto's Gardiner Expressway, telling motorists that next Tuesday, observed in dozens of countries as a workers' holiday, is "a good day to be sick. " An accompanying news release says "people are suffering with Harperitis and have serious headaches from Fordotrophy," referring to right-wing Toronto mayor Rob Ford, "which makes it really hard to work and make a living. They should call in sick on May 1…. A nice day in the sun will help. " 'Rumours have also surfaced that multiple washroom breaks might soon also be declared illegal'—Groups calling for mass sick day. City Braces for New Protest. 5 Secrets Anonymous Should Steal From China - By Adam Segal.
Over the last few weeks, the hacker collective Anonymous has shifted its attention to China.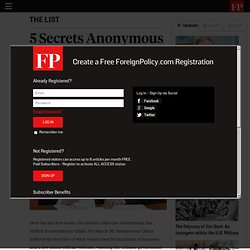 On March 30, Anonymous China defaced the first five of what would soon be hundreds of business and a few minor official websites, warning the Chinese government that it is "not infallible, today websites are hacked, tomorrow it will be your vile regime that will fall. " The Who's "Baba O'Riley" (commonly known as "Teenage Wasteland") played on many of the sites, and Chinese netizens were directed to a link that explained how to get around Internet controls. Time magazine readers name Anonymous 'most influential person' Time magazine today revealed its list of the 100 most influential people in the world.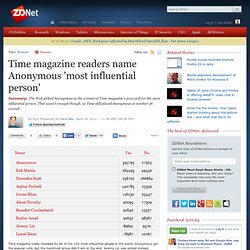 Anonymous got the popular vote, but the hacktivist group didn't win in the end. Jeremy Lin was picked instead. Time's 2012 poll closed last week, and as you can see in the screenshot above, Anonymous was the clear winner with 395,793 positive votes, over 100,000 votes more than second place. Raise Your Voice. Anonymous Builds New Haven For Stolen Data - Security - Vulnerabilities and threats. Saying Pastebin has censored its posts, Anonymous creates AnonPaste, a new site where hacktivists can dump stolen data. Anonymous: 10 Facts About The Hacktivist Group (click image for larger view and for slideshow) Anonymous, together with a group known as the Peoples Liberation Front, Tuesday announced the immediate availability a new website for hacktivists to dump their stolen ("doxed") data.
Dubbed AnonPaste, the website has been created as an alternative to Pastebin and other websites that allow people to anonymously upload large amounts of text, the two groups said in a joint press release. Anonymous: a new political force? It is, however, rarely seen as a political actor, despite Anonymous' evolution, as Al Jazeera's excellent timeline makes quite clear, as Quinn Norton for Wired details with her very interesting three-part series examining the history of Anonymous, or as shown on the video A Short, Strange History of Anonymous posted by Ryan Singel for Wired. It is rather usually labelled as a group composed of hacktivists (most media), hackers and IT criminals (e.g. Interpol), even recently as hackers who "could have the ability within the next year or two to bring about a limited power outage through a cyber attack" in the US, as reported by The Wall Street Journal, citing comments by the Director of the National Security Agency U.S.
Cyber Command Gen. Keith Alexander, done "in private meetings at the White House and elsewhere"(CNET). On the contrary, for Anonymous participants (Anons), Anonymous is indeed "an idea," (AP citing twitter) "the will of the people" (CNET interview). Anonymous hackers look to stop CISPA. The United States House of Representatives recently voted to pass the controversial Cyber Intelligence Sharing and Protection Act (CISPA). The bill looks to give businesses and the federal government legal protection to share cyber threats with one another in an effort to prevent online attacks. Internet privacy, neutrality advocates and even the Obama Administration feel as if the bill does not contain enough limits on how and when the government may monitor private information.
Online petitions opposing the bill and its supporters have collectively garnered more than one million signatures, although such protests have seemingly had little to no effect thus far. The hacktivist group "Anonymous" is looking to change that, however, with the announcement of Operation Defense: Phase 2. BREAKING: Anonymous Takes Down Formula 1 Website With DDOS Attack (Updating Live)
.:: Phrack Magazine ::. Anonymous 'hactivist' goes public on cyber protests. Anonymous Must Evolve Or Break Down, Say Researchers. Hacking The Hackers: A Counter-Intelligence Operation Against Digital Gangs.
---