Europe Future Cities
IMAGES DE VILLES - France Culture Plus
Non, nous ne partons pas à la campagne, mais en ville, où plus de la moitié des humains habitent. Alors oui, plongeons avec plaisir dans ces lieux bâtis, façonnés par les échanges et les interactions, par le progrès ou le déclin.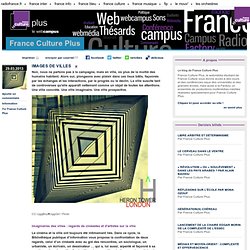 Habiter Demain - Autour de l'expo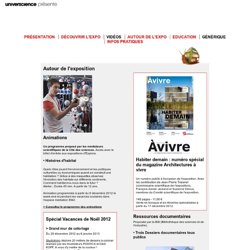 Animations Un programme proposé par les médiateurs scientifiques de la Cité des sciences. Accès avec le billet d'entrée aux expositions d'Explora.
AMF | Amagerforbrændingen
Stockholm Hammerby
Amsterdam - AMFORA
City under the City in Amsterdam Amsterdam is bursting at the seams: the space is limited and the narrow streets are often congested. The architectural office Zwarts & Jansma further developed a concept by Dutch engineering company Strukton, which foresees a city under the city. AMFORA (Alternative MultiFunctionele Ondergrondse Ruimte Amsterdam – Alternative Multifunctional Underground Space Amsterdam) solves the space and traffic problems of Amsterdam: almost 50 km of tunnels will be built underneath the canals in the town centre. They will accommodate extended parking space, sport and leisure facilities like cinemas and others.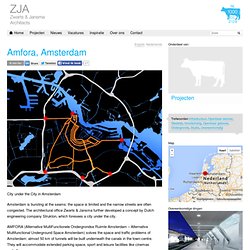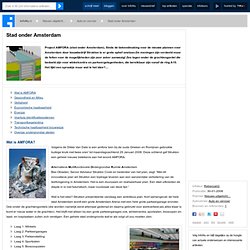 Stad onder Amsterdam | Nieuws uitgelicht: Auto en vervoer
Project AMFORA (stad onder Amsterdam), Sinds de bekendmaking voor de nieuwe plannen voor Amsterdam door bouwbedrijf Strukton is er grote ophef onstaan.De meningen zijn verdeeld maar de feiten voor de mogelijkheden zijn zeer zeker aanwezig! Zes lagen onder de grachtengordel die bedoeld zijn voor winkelcentra en parkeergelegenheden, die bereikbaar zijn vanaf de ring A10. Het lijkt een sprookje maar wat is het idee?....
NL architects, pieter bannenberg, walter van dijk and kamiel klaasse, presented 'virtual realities' a photographic exhibition, at the venice architecture biennale. the works discuss the present position of the architect, which at times seems non-existent as there are so many middlemen involved in projects these days that they seem to take forever to complete. but, we have a savior in photoshop. it gives us the ability, with the click of a few buttons, to communicate ideas and envision what something could look like.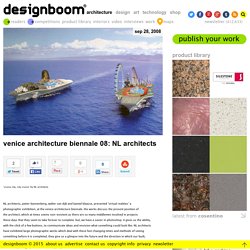 NL architects
nlarchitects.nl