Journals
About Learning Circuits ASTD launched Learning Circuits in January 2000. Its goal was to promote and aid the use of e-learning, creating a body of knowledge about how to use technology efficiently and effectively for learning.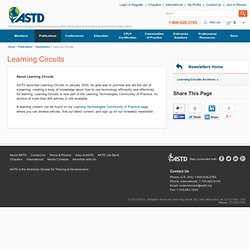 Learning Circuits - ASTD
Elearningmag
Telearn
Editor-in-Chief Dr. Melanie Clay University of West Georgia Melly's DLA Blog Managing Editor Ms. Dawn Senfeld University of West Georgia Associate Editor Ms.
UWG - OJDLA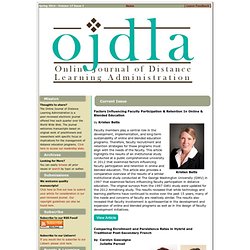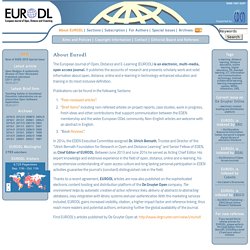 The European Journal of Open, Distance and E-Learning – EURODL is an electronic, multi-media journal on distance and e-learning distributed on the Internet. It publishes the accounts of research, development and teaching for Europe in its most inclusive definition, exploring the potential of electronic publishing. EURODL presents scholarly work and solid information about open, distance and e-learning, education through telematics, multimedia, on-line learning and co-operation. We are delighted to inform that the EDEN Executive Committee assigned Dr. Ulrich Bernath, Chair of the "Foundation for Research in Open and Distance Learning", Senior Fellow of EDEN, as Chief Editor of EURODL.