Blended Coaching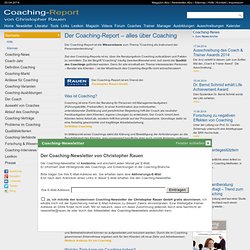 Der Coaching-Report ist die Wissensbasis zum Thema "Coaching als Instrument der Personalentwicklung". Ziel des Coaching-Reports ist es, über die Beratungsform Coaching aufzuklären und Fakten zu vermitteln. Da der Begriff "Coaching" häufig zweckentfremdet wird, soll damit die Qualität des Coachings gefördert werden.
Coaching-Report - Die Coaching-Wissensbasis mit Fakten, News und Hintergrundinfos von Christopher Rauen
Virtuelles_Coaching.pdf (application/pdf-Objekt)
Mentoring and Coaching Pilot for School and System Leaders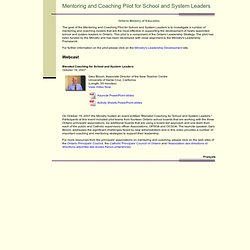 Ontario Ministry of Education The goal of the Mentoring and Coaching Pilot for School and System Leaders is to investigate a number of mentoring and coaching models that are the most effective in supporting the development of newly appointed school and system leaders in Ontario. This pilot is a component of the Ontario Leadership Strategy. The pilot has been funded by the Ministry and has been developed with close alignment to the Ministry's Leadership Framework. For further information on the pilot please click on the Ministry's Leadership Development site.
June 3 2013 Note — This tip library is being expanded and some tips that are listed, but not linked, will be here shortly. If you can't find something, let me know at judith followed by designingforlearning.org. Thanks!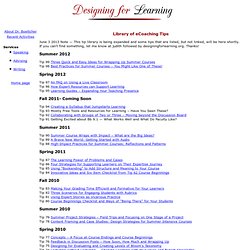 Inventory of Ecoaching Tips
fabelhaftes eCoaching : inhalte
eCoaching | My eCoach
Untitled Document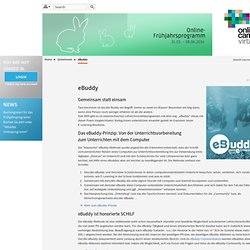 (cc) Steveprutz Gemeinsam statt einsam Taucher/innen ist der/die Buddy ein Begriff: immer zu zweit ins Wasser! Besonders wichtig dann, wenn eine Person noch weniger erfahren ist als die andere.Seit 2005 gibt es im österreichischen Lehrer/innenbildungswesen mit dem sog. "eBuddy" etwas mit dieser Praxis Vergleichbares: Kolleg/innen unterstützen einander gezielt im Erproben neuer E-Learning-Routinen.
Blended coaching: skills and ... - Google Bücher
Gary Bloom is associate director of the New Teacher Center at the University of California, Santa Cruz. Bloom has 23 years of K-12 education experience, having served as a bilingual teacher, principal, director of curriculum, and assistant superintendent. He served as the superintendent of the Aromas-San Juan Unified School District, known for its innovative programs such as graduation exhibitions, a teacher-led high school, and teacher peer review. Bloom is a Kellogg National Fellow, adjunct faculty to San Jose State University's educational administration graduate program, and has consulted, trained, and presented on a variety of topics throughout the United States and in Latin America. He is the primary author of a number of professional development programs for leadership coaches and school principals.