Benelux editors
ASIADES
Hedenverleden.nl | Vintage meubels, verlichting, woonaccesoires en kunst.
SHOW ROOM | Centre de Design d'Intérieur: Accueil - Informer Inspire Orientation
Toonkamer is een platform waar ca. 15 Nederlandse en internationale interieur merken hun nieuwste collecties presenteren. Op zo'n 2.000 m2 vindt u veel facetten van het interieur. Wij zijn op zaterdag en elke 1e zondag van de maand geopend voor consumenten, (interieur) architecten en stylisten. De collecties zijn gepresenteerd om te bekijken, voelen en beleven.
Contact
Spell / Design Label / Dutch Interior Products / Lighting, Furniture and Interior Accessories
Bienvenue chez XLBoom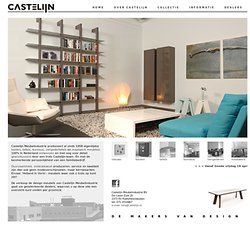 Castelijn Meubelindustrie produceert al sinds 1958 eigentijdse kasten, tafels, bureaus, vergadertafels en maatwerk meubilair. 100% In Nederland ontworpen en met oog voor detail geproduceerd door een trots Castelijn-team. Én met de kenmerkende persoonlijkheid van een familiebedrijf. Duurzaamheid, milieubewust produceren, service en kwaliteit zijn dan ook geen modeverschijnselen, maar kernwaarden. Ervaar 'Holland in Vorm': meubels waar ook ú trots op kunt zijn! De verkoop de design meubels van Castelijn Meubelindustrie gaat via geselecteerde dealers, waarvan u op deze site een overzicht kunt vinden per provincie.
Castelijn - design meubels voor kantoor inrichting en woninginrichting
Home
xlboom - design and manufacturing smart living objects
architectural fireplaces
Home
CasimirMeubelen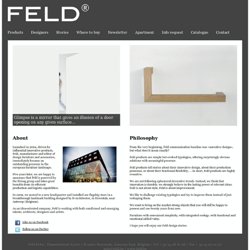 Philosophy From the very beginning, Feld communication baseline was «narrative design», but what does it mean exactly? Feld products are simple but evolved typologies, offering surprisingly obvious solutions with meaningful presence.
Feld - Manufacturer and editor of design furniture and accessories
jongform
Polyline
VANGE EDITION