Surfing USA
Google Apps Admins: Use APIs Without Writing Code - ReadWriteCloud. Earlier this week Google released its Google Apps Shell Interface (GASI), an a new way for Google Apps admins to work with the Google Apps APIs without writing code.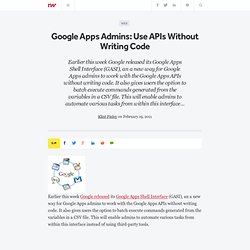 It also gives users the option to batch execute commands generated from the variables in a CSV file. This will enable admins to automate various tasks from within this interface instead of using third-party tools. The available commands are documented here. Currently supported commands include: Creating, deleting and modifying users Creating, deleting and modifying groups Creating Gmail filters, labels, etc. Carcavelos - Google Maps. Parts of a Surfboard - What are the Parts of a Surfboard? Your surfboard is made up of several parts.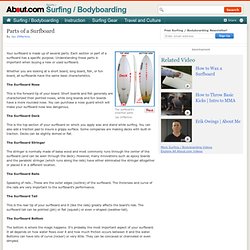 Each section or part of a surfboard has a specific purpose. Understanding these parts is important when buying a new or used surfboard. Your First Surfboard: How to Choose Your First Surfboard. Nothing is more important to the beginning surfer than choosing the right first board.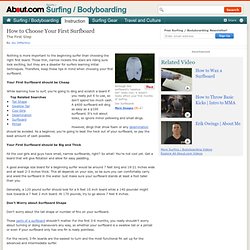 Those thin, narrow rockets the stars are riding sure look exciting, but they are a disaster for surfers learning initial techniques. Therefore, keep these tips in mind when choosing your first surfboard. Your First Surfboard should be Cheap While learning how to surf, you're going to ding and scratch a board if you really put it to use, so don't spend too much cash. A $400 surfboard will ding as easy as a $100 surfboard.