FUNDRAISING
Selfstarter. Volunteer Abroad for Free | Fundraising for Volunteer & Mission Trips. Catapooolt. How It Works | HeadFunder. Rock The Post | Home. Twibbon - Start something! Raise Money for YOU! How to raise money on your donation website! RocketHub. Sponsume | Fund your project through social networks.
Bing Fund. Bmycharity. Buzzbnk - Positive People Backing Bright Ideas. Comparison of crowd funding services. Crowd funding (alternately: crowdfunding, crowd financing, equity crowdfunding) is a process in which individuals pool money and other resources to fund projects initiated by other people or organizations.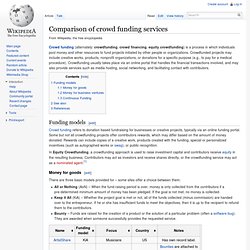 Crowdfunded projects may include creative works, products, nonprofit organizations, or donations for a specific purpose (e.g., to pay for a medical procedure). Crowdfunding usually takes place via an online portal that handles the financial transactions involved, and may also provide services such as media hosting, social networking, and facilitating contact with contributors. Funding models[edit] Fundraising. Fundraising or fund raising (also known as "development") is the process of soliciting and gathering voluntary contributions of money or other resources, by requesting donations from individuals, businesses, charitable foundations, or governmental agencies (see also crowd funding).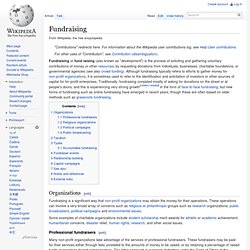 Although fundraising typically refers to efforts to gather money for non-profit organizations, it is sometimes used to refer to the identification and solicitation of investors or other sources of capital for for-profit enterprises. Traditionally, fundraising consisted mostly of asking for donations on the street or at people's doors, and this is experiencing very strong growth[citation needed] in the form of face-to-face fundraising, but new forms of fundraising such as online fundraising have emerged in recent years, though these are often based on older methods such as grassroots fundraising.
Organizations[edit] Category:Crowd funding. 11 Innovative Crowdfunding Platforms for Social Good. The Commerce With a Conscience Series is supported by Fedex.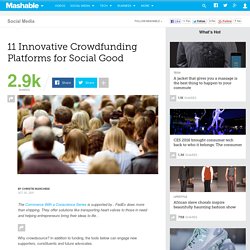 FedEx does more than shipping. They offer solutions like transporting heart valves to those in need and helping entrepreneurs bring their ideas to life. See how. Why crowdsource? CauseVox | Build a beautiful online fundraising site in minutes. ChipIn. CROWDFUNDING RESEARCH.
Crowdfunding for Your Business – ProFounder. Crowdfunding, Investment in startups, microinvest, mymicroinvest. Www.donortools.com. Friendfund.com. Flattr - Social micropayments. Go Get Funding | Raise Money Online, Start Online Fundraising.
GreenUnite | Crowdfunding and education for a more sustainable world. Home - Institute of Fundraising. How It Works. It will take anywhere from 3 seconds to 1 minute for your pic to upload, depending on how big it is.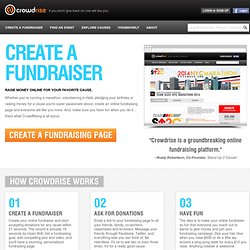 You're going to see this message every time you post a new pic. So, we're making the text really long so that it'll take you at least five picture uploads to read it all. Here's what we're thinking...While your first picture is uploading think about someone you want to kiss. Invested.in | Raise Money, Reach Goals, Build Community! Indiegogo. JustGive.org - JustGive - The Destination for Online Charitable Giving. Kickstarter. Invest alongside professionnals in companies. New Jelly. Online fundraising donations and ideas - JustGiving. Online Fundraising Pages | Personal Internet Fundraisers | Fund Raise Online for Charity | Crowdrise. Online Fundraising and Donations for Nonprofits | Razoo.
Online Fundraising Website and Software for Events and Causes. Peerbackers | crowdfunding big ideas.
---