Funding
NACUE | Welcome to NACUE
Stay up-to-date with COST's latest news and opportunities! read more Over recent decades, advances in information technology have revolutionised the way that information is generated, stored and, largely due to the evolution of the Internet, disseminated. For researchers and scholars in all disciplines these changes present new opportunities and challenges for how their work is published, and the concept of open access is now becoming well established.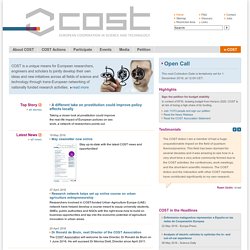 Petridish lets you fund promising research projects and join first hand in new discoveries. World famous researchers post projects and expeditions that need your help to get off the ground.Each project has a minimum threshold it must hit in pledges, or it will not be funded. Backers in successful projects join the team and get insider rewards such as: Early access to news about progress and findings, souvenirs from the field, acknowledgements in journals, naming rights for new discoveries, or the ability to join an expedition in person. Join forces with renowned researchers!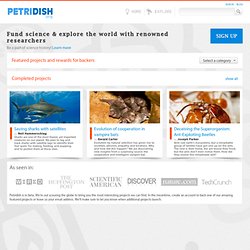 BSEEN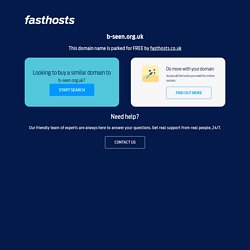 A product concept that could solve a problem? A talent that could be turned into a profitable business? A new service idea which customers will want?
Accelerator - Business Incubator in London |
Venture Capital | Early Stage & Series A Funding | Balderton
Balderton has a track record of helping entrepreneurs build substantial businesses – with more $250m+ exits in the past five years than any other European venture firm. We have backed over 100 entrepreneurs in the last decade, and continue to look for outstanding entrepreneurs who share our passion for disrupting large markets and building long-lasting, great companies. We invest early stage, but, with nearly $2 billion of committed capital, we have the resources to support companies for the long term. But we do more than just invest. Our partners have founded and grown companies from one to thousands of employees; and we bring that real-world company-building experience, as well as our extensive network of relationships across multiple industries and continents, to the entrepreneurs we partner with. Balderton was founded in 2000 by Benchmark Capital, the leading US venture firm.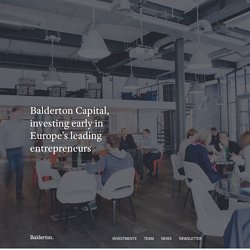 NEA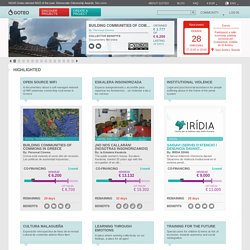 Project Swingdigentes graban disco... ¡En la calle!: ¡Ya sois más de 100 mecenas!
Help ELP launch an online store to enable remote Aboriginal entrepreneurs to connect with consumers. $7,501 raised, $0 to tip Tipping Point: Ultimate Goal: 30 days to go Our truck has broken down beyond repair and we need to replace it to successfully continue our recycling project.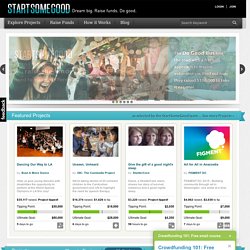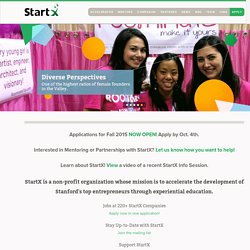 StartX benefits from the best mentors in Silicon Valley ranging from entrepreneurs and venture capitalists to industry experts and professors. We benefit from having access to faculty and lecturers from the Stanford community including the Engineering, Business, Medical, and Design Schools. We have a large roster of experts in a wide range of industries and functions who help the founders with everything from pricing models and marketing to FDA consulting and sales. The mentors will provide your teams with guidance and advice based on your specific needs through calls, lectures, and informal meetings. By forming personal relationships with the best and the brightest entrepreneurial minds, you will not only gain access to their unique networks, but also be provided the guidance you need to start your company off on the right track.
True Ventures | Early Stage Capital
Bethnal Green Ventures
Whoever you are and whatever your organisation is – we can help – whether you're an entrepreneur, a social enterprise, a start-up business, a charity or a voluntary organisation. Future Business is a social enterprise that offers business support and workspace across Cambridgeshire. We manage several buildings in Cambridge with a particular emphasis on working with businesses that want to make a difference in a social or environmental way. Find out more
Future Business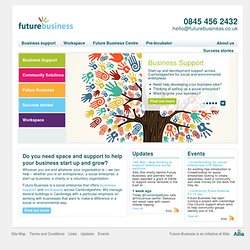 Accelerator Academy - Educating Emerging Entrepreneurs
What is Biotechnology YES? The Biotechnology YES (Young Entrepreneurs Scheme) is an innovative competition developed to raise awareness of the commercialisation of bioscience ideas among postgraduate students/postdoctoral scientists. The competition is funded by sponsorship and aims to encourage an entrepreneurial culture in the UK bioscience postgraduate and postdoctoral base for the benefit of the UK economy.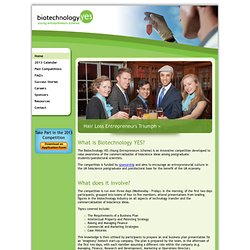 Biotechnology Yes - Training for UK postgraduates on the commercialisation of bioscience ideas
EnLabs
Startup Nomads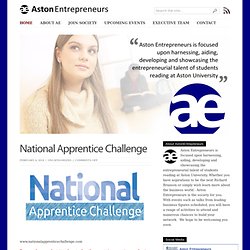 Aston Entrepreneurs
www.nationalapprenticechallenge.com Do you have what it takes to be the next Apprentice and win £5,000 cash prize? *** National Apprentice Challenge *** is an award-winning Entrepreneurial Competition comprised of practical tasks inspired from The Apprentice TV Show for ambitious students and young leaders.
Whether it's just an idea, an international hi tech venture, a social enterprise or a small consultancy FlyingStart is geared up to support graduates, up to five years out, realise their ambitions and support new businesses. This journey embarks with being an online member and then achieved through the following flyingstart framework. a personal system to help you develop and start your business and make it succeed a package of support and funding for enterprise clubs in universities free 2-6 hour action-focused events to get set up for entrepreneurship
FlyingStart Online | FlyingStart offers four ways to help develop your ideas, set up a new business or grow your existing business