Exemples and use cases
The Power of Quora & Why Benchmark was Right to Pay Up. I was an early user of Quora and like all new technologies they take a bit of playing with them for a while, discussing them with others and reflecting on them to let them sink in.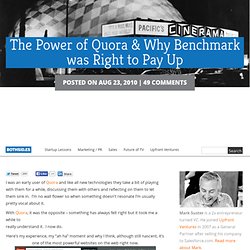 I'm no wall flower so when something doesn't resonate I'm usually pretty vocal about it. With Quora, it was the opposite – something has always felt right but it took me a while to really understand it. I now do. Here's my experience, my "ah ha" moment and why I think, although still nascent, it's one of the most powerful websites on the web right now. Gmail's Permanent Failure: Only Humans Can Build Software For Humans.
Editor's note: Guest author Adam Rifkin is a Silicon Valley veteran who organizes a networking group for entrepreneurial engineers called 106 Miles.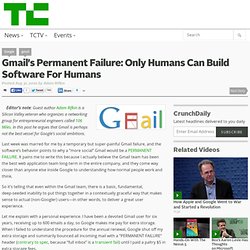 In this post he argues that Gmail is perhaps not the best vessel for Google's social ambitions. Last week was marred for me by a temporary but super-painful Gmail failure, and the software's behavior points to why a "more social" Gmail would be a PERMANENT FAILURE. It pains me to write this because I actually believe the Gmail team has been the best web application team long-term in the entire company, and they come way closer than anyone else inside Google to understanding how normal people work and think. So it's telling that even within the Gmail team, there is a basic, fundamental, deep-seeded inability to put things together in a contextually graceful way that makes sense to actual (non-Googler) users—in other words, to deliver a great user experience. Let me explain with a personal experience.
BookBlog ? Blog Archive ? Facebook groups ? design flaws in social scaling - Adina Levin's weblog. For conversation about books I've been reading, social software, and other stuff too. I am very glad to see Facebook launch better groups.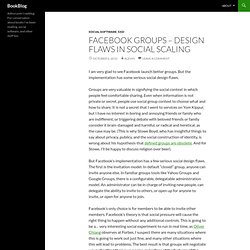 But the implementation has some serious social design flaws. Groups are very valuable in signifying the social context in which people feel comfortable sharing. Even when information is not private or secret, people use social group context to choose what and how to share. It is not a secret that I went to services on Yom Kippur, but I have no interest in boring and annoying friends or family who are indifferent, or triggering debate with beloved friends or family consider it brain-damaged and harmful, or radical and heretical, as the case may be.
Jobs 'annoyed and depressed' following iPad announcement, biography reveals. Walter Isaacson's biography of former Apple CEO Steve Jobs is out, and it revealed how Jobs was left feeling 'annoyed and depressed' following the iPad announcement back in January 2010.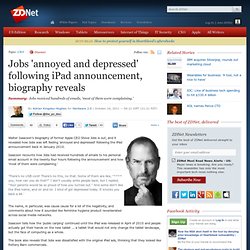 Isaacson recounts how Jobs had received hundreds of emails to his personal email account in the twenty four hours following the announcement and how 'most of them were complaining.' 'There's no USB cord! There's no this, no that. Can We Ever Digitally Organize Our Friends? « Design « kev/null. In Design , Technology on 15 July 2011.
When Google+ launched last week, one of the most discussed features was Circles. In case you haven't read a single blog, Tweet, or Google+ post in the last week (and yet, somehow stumbled into this dark corner of the internet), Circles is Google's way of allowing you to group people. You can put anyone into a one or more Circles such as "Friends", "Acquaintances", "Co-workers", "People I Eat Brunch With", "Cyclists", etc. And you have to put a person in at least one group. @ rodbegbie 's Circles. Why StackOverflow sucks and participating there is impossible « Words and Stuff. StackExchange/StackOverflow is broke.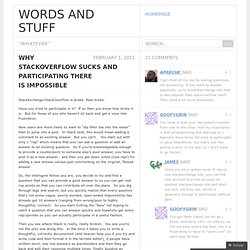 Real broke. Have you tried to participate in it? What Google+ Learned from Buzz and Wave. After a half day of using Google+ with the limited number of people I know in the field test so far, I like it a lot.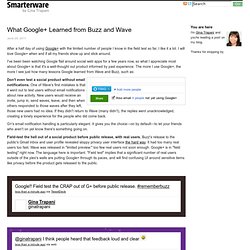 I will love Google+ when and if all my friends show up and stick around. I've been been watching Google flail around social web apps for a few years now, so what I appreciate most about Google+ is that it's a well-thought out product informed by past experience. The more I use Google+, the more I see just how many lessons Google learned from Wave and Buzz, such as: Don't even test a social product without email notifications.
---