Exemples and use cases
The Power of Quora & Why Benchmark was Right to Pay Up | Both Sides of the Table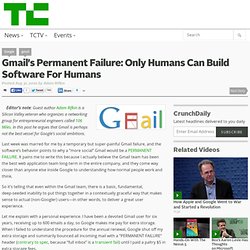 Editor's note : Guest author Adam Rifkin is a Silicon Valley veteran who organizes a networking group for entrepreneurial engineers called 106 Miles. In this post he argues that Gmail is perhaps not the best vessel for Google's social ambitions.
Gmail's Permanent Failure: Only Humans Can Build Software For Humans
BookBlog ? Blog Archive ? Facebook groups ? design flaws in social scaling - Adina Levin's weblog. For conversation about books I've been reading, social software, and other stuff too.
Walter Isaacson's biography of former Apple CEO Steve Jobs is out, and it revealed how Jobs was left feeling 'annoyed and depressed' following the iPad announcement back in January 2010.
Jobs 'annoyed and depressed' following iPad announcement, biography reveals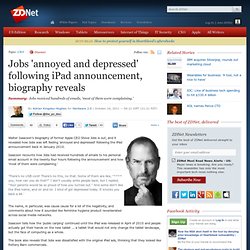 Can We Ever Digitally Organize Our Friends? « Design « kev/null
In Design , Technology on 15 July 2011. When Google+ launched last week, one of the most discussed features was Circles.
StackExchange/StackOverflow is broke. Real broke. Have you tried to participate in it?
Why StackOverflow sucks and participating there is impossible « Words and Stuff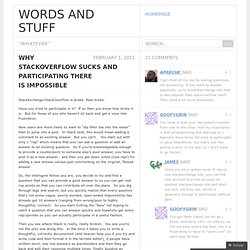 After a half day of using Google+ with the limited number of people I know in the field test so far, I like it a lot.
What Google+ Learned from Buzz and Wave