Papercraft
Papercraft. ROMMY "No.02" Paper craft model One A4 size sheet ROMMY series Assembly Instructions One A4 size sheet ROMMY "No.02" Paper craft model One Letter size sheet ROMMY series Assembly Instructions One Letter size sheet ROMMY "Panda Mood" Paper craft model.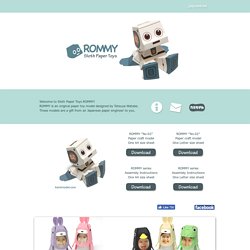 Papercraft. Papercraft. Origami Hexaflexagon by Paul Jackson. Hexaflexagon. Origami Fireworks (Yami Yamauchi) Origami Magic Ball (Dragon's Egg by Yuri Shumakov) Tomoko Fuse's Espiral (Spiral) Cubeecraft - Free Papercraft Toys.
Fwis • Readymech Series 002. Creative Closeup. T H E T O Y M A K E R. Nintendo Papercraft - The resource for all your Nintendo themed papercrafts! Paper Modelz. Home. Paper Toys - Paper Cut-Outs - PaperToys.com.
Papercraft. Marshall Alexander – Paper Artist. Peter Callesen. Boxpunx and more! Paper Crafts. Papercraft. Papercraft. Paper Forest. Custom Paper Toys. Six Amazing Pop-Up Paper Sculptures. Nice Paper Toys. FREE paper models. Paper Foldables - Papercraft Toys by Bryan. NaniBird Home. Bastelbogen - Home. Das Ausschneiden und Kleben von Bastelbögen ist eine nette Freizeitbeschäftigung, die nicht nur die Kinder lieben.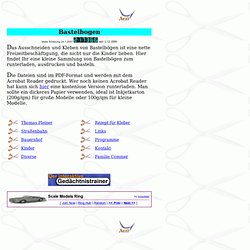 Hier findet Ihr eine kleine Sammlung von Bastelbögen zum runterladen, ausdrucken und basteln. Die Dateien sind im PDF-Format und werden mit dem Acrobat Reader gedruckt. Wer noch keinen Acrobat Reader hat kann sich hier eine kostenlose Version runterladen. Man sollte ein dickeres Papier verwenden, ideal ist Inkjetkarton (200g/qm) für große Modelle oder 100g/qm für kleine Modelle.
Paper Critters: Online Paper Toy Creator. Rememberthelittleguy & Toypaper - Doodles, Interactive Design and Paper Toys! Category:Paper toys. Paper model / Papercraft. Paper models, also called card models, "pepakura" or papercraft, are models constructed mainly from sheets of heavy paper, paperboard, card stock, or foam.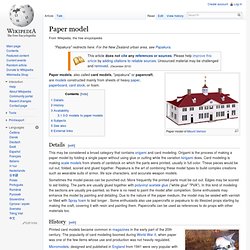 Details[edit] This may be considered a broad category that contains origami and card modeling. Origami is the process of making a paper model by folding a single paper without using glue or cutting while the variation kirigami does. Card modeling is making scale models from sheets of cardstock on which the parts were printed, usually in full color. Kartonmodellbau. Allgemeines[Bearbeiten] In der Regel werden Standmodelle gefertigt.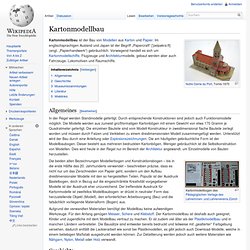 Durch entsprechende Konstruktionen sind jedoch auch Funktionsmodelle möglich. Die Modelle werden aus zumeist großformatigen Kartonbögen mit einem Gewicht von etwa 170 Gramm je Quadratmeter gefertigt. Category:Paper vehicles.
Category:Paper art. Category:Paper folding. Category:Origami. Portal:Origami. The Origami Portal Origami (折り紙, origami?)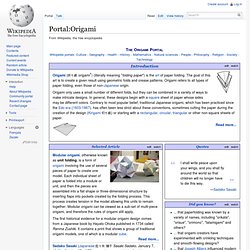 (literally meaning "folding paper") is the art of paper folding. Origami. Origami. The folding of an Origami crane Origami (折り紙?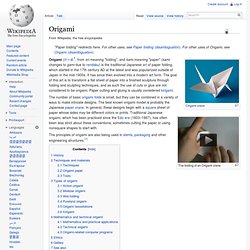 , from ori meaning "folding", and kami meaning "paper" (kami changes to gami due to rendaku) is the traditional Japanese art of paper folding, which started in the 17th century AD at the latest and was popularized outside of Japan in the mid-1900s. It has since then evolved into a modern art form. The goal of this art is to transform a flat sheet of paper into a finished sculpture through folding and sculpting techniques, and as such the use of cuts or glue are not considered to be origami.
Carton
---