Media Audio Fun
Seaquence. Breadfish.de - marvelous! Matrix. Do As One. Relaxing music, sleep-aids, anxiety reduction, relaxation tools. MTA.ME. Echogenesis - A Drexel Digital Media Senior Project.
Nightingale songs. Projecttwo.swf (Objet application/x-shockwave-flash) Drinkify. INCREDIBOX [ Official website ] Everyone's Mixtape.
Neverending Playlist - Listen to your favorite Music for Free. Music to use » Search. CountMyBeats.com - Your online Beat Counter. BallDroppings. Drum Kit. Myinstants! Instant button generator and database. Svenpanel by cubuss. [ iDaft ] The Daft Punk's Console by NAJLE.COM. [ iDaft ] The Daft Punk's Console by NAJLE.COM. [ iDaft ] The Daft Punk's Console by NAJLE.COM. The Beatles Player.
Music-Map - The tourist map of music. RainyMood.com: Rain makes everything better. FREE GONG BUTTON. Worst sound in the World experiment | Bad Vibes | University of Salford. BBC: Horrible noises experiment. This experiment is being run by citizen scientist Izzy Thomlinson for BBC Radio 4's So You Want To Be A Scientist?.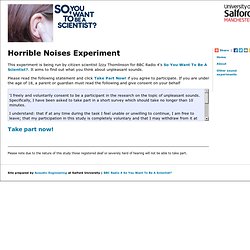 It aims to find out what you think about unpleasant sounds. Please read the following statement and click Take Part Now! If you agree to participate. If you are under the age of 18, a parent or guardian must read the following and give consent on your behalf 'I freely and voluntarily consent to be a participant in the research on the topic of unpleasant sounds.
SimplyNoise - The Best Free White Noise Generator on the Internet. Unhear it - get that damn song out of your head! Whale Translator. Die Knallerseite. TheUglyDance.com - Turn yourself into an ugly dancer.
Audio Web Apps. Audio Online Composing. Beatmachines / Beatmaschinen / Drummachine.
---