Fun!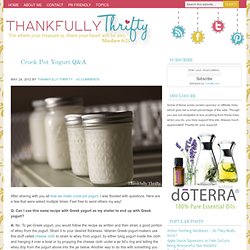 After sharing with you all how we make crock pot yogurt, I was flooded with questions. Here are a few that were asked multiple times. Feel free to send others my way!
Crock Pot Yogurt Q&A
Rachael Ashe is a Vancouver artist whose specialities include photography, collage, and a very unique approach to the art of book alteration. Drawing inspiration from the vast variety and influence that our cities nature provides us, Rachael strives to incorporate bits of nature into all of her artwork. We sat down with Rachael as she shared exactly why she alters books, how she approaches them, and what drives her unquenchable desire to create.
The Altered Editions of Rachael Ashe | Opus Art Supplies