Fun Video Websites
Veehd - Stream and Download Videos. Funny Videos,Viral Clips,Free Games,Funny Pictures -VIDEOBASH.COM. Clipland: music videos, short films, tv commercials, movie trailers. Current TV | Politics, News Analysis, Commentary and Opinion. To Our Faithful Current.com Users: Current's run has ended after eight exciting years on air and online.
The Current TV staff has appreciated your interest, support, participation and unflagging loyalty over the years. Your contributions helped make Current.com a vibrant place for discussing thousands of interesting stories, and your continued viewership motivated us to keep innovating and find new ways to reflect the voice of the people. TED: Ideas worth spreading. Big Think | Blogs, Articles and Videos from the World's Top Thinkers and Leaders. Original Web Series, Animation, Musical Comedy, NSFW, Sports, Parodies | CC:Studios. Blip - discover the best in original web series. 5min - Find the best how to, instructional and DIY videos – Life Videopedia. Watch live TV channels broadcasting on the Internet. Watch TV. Watch Movies. | Online | Free | Hulu - Flash Player Installation. Live Video Chat | Stickam. USTREAM, You're On. Free LIVE VIDEO Streaming, Online Broadcasts. Create webcasts, live stream videos on the Internet. Live streaming videos, TV shows.
Video Search Engine - Blinkx. Funny videos on CollegeHumor. Laughing Squid. Epic Fail Pictures - Epic Losers. YTTM.tv - Pick a year, click refresh, and TRAVEL THROUGH TIME. Watch Movies Online For Free | Your #1 Online Movie Experience | Veoh. YouTube - Broadcast Yourself. YouTomb. TubGet - Download videos YouTube. 12 Fun Hacks for Getting More Out of YouTube. There's no doubt that plain old YouTube can be tons of fun, but when you get bored of watching clips the traditional way, there are a ton of sites that can help enhance the experience.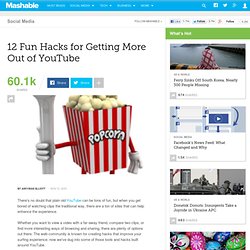 Whether you want to view a video with a far-away friend, compare two clips, or find more interesting ways of browsing and sharing, there are plenty of options out there. The web community is known for creating hacks that improve your surfing experience; now we've dug into some of those tools and hacks built around YouTube. Have a look through our 10 choices and let us know of any other YouTube mashups, hacks, or similar sites and services you've used. We'd love to hear about them in the comments below. 1. Metacafe - Best Videos & Funny Movies. Watch, publish, share videos. Watch videos online - Yahoo! Screen. Vidéos Myspace TV - Regarde des millions de vidéos. Fun Bilder / Pics, lustige Videos / Clips, Flash Games und lustige Ebay - Auktionen auf bildschirmarbeiter.com.
Funny Videos, Funny Clips & Funny Pictures | Break.com. Vimeo, Video Sharing For You. OVGuide | Online Video Guide - Watch Free Videos. Funny Videos,Viral Clips,Free Games,Funny Pictures -VIDEOBASH.COM. Redefining the Media.
---