Fun With Games
A pearl for all game lovers.
Fpshooter. Mediamar. Free FPS Games // Online Fps. Virtual drums, Drum games, Online games for kids. On the App Store you can get the version for iPad and iPhone of our virtual drums.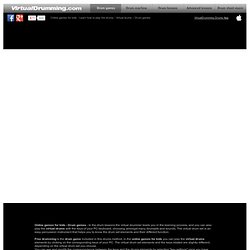 VirtualDrumming is more than a drum game, you can play a complete drum set, drumsticks follow every move of your fingers, with finger taps or slides you can create your beats and play the drums along to your favourite songs. Learn more We receive many requests for new virtual drumsets, we can't satisfy each one, but we keep record of them to make a list of the most voted drummers.
Carefully choose and vote for your favorite drummer, we only take one vote for each visitor. Watch the virtual drummers' videos on YouTube. Flash Play Guitar game. Play Game Boy Online. Castle Vox - Axis & Allies meets Diplomacy Strategy Game. Castle Vox is a simultaneous-turns team-based world conquest game, based on the best features of classic strategy boardgames like Axis & Allies and Diplomacy.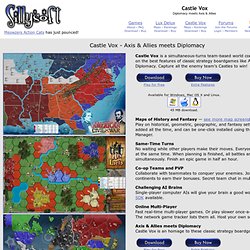 Capture all the enemy team's Castles to win! Maps of History and Fantasy — see more map screenshots Play on historical, geometric, geographic, and fantasy settings. New maps get added all the time, and can be one-click installed using the built-in Map Manager. Fun Games - Bored.com. Games | Free Online Games | Download Games for Kids, Girls and Boys. Free Online Games - Free Games Played Online. Free Online Games to Play at GameScene.com. PLAY FREE ARCADE : Free Games Online : Arcade, Puzzle, Driving, Mario. Y8.com - Free Flash Games - Play Your Favorite Game Online Right Now! Addicting games, mini games, funny games, puzzle games, play free flash games at gamedfree.com! Games - Free Online Games, Free Games Online! - GamesGames.com. Free Puzzle Games.
Addicting Games - My Addicting Games - Play Free Online Addicting Games at MyAddictingGames.NET. Games | Free Online Games | Free Games | Games.com. Free Online Puzzle Games and Board Games from AddictingGames.com. Free Games Online, Free Online Games, Flash Games! - Agame.com. Interactive Buddy Online Game. Play Free Online Gadget Games | Free Flash Gadget Arcade Games. Chess Board Editor. Link to clone of righthand chessboard (embedded initial position and moves to navigate): Link to current position on righthand chessboard with no moves included: Link to playing current position on righthand chessboard against computer (online for free): HTML code for static diagram image with link to share: HTML code for animated diagram image with link to share: HTML code to embed righthand chessboard on your own webpage: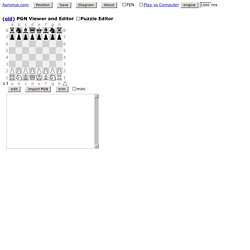 ---