Tech
2014
2013. 2012. 2011. 7 High Tech Products And Their Cheap Ass Ingredients. Every day you are bombarded with commercials for things you have to buy to avoid ending up bitter and alone in a pile of your own, reeking filth.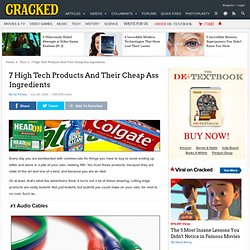 You trust these products, because they are state of the art and one of a kind, and because you are an idiot. Or at least, that's what the advertisers think. It turns out a lot of these amazing, cutting edge products are really bullshit. Not just bullshit, but bullshit you could make on your own, for next to no cost. Such as... Tech Zombies: 6 Technologies That Don't Know They're Dead. Some technologies are like a Tyrannosaurus running down the highway (without the awesome).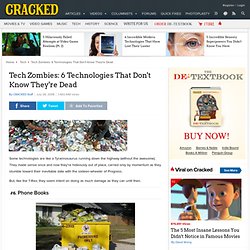 They made sense once and now they're hideously out of place, carried only by momentum as they stumble toward their inevitable date with the sixteen-wheeler of Progress. But, like the T-Rex, they seem intent on doing as much damage as they can until then. 5 Awesome Sci-Fi Inventions (That Would Actually Suck) Remember all those Star Trek gadgets you wished you had because they looked so cool?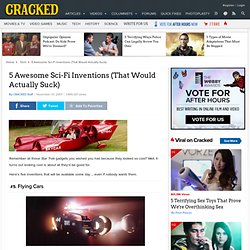 Well, it turns out looking cool is about all they'd be good for. Here's five inventions that will be available some day ... even if nobody wants them. 6 Shocking Ways TV Rewires Your Brain. The average American watches more than four hours of television per day (five times the amount dedicated to socialization!).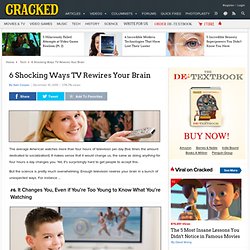 It makes sense that it would change us, the same as doing anything for four hours a day changes you. Yet, it's surprisingly hard to get people to accept this. The 5 Worst Sources of Advice on Television. Entertainment and good advice rarely cross paths.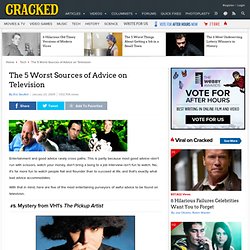 This is partly because most good advice--don't run with scissors, watch your money, don't bring a bong to a job interview--isn't fun to watch. No, it's far more fun to watch people flail and flounder than to succeed at life, and that's exactly what bad advice accommodates. With that in mind, here are five of the most entertaining purveyors of awful advice to be found on television. Mystery from VH1's The Pickup Artist Mystery, the star of VH1's The Pickup Artist, has dedicated his career to teaching men how to seduce women through seminars and bootcamps that he hosts around the world. The 5 Most Ridiculously Awful Computers Ever Made. Bitch all you want about the computer you're using now, about how it's short on RAM and infected with spyware and Windows Vista, but that machine stands on the shoulders of giants.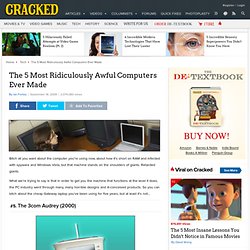 Retarded giants. What we're trying to say is that in order to get you the machine that functions at the level it does, the PC industry went through many, many horrible designs and ill-conceived products. So you can bitch about the cheap Gateway laptop you've been using for five years, but at least it's not... The 3com Audrey (2000)
---