2011
Hollywood's Biggest Product Placement of 2011. Sherlock Holmes' methods may be unorthodox, but they are profitable.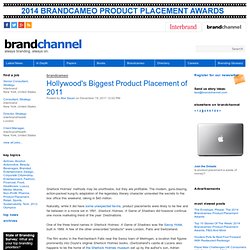 The modern, guns-blazing, action-packed kung-fu adaptation of the legendary literary character unraveled the secrets to the box office this weekend, raking in $40 million. Naturally, while it did have some unexpected tie-ins, product placements were likely to be few and far between in a movie set in 1891. Sherlock Holmes: A Game of Shadows did however continue one movie marketing trend of the year: Destinations. At the Movies: Product Placement Mission Not So Impossible With Tattooed Tintin. It's the end of 2011 and the last chance for Apple to get all its product placements in before beginning onscreen dominance anew for another year.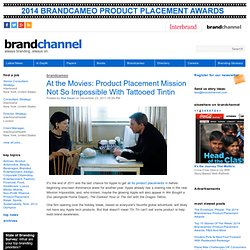 Apple already has a starring role in the new Mission Impossible, and, who knows, maybe the glowing Apple will also appear in We Bought a Zoo (alongside Home Depot), The Darkest Hour or The Girl with the Dragon Tattoo. One film opening over the holiday break, based on everyone's favorite global adventurer, will likely not have any Apple tech products. But that doesn't mean Tin Tin can't sell some product or help build brand awareness. Tin Tin's list of brand partners is a mixed bag (of dog food). There is Purina Dog Chow, Amtrak, Alouette cheese, Hampton Inn, and The Republic of Tea. Product placement goes digital. It's a Knockout.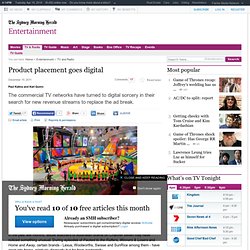 IN THE early days of television, everything was brought to you by a sponsor. Soap operas are soap operas because they were sponsored by the manufacturers of laundry detergents (or soaps, as they were then known), first on the radio and then on the new-fangled box. Today, the only thing that's changed is the sophistication of the sponsorship and the technology that allows it to happen. In the past few months, astute watchers of Australian drama on Channel Seven may have noticed something unusual.
Product Placement Gone Wild! Everything You Should Know About Hidden Product Placement. Savvy auds drive need for seamless show stuffers. Over the past two decades, Propaganda GEM has solidified its status as a leader in the world of showbiz product placement.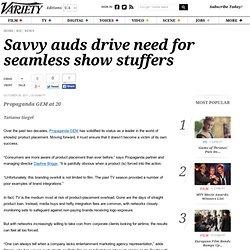 Moving forward, it must ensure that it doesn't become a victim of its own success. "Consumers are more aware of product placement than ever before," says Propaganda partner and managing director Daphne Briggs. 40 Worst Movie Product Placements. Seven cases of egregious product placement in music videos. Does the camera linger a bit too long on that (cellphone/car/liquor bottle/gadget) in your favorite music video?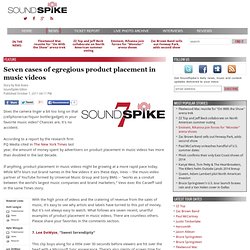 Chances are, it's no accident. According to a report by the research firm PQ Media cited in The New York Times last year, the amount of money spent by advertisers on product placement in music videos has more than doubled in the last decade. If anything, product placement in music videos might be growing at a more rapid pace today. While MTV blurs out brand names in the few videos it airs these days, Vevo -- the music-video partner of YouTube formed by Universal Music Group and Sony BMG -- "works as a conduit between the world's largest music companies and brand marketers," Vevo exec Rio Caraeff said in the same Times story.
Steve Jobs' Hollywood Legacy: Apple Product Placement as Cultural Clout. During Steve Jobs' time at Apple, the brand came to overshadow all of its competitors in the technology sphere, if not by pure sales then by brand allegiance and influence.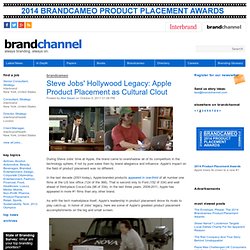 Apple's impact on the field of product placement was no different. In the last decade (2001-today), Apple-branded products appeared in one-third of all number one films at the US box office (124 of the 366). That is second only to Ford (152 of 334) and well ahead of third-place Coca-Cola (96 of 334). In the last three years, 2009-2011, Apple has appeared in more #1 films than any other brand. As with the tech marketplace itself, Apple's leadership in product placement drove its rivals to play catch-up. TV's Most Embarrassingly Over-the-Top Product Placement. There's product placement.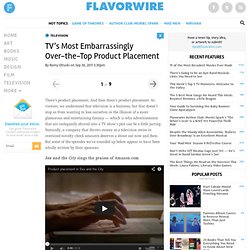 And then there's product placement. As viewers, we understand that television is a business, but that doesn't stop us from wanting to lose ourselves in the illusion of a more glamorous and entertaining fantasy — which is why advertisements that are inelegantly shoved into a TV show's plot can be a little jarring. Naturally, a company that throws money at a television series in oversized novelty check amounts deserves a shout out now and then. What Ashton Kutcher's "Two and a Half Men" Product Placement Fail Can Teach Startups.
Last Updated Sep 28, 2011 1:43 PM EDT If you watched Ashton Kutcher's appearance on CBS' Two and Half Men Monday night, in which the actor engaged in some drive-by product placement for companies in which he has invested, you will have learned two things:Kutcher isn't as funny as Charlie Sheen.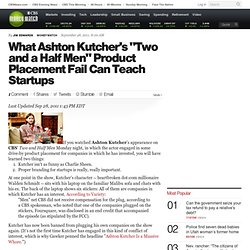 Proper branding for startups is really, really important. At one point in the show, Kutcher's character -- heartbroken dot-com millionaire Walden Schmidt -- sits with his laptop on the familiar Malibu sofa and chats with his ex.
---