World Nuclear News...
World Nuclear News
World Nuclear Association
FORATOM
The Generation IV International Forum
ITER
WANO
UNSCEAR
[JAIF] Japan Atomic Industrial Forum, Inc.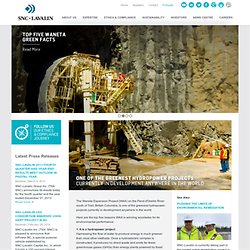 SNC-Lavalin
Latest News Montreal | December 24, 2013 SNC-Lavalin Inc. (TSX: SNC) today announced that it has reached financial close on the sale of 66 percent of its minority interest in Astoria Project Partners II LLC (Astoria II) to GPP New York LLC (GPP). The transaction amounts to USD $82.4 million. This follows the previously announced agreement by SNC-Lavalin to sell a portion of its minority interest in Astoria Project Partners II LLC, the owner of the legal entity that owns and operates the Astoria II power plant in New York City.
AECL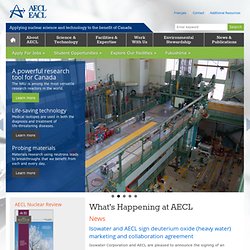 AECL is providing the following update to our November 19 information bulletin to advise that the Fuel Rod Flask has returned to service. AECL announced that charitable contributions through their company-wide United Way campaign totalled $129,665, exceeding their goal of $125,000. The Analytical Chemistry Laboratories (ACL) at the Chalk River Laboratories (CRL) is a crucial component of AECL's Centre of Excellence in Materials and Chemistry.
Argentina - CANDU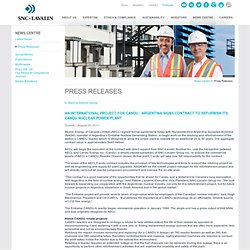 Atomic Energy of Canada Limited (AECL) signed formal agreements today with Nucleoeléctrica Argentina Sociedad Anónima (NASA), operator of Argentina's Embalse Nuclear Generating Station, to begin work on the retubing and refurbishment of the station's CANDU reactor, which is designed to allow the power plant to operate for an additional 25 to 30 years. The aggregate contract value is approximately $440 million. AECL will begin the execution of the contract with direct support from SNC-Lavalin Nuclear Inc. until the transaction between AECL and Candu Energy Inc. (Candu), a wholly-owned subsidiary of SNC-Lavalin Group Inc., to acquire the commercial assets of AECL's CANDU Reactor Division closes. At that point, Candu will take over full responsibility for the contract.