World Nuclear News...
Ukraine secures Russian development cash Ukraine has secured an option on $6 billion of loans from Russian commercial banks to fund nuclear power developments. A statement from the Ukrainain Ministry of Economic Development and Trade highlighted nuclear fuel projects and the preparation of proposals for the construction of Khmelnitsky 3 and 4 as priority areas for investment in 2014.
World Nuclear News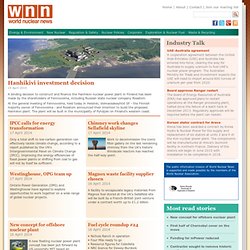 World Nuclear Association
FORATOM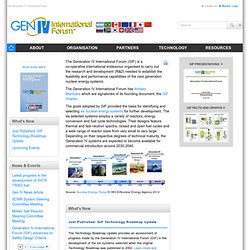 The Generation IV International Forum (GIF) is a cooperative international endeavor organized to carry out the research and development (R&D) needed to establish the feasibility and performance capabilities of the next generation nuclear energy systems. The Generation IV International Forum has thirteen Members which are signatories of its founding document, the GIF Charter. Argentina, Brazil, Canada, France, Japan, the Republic of Korea, the Republic of South Africa, the United Kingdom and the United States signed the GIF Charter in July 2001. Subsequently, it was signed by Switzerland in 2002, Euratom in 2003, and the People's Republic of China and the Russian Federation, both in 2006.
The Generation IV International Forum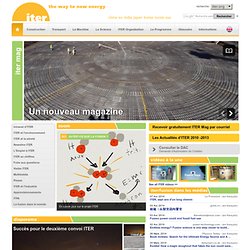 Raconter ITER, en expliquer le fonctionnement et les enjeux; faire partager au public le plus large l'enthousiasme de tous ceux qui, en France et dans le monde, travaillent à sa réalisation – c'est l'objectif d'ITER Mag, le nouveau magazine en ligne que publie l'organisation internationale ITER. Le monde d'ITER recouvre de vastes territoires, scientifiques, technologiques, industriels. Nous nous attacherons à les explorer.
ITER
WANO
UNSCEAR
[JAIF] Japan Atomic Industrial Forum, Inc.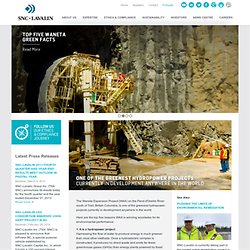 SNC-Lavalin
Latest News Montreal | December 24, 2013 SNC-Lavalin Inc. (TSX: SNC) today announced that it has reached financial close on the sale of 66 percent of its minority interest in Astoria Project Partners II LLC (Astoria II) to GPP New York LLC (GPP). The transaction amounts to USD $82.4 million. This follows the previously announced agreement by SNC-Lavalin to sell a portion of its minority interest in Astoria Project Partners II LLC, the owner of the legal entity that owns and operates the Astoria II power plant in New York City.
AECL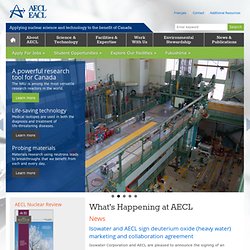 AECL has entered into a commercial agreement with Biocompatibles UK Ltd to utilize a facility at the NRU reactor at CRL. On Friday, February 28, we were very happy to host Taylor Wilson – a 19-year-old from Arkansas and the "world's youngest fusioneer" for an afternoon tour of the Chalk River Laboratories. Thoria fuels are not new to AECL; in fact, as Canada's premier nuclear science and technology laboratory, AECL has been researching and developing them for decades.
Argentina - CANDU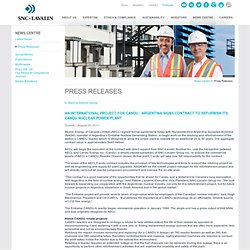 Atomic Energy of Canada Limited (AECL) signed formal agreements today with Nucleoeléctrica Argentina Sociedad Anónima (NASA), operator of Argentina's Embalse Nuclear Generating Station, to begin work on the retubing and refurbishment of the station's CANDU reactor, which is designed to allow the power plant to operate for an additional 25 to 30 years. The aggregate contract value is approximately $440 million. AECL will begin the execution of the contract with direct support from SNC-Lavalin Nuclear Inc. until the transaction between AECL and Candu Energy Inc. (Candu), a wholly-owned subsidiary of SNC-Lavalin Group Inc., to acquire the commercial assets of AECL's CANDU Reactor Division closes. At that point, Candu will take over full responsibility for the contract.