World Nuclear News...
FORATOM
The Generation IV International Forum
WANO
UNSCEAR
[JAIF] Japan Atomic Industrial Forum, Inc.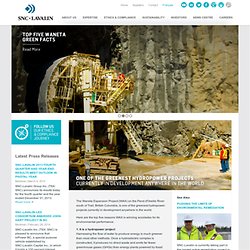 Welcome to SNC-Lavalin's Supplier Registration Website SNC-Lavalin is one of the leading engineering and construction groups in the world, a major player in the ownership of infrastructure and in the provision of operations and maintenance services. SNC-Lavalin has offices across Canada and in over 35 other countries around the world, and is working in some 100 countries. If you are interested in supplying goods or providing services to our company and our projects, please register with us by selecting the "Register" link located at the bottom of this message. The registration is the preliminary step required to the supplier's pre-qualification process at SNC-Lavalin.
AECL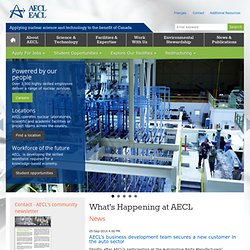 AECL comprehensive review of its nuclear decommissioning and waste liability ( March 19 ) AECL is reviewing and updating its liability for nuclear decommissioning and waste management and has advised the Government that its estimate of the liability has increased by an amount of $2.4 billion. Read more
Argentina - CANDU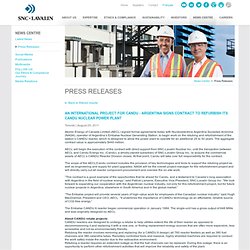 Atomic Energy of Canada Limited (AECL) signed formal agreements today with Nucleoeléctrica Argentina Sociedad Anónima (NASA), operator of Argentina's Embalse Nuclear Generating Station, to begin work on the retubing and refurbishment of the station's CANDU reactor, which is designed to allow the power plant to operate for an additional 25 to 30 years. The aggregate contract value is approximately $440 million. AECL will begin the execution of the contract with direct support from SNC-Lavalin Nuclear Inc. until the transaction between AECL and Candu Energy Inc. (Candu), a wholly-owned subsidiary of SNC-Lavalin Group Inc., to acquire the commercial assets of AECL's CANDU Reactor Division closes. At that point, Candu will take over full responsibility for the contract.