World Nuclear News...
World Nuclear News. IAEA. INFO Nuclear. World Nuclear Association. FORATOM. The Generation IV International Forum. ITER. WANO. UNSCEAR. [JAIF] Japan Atomic Industrial Forum, Inc. SNC-Lavalin. The Waneta Expansion Project (WAX) on the Pend d'Oreille River south of Trail, British Columbia, is one of the greenest hydropower projects currently in development anywhere in the world.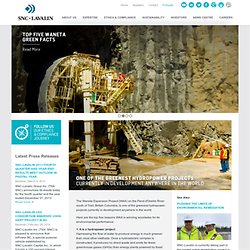 Here are the top five reasons WAX is winning accolades for its environmental performance. 1. It is a hydropower project Harnessing the flow of water to produce energy is much greener than most other methods. Once a hydroelectric complex is constructed, it produces no direct waste and emits far fewer greenhouse gases (GHGs) than energy plants powered by fossil fuels. In fact, the WAX facility will produce no GHGs at all.
AECL. AECL has entered into a commercial agreement with Biocompatibles UK Ltd to utilize a facility at the NRU reactor at CRL.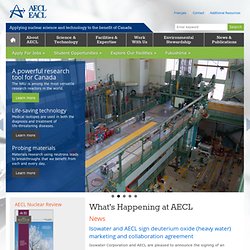 On Friday, February 28, we were very happy to host Taylor Wilson – a 19-year-old from Arkansas and the "world's youngest fusioneer" for an afternoon tour of the Chalk River Laboratories. Thoria fuels are not new to AECL; in fact, as Canada's premier nuclear science and technology laboratory, AECL has been researching and developing them for decades. Argentina - CANDU. Atomic Energy of Canada Limited (AECL) signed formal agreements today with Nucleoeléctrica Argentina Sociedad Anónima (NASA), operator of Argentina's Embalse Nuclear Generating Station, to begin work on the retubing and refurbishment of the station's CANDU reactor, which is designed to allow the power plant to operate for an additional 25 to 30 years.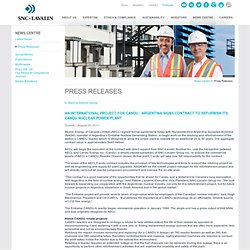 The aggregate contract value is approximately $440 million. AECL will begin the execution of the contract with direct support from SNC-Lavalin Nuclear Inc. until the transaction between AECL and Candu Energy Inc. (Candu), a wholly-owned subsidiary of SNC-Lavalin Group Inc., to acquire the commercial assets of AECL's CANDU Reactor Division closes. At that point, Candu will take over full responsibility for the contract.
---