Freedom Rings Partnership PCC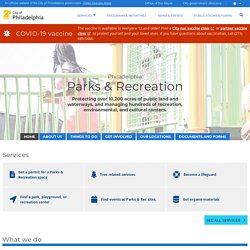 City's Parks & Recreation
1515 Arch Street, 10th Floor Philadelphia, PA 19102-1587 Phone 215-683-3600 Michael DiBerardinis, Deputy Mayor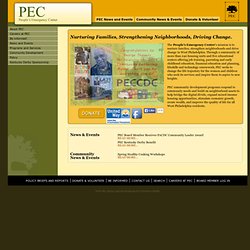 People's Emergency Center
The People's Emergency Center's mission is to nurture families, strengthen neighborhoods and drive change in West Philadelphia. Through a community of more than 240 housing units and five educational centers offering job training, parenting and early childhood education, financial education and planning, lifeskills and technology coursework, PEC seeks to change the life trajectory for the women and children who seek its services and inspire them to aspire to new heights. PEC community development programs respond to community needs and build on neighborhood assets to help bridge the digital divide, expand mixed-income housing opportunities, stimulate economic growth, create wealth, and improve the quality of life for all West Philadelphia residents.
Philadelphia FIGHT
MMP Update We launched a monthly sustainer program in 2010 because we understood that in order to sustain this vital movement media organization, we need to build a base of grassroots donors who believe in the role of media and communications in building the power of our movements. MMP's newly launched Movement Media Fellows program is building a new generation of movement media makers dedicated to telling the untold stories of today's struggles. Our 2014 cohort includes over a dozen local independent media makers and journalists, labor and immigration organizers, writers,... The City of Philadelphia's Office of Innovation and Technology released a public survey, asking Philadelphians to share their "cable television related needs and interests", as the City moves forward in negotiations with Comcast in the potential renewal of their current 15-year cable television...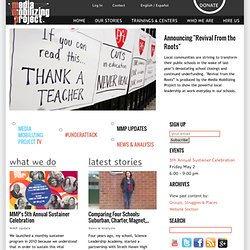 Media Mobilizing Project | Movements begin with the telling of untold stories.
Office of Innovation & Technology, City of Philadelphia | Freedom Rings Partnership
Open Technology Initiative
Technically Philly
Mayor's Commission on Literacy
Rutgers-School of Communication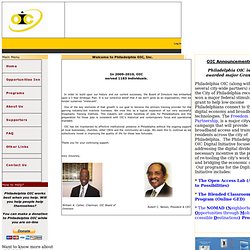 In 2009-2010, OIC served 1183 individuals. In order to build upon our history and our current successes, the Board of Directors has embarked upon a 3 Year Strategic Plan. It is our collective belief that if we don't grow as an organization, then we render ourselves "irrelevant". One of the key elements of that growth is our goal to become the primary training provider for the gaming industry/slot machine licensees. We view this as a logical expansion of our very successful Hospitality Training Institute. This industry will create hundreds of jobs for Philadelphians and the preparation for those jobs is consistent with OIC's historical and contemporary focus and operational mandate.
Philadelphia OIC, Inc.
Free Library of Philadelphia
Technically Philly