USA
Squaring Off On Education Reform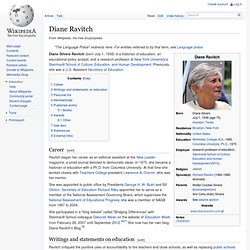 Diane Silvers Ravitch (born July 1, 1938) is a historian of education, an educational policy analyst, and a research professor at New York University's Steinhardt School of Culture, Education, and Human Development. Previously, she was a U.S. Assistant Secretary of Education. Career[edit] Ravitch began her career as an editorial assistant at the New Leader magazine, a small journal devoted to democratic ideas.
Diane Ravitch
The latest report on Michelle Rhee shows her collecting millions of dollars from Wall Street financiers, assorted billionaires, and mega-foundations, all to redesign American education as she sees fit. www.chicagotribune.com/news/sns-rt-us-usa-education-rheebre84e1oa-20120515,0,7834441.story She has become a convenient vessel for the most rightwing governors who want to dismantle public education and reduce the teaching profession to at-will employees. How can she sleep at night knowing that through her efforts, millions of teachers will live in fear and insecurity, knowing that their job depends on their students' scores on lousy tests? That's quite a legacy.
How Does Rhee Sleep at Night?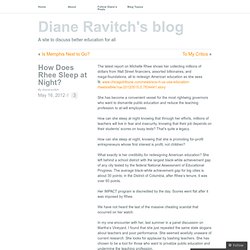 Reign of Error: The Hoax of the Privatization Movement and the Danger to America's Public Schools by Diane Ravitch Knopf, 396 pp., $27.95 Radical: Fighting to Put Students First by Michelle Rhee
NYbooks: The Two Faces of American Education by Andrew Delbanco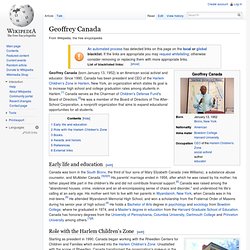 Geoffrey Canada (born January 13, 1952) is an American social activist and educator. Since 1990, Canada has been president and CEO of the Harlem Children's Zone in Harlem, New York, an organization which states its goal is to increase high school and college graduation rates among students in Harlem.[1] Canada serves as the Chairman of Children's Defense Fund's Board of Directors.[2]He was a member of the Board of Directors of The After-School Corporation, a nonprofit organization that aims to expand educational opportunities for all students. Early life and education[edit]
Geoffrey Canada
CNN: U.S. public education: A race to the bottom?
Analyzing President Obama's Education Interview with NBC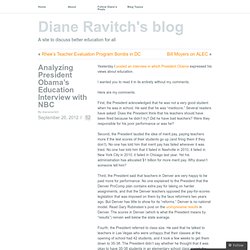 Yesterday I posted an interview in which President Obama expressed his views about education. I wanted you to read it in its entirety without my comments. Here are my comments. First, the President acknowledged that he was not a very good student when he was in school. He said that he was "mediocre."
Chicago Teachers Union Vs. Astroturf Billionaires
"Poverty Is the Problem": Efforts to Cut Education Funding, Expand Standardized Testing Assailed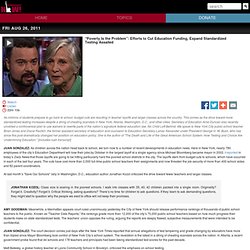 JUAN GONZALEZ: As children across the nation head back to school, we turn now to a number of recent developments in education news. Here in New York, nearly 780 employees of the city's Education Department will lose their jobs by October in the largest layoff at a single agency since Michael Bloomberg became mayor in 2002. I reported in today's Daily News that those layoffs are going to be hitting particularly hard the poorest school districts in the city. The layoffs stem from budget cuts to schools, which have occurred in each of the last four years. The cuts have cost more than 2,000 full-time public school teachers their assignments and now threaten the job security of more than 400 school aides and 82 parent coordinators. At last month's "Save Our Schools" rally in Washington, D.C., education author Jonathan Kozol criticized the drive toward fewer teachers and larger classes.
List of all the Educational Chats on Twitter
Traditional public schools in Florida will get no money from the state this year for additions or needed repairs to thousands of aging buildings, but charter schools will score big. All of the state cash budgeted for school construction and maintenance is going to the independent, tax-financed charters favored by the Republican-dominated Legislature and Gov.Rick Scott. The charter school operated for children of employees of The Villages, the Republican stronghold in north Lake County frequented by Scott and former President George W. Bush, is expected to receive about $1 million. School district officials across Florida are bemoaning the Legislature's decision to cut traditional public schools out of PECO — the Public Education Capital Outlay program.
Charters get $55 million for upkeep, other schools get zero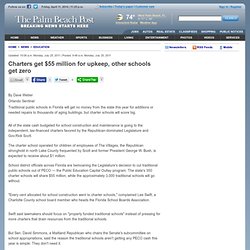 msnbc: Matt Damon rewrites attack on teachers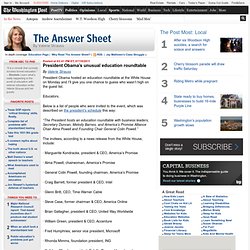 President Obama hosted an education roundtable at the White House on Monday and I'll give you one chance to guess who wasn't high on the guest list. Educators. Below is a list of people who were invited to the event, which was described on the president's schedule this way: "The President hosts an education roundtable with business leaders, Secretary Duncan, Melody Barnes, and America's Promise Alliance Chair Alma Powell and Founding Chair General Colin Powell."
President Obama's unusual education roundtable - The Answer Sheet
Scienceguide: Obama cuts $22 billion on student loans
3 augustus 2011 - De staatsschuld verkleinen door studenten dieper in de schulden te steken. Dat is een van de uitkomsten van het akkoord dat Obama heeft gesloten met de Republikeinen. De VS betalen niet langer de rente op non-staatsleningen voor onderwijs. Obama wist wel de voor hem zeer belangrijke Pell Grants te behouden.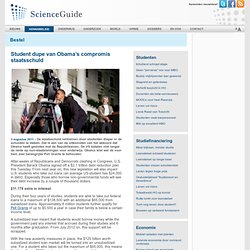 Pell Grants Survive Budget-Cutting Deal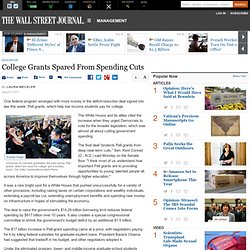 One federal program emerged with more money in the deficit-reduction deal signed into law this week: Pell grants, which help low-income students pay for college. The White House and its allies cited the increase when they urged Democrats to vote for the broader legislation, which was almost all about cutting government spending. The final deal "protects Pell grants from deep near-term cuts," Sen. Kent Conrad (D., N.D.) said Monday on the Senate floor. "I think most of us understand how important Pell grants are to providing opportunities to young, talented people all across America to improve themselves through higher education."
Colleen Curtis October 04, 2011 06:58 PM EDT President Barack Obama tours the Lab School at Eastfield College in Mesquite, Texas, Oct. 4, 2011.
President Obama: American Jobs Act Will Prevent Up to 280,000 Teachers from Losing their Jobs
University World News - US: Mixed victory for students under Obama loan plan
Marching along the shaded valley beneath skyscrapers housing major bank headquarters in midtown Manhattan, some students in the Occupy Wall Street movement said United States President Barack Obama's new loan plan was too little too late, with real savings totaling no more than $10 a month per low-income borrower. Students celebrated a mixed victory with the new plan aimed at dropping interest rates by half a percent and shortening debt forgiveness by five years for an average of 6.8 million graduates signed up with the government's direct-loan programme. Seen as a response to avert a debt default debacle similar to the housing loan crisis, the new plan has critics saying that student loan interest rate hikes next July, expected to double to 6.8%, would hobble any of the plan's potential benefits.
background edu. system/controversies
United States Student Association
twitter accounts you might like to follow
Defend Public Education
Mic Check: Occupy Colleges Plans Solidarity Teach-ins Nov. 2-3 After successful October 13 Student Solidarity Protests around the country, Occupy Colleges plans nationwide Teach-ins at colleges and universities For two days beginning November 2, 2011, Occupy Colleges, a grassroots organization bringing awareness to the Occupy Wall Street movement within the college sphere, will organize a ...National Solidarity Teach-In for colleges and universities across the country. The Teach-ins will serve to open and continue dialogue around the Occupy Wall Street movement.
Defend Public Education - Community Page | Facebook
satire , parody, cartoons etc:
movies documentaries school college university
USA student newspapers (in media res)
Studenten van de Occupy Wall Street beweging « Kritische Studenten Utrecht
For more than a decade now we have heard that the high-stakes testing obsession in K-12 education that began with the enactment of No Child Left Behind 11 years ago has resulted in high school graduates who don't think as analytically or as broadly as they should because so much emphasis has been placed on passing standardized tests. Here, an award-winning high school teacher who just retired, Kenneth Bernstein, warns college professors what they are up against. Bernstein, who lives near Washington, D.C. serves as a peer reviewer for educational journals and publishers, and he is nationally known as the blogger "teacherken." His e-mail address is kber@earthlink.net. This appeared in Academe, the journal of the American Association of University Professors.