Trading Academic Freedom for Foreign Markets?
N.Y.U. Crisis in Abu Dhabi Stretches to Wall Street. Rui Vieira/Associated PressThe N.Y.U. trustee Khaldoon Al Mubarak's firm helped build the Abu Dhabi campus.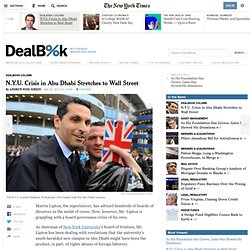 Martin Lipton, the superlawyer, has advised hundreds of boards of directors in the midst of crises. Now, however, Mr. Lipton is grappling with a board governance crisis of his own. As chairman of New York University's board of trustees, Mr. Dangerous Liaisons. Coke Hug Me Machine. Knuffelen voor een blikje cola. Opmerkelijk16 april 2012 9:33 |Geen geld, maar knuffels.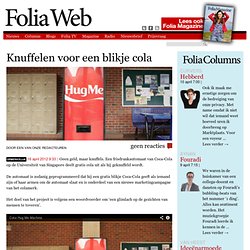 Een frisdrankautomaat van Coca-Cola op de Universiteit van Singapore deelt gratis cola uit als hij geknuffeld wordt. De automaat is zodanig geprogrammeerd dat hij een gratis blikje Coca-Cola geeft als iemand zijn of haar armen om de automaat slaat en is onderdeel van een nieuwe marketingcampagne van het colamerk. Het doel van het project is volgens een woordvoerder om 'een glimlach op de gezichten van mensen te toveren'. The Learning Lab. Nieuwe cateraar nu al uitgedaagd. Studenten18 oktober 2011 17:37 |De nieuwe cateraar Eurest is nog niet eens aan de UvA begonnen of studenten dagen hem nu al uit toch vooral met nieuwe en vernieuwende ideeën te komen voor de catering.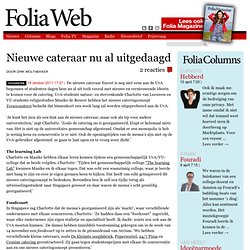 UvA-studente natuur- en sterrenkunde Charlotte van Leeuwen en VU-studente religiestudies Maaike de Reuver hebben het nieuwe cateringconcept Yeswecanteen bedacht dat binnenkort een week lang zal worden uitgeprobeerd aan de UvA. 'Je kunt het zien als een hint aan de nieuwe cateraar, maar ook als tip voor andere universiteiten,' zegt Charlotte. Nieuw educatief platform ontwerpers HvA wint internationale competitie. Wetenschap21 september 2011 11:59 |Een team van medewerkers en studenten van HvA Open BIM Lab dat deelnam aan de Design Asia Live@Singapore competitie, heeft de eerste prijs gewonnen.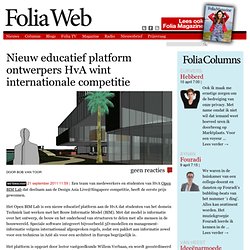 Het Open BIM Lab is een nieuw educatief platform aan de HvA dat studenten van het domein Techniek laat werken met het Bouw Informatie Model (BIM). Met dat model is informatie over het ontwerp, de bouw en het onderhoud van structuren te delen met alle mensen in de bouwwereld. Speciale software integreert bijvoorbeeld 3D-modellen en management-informatie volgens internationaal afgesproken regels, zodat een pakket aan informatie zowel voor een technicus in Azië als voor een architect in Europa begrijpelijk is.
Het platform is opgezet door lector vastgoedkunde Willem Verbaan, en wordt gecoördineerd door zijn onderzoeksassistent Diederik de Koe. 'We hebben het BIM lab opgezet in samenwerking met twee technisch adviseurs; die kwamen met deze competitie aanzetten. * Praten, bellen en skypen in nieuwe samenwerkingszaal UB. Organisatie30 augustus 2012 10:54 |In de UB is op de tweede verdieping een nieuwe zaal geopend, die bedoeld is om samen te kunnen werken.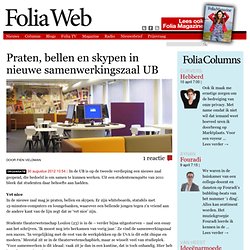 Uit een studentenenquête van 2011 bleek dat studenten daar behoefte aan hadden. Vet niceIn de nieuwe zaal mag je praten, bellen en skypen. Er zijn whiteboards, statafels met 15-minuten-computers en loungebanken, waarover een bellende jongen tegen z'n vriend aan de andere kant van de lijn zegt dat ze 'vet nice' zijn. Studente theaterwetenschap Loulou (23) is in de – verder bijna uitgestorven – zaal een essay aan het schrijven. Who Will Crack the Code? In Singapore, recently opened a plant with the capacity to produce the underlying ingredient for 18 billion cans of soda a year.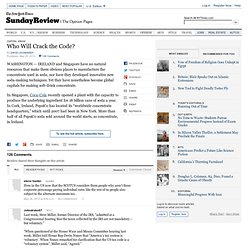 In Cork, Ireland, PepsiCo has located its "worldwide concentrate headquarters," which until 2007 had been in New York. More than half of all PepsiCo soda sold around the world starts, as concentrate, in Ireland. Singapore. Singapore ( i/ˈsɪŋəpɔər/ or /ˈsɪŋɡəpɔər/), officially the Republic of Singapore, is a sovereign city-state and island country in Southeast Asia.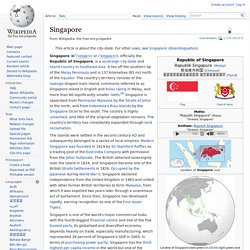 It lies off the southern tip of the Malay Peninsula and is 137 kilometres (85 mi) north of the equator. The country's territory consists of the lozenge-shaped main island, commonly referred to as Singapore Island in English and Pulau Ujong in Malay, and more than 60 significantly smaller islets.[8] Singapore is separated from Peninsular Malaysia by the Straits of Johor to the north and from Indonesia's Riau Islands by the Singapore Strait to the south.
The country is highly urbanised, and little of the original vegetation remains. VPRO tegenlicht: Onze man in Singapore. Het vierde deel van de Tegenlichtserie over de toekomst onderzoekt of het Lee Kuan Yew-model het antwoord op het neo-liberalisme is.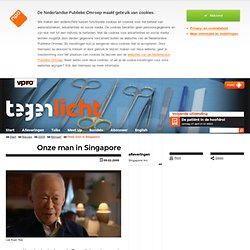 Door: Angela van der Elst LEE KUAN YEW heeft heel wat jaren meegedraaid in de politiek van Singapore. Zijn opleiding volgde hij in de jaren veertig in Engeland, waarna hij terugkeerde en een van de leiders van de People's Action Party werd. Singapore Inc. Als niet-Westerse economieën wereldwijd steeds meer gewicht in de schaal gaan leggen, welk economisch model zouden zij dan mogelijk in de toekomst kunnen gaan opleggen aan óns?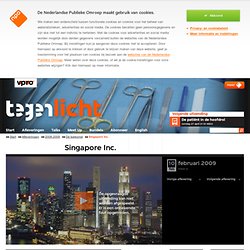 Tegenlicht laat zich voor- en bijlichten in Singapore, volgens sommigen het meest succesvolle economisch model ter wereld. Singapore, het stadsstaatje in Zuid-Oost Azië, was 40 jaar geleden niet veel meer dan een moeras. Het had geen grondstoffen, geen achterland en een laag opgeleide beroepsbevolking. Nu is het één van de meest succesvolle economieën in Azië met een staatsfonds (Temasek) dat vele miljarden bezit en een per capita inkomen dat hoger is dan dat in Nederland: omstreeks 48.000 dollar tegen ongeveer 37.000 dollar.
Mini-staatjes: De republiek Singapore Winsemius rol in founding. Dr Albert Winsemius. SUMMARY He was a Dutch Economist who was Singapore's long-time economic advisor for his invaluable contribution to its development.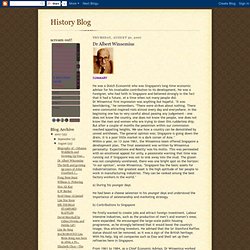 He was a foreigner, who had faith in Singapore and believed strongly in the fact that it had a future, at a time when not many people did.Dr Winsemius' first impression was anything but hopeful. "It was bewildering," he remembers. "There were strikes about nothing. There were communist-inspired riots almost every day and everywhere. In the beginning one has to very careful about passing any judgement - one does not know the country, one does not know the people, one does not know the men and women who are trying to steer this rudderless ship. Image BOfy. Dr. Albert Winsemius, Singapore's true founding father? | Sebastiaan Jansen's History blog. Dr. Albert Winsemius, a leading Dutch economist, was once called the 'founding father' of Singapore by Kees Tamboer in the leading Dutch newspaper 'Het Parool' (Tamboer). I personally feel this may be a bit of an overstatement considering Lee Kuan Yew's essential role in the development of Singapore throughout the second half of the 20th century, but it is indeed correct that Dr.
Albert Winsemius played a major role in at least the economic development of Singapore. I have researched Dr. Winsemius thoroughly in my Internal Assessment for the IB History course, but below you will find a more comprehensible, structured piece of research assessing the significance of Dr. Singapore is indebted to Winsemius. Singapore is indebted to Winsemius: SM Mr Lee (left) and Dr Winsemius in a train departing from Guangzhou during a Singapore delegation visit to China in 1980. Dr Winsemius was there to help assess Singapore's prospects for further economic cooperation with China. Last Wednesday, Singapore's former economic adviser, Dr Albert Winsemius, died of pneumonia in The Hague.
Albert Winsemius. Albert Winsemius bij de persconferentie in Den Haag nadat de commissie Winsemius overeenstemming heeft bereikt over de fusie van Verolme en Rijn-Schelde (15 april 1971) Winsemius was aan het begin van de jaren dertig handelaar in kaas in Friesland. Later ging hij economie studeren aan de Erasmus Universiteit Rotterdam waar hij zijn doctoraalexamen haalde en in 1939 onder leiding van professor Piet Lieftinck promoveerde op het proefschrift Economische aspecten der internationale migratie. National University of Singapore. University Cultural Centre The National University of Singapore (Abbreviation: NUS; Malay: Universiti Kebangsaan Singapura; Chinese: 新加坡国立大学; pinyin: Xīnjiāpō Guólì Dàxué; Abbreviated 国大; Tamil: சிங்கப்பூர் தேசியப் பல்கலைக்கழகம், Ciṅkappūr Tēciyap Palkalaikkaḻakam ?)
Is a comprehensive research university located in Singapore, being the flagship tertiary institution of the country which has a global approach to education and research. Founded in 1905, it is the oldest higher learning institute in Singapore, as well as the largest university in the country in terms of student enrolment and curriculum offered. The university's main campus is located in southwest Singapore at Kent Ridge, with an area of approximately 1.5 km2 (0.58 sq mi). The Bukit Timah campus houses the Faculty of Law, Lee Kuan Yew School of Public Policy and research institutes, while the Duke-NUS Graduate Medical School Singapore is located at the Outram campus. Yale-NUS College. Trading Academic Freedom for Foreign Markets. By Marjorie Heins, founder, Free Expression Policy Project The current controversy over Yale University's planned campus in Singapore is, at bottom, an argument over how much compromise on free speech is justified in exchange for the presumed benefits of locating branches of U.S. universities within authoritarian regimes.
Although the champions of global ventures like Yale's often claim that academic freedom will be available at the foreign outposts, the fact is that such freedom, at best, will be limited to the classroom and will bear no resemblance to what we have come to expect on U.S. campuses. In an April 2012 resolution, the Yale faculty expressed concern over the Singapore venture and urged administrators "to respect, protect and further principles of nondiscrimination for all, including sexual minorities and migrant workers" and "to uphold civil liberty and political freedom on campus and in the broader society." YaledailyNews: Unease grows over freedoms at Yale-NUS. YaledailyNews: Yale-NUS students deserve free speech.
YaledailyNews: Miller: Yale's principles for sale in Singapore. Yale values to be tested in Singapore. Yale-Singapore Venture to Forbid Political Protest. Response from Pericles Lewis, Yale-NUS President, to July 16th, 2012 WSJ article "Singapore's Venture With Yale to Limit Protests" « The Liberal Arts in Singapore. TR EMERITUS: Yale to ensure students in Singapore have freedom of expression « Jim Sleeper: How Yale's Singapore Venture Imperils Liberal Education. Jim Sleeper: Yale Steps Into the Authoritarian Abyss. Jim Sleeper: Yale Has Gone to Singapore, But Can It Come Back? Yale faculty raise governance questions about decision to open branch in Singapore. Yale-NUS panel mulls student life. InsideHE: Deterritorializing Academic Freedom: Reflections Inspired by Yale-NUS College (and the London Eye) Yale under fire for new campus in restrictive Singapore. @yalenus. Yale University.
Singapore Meets the Ivy League: Blurring Disciplines, Crossing Borders. Nieuwe Censuurregels Singapore bedreigen persvrijheid. Singapore beknot persvrijheid. Liberal Education in Authoritarian Places. U.S. Colleges in Less Open Societies. UT gaat samenwerken met Singapore. Agency for Science, Technology and Research (A*STAR) UT werkt samen met groot Singaporees agentschap. Prof. dr. ir. Hans Hilgenkamp. FreezePage. Singapore 24-02 t/m 28-02 I. Singapore 24-02 t/m 28-02 II. Singapore 24-2 t/m 28-02 III. Homepage of G.J. Vancso - Home. G.juliusvancsoinscience. Singapore's Institute of Chemical and Engineering Sciences (ICES) joins Britest - Institute of Chemical & Engineering Sciences. Dutch royal visit to singapore. mV9p2zr. Collaboration University of Twente and Singapore - Materials Science and Technology of Polymers at the University of Twente. Nanyang Technological University, Singapore. Shorties.nl - Maar eens even kijken hoe dat Pivot-webloggen werkt.
Image fIm2. Royal Philips - singapore. Cursor TU/e En hoe is het in Singapore?  TU/e en hoe cursor TU/e En hoe is het in Singapore? is het in singapore? Cursor TU/e En hoe is het in Singapore?  Cursor TU/e En hoe is het in Singapore?  Cursor TU/e En hoe is het in Singapore?  Cursor TU/e En hoe is het in Singapore?  Cursor TU/e En hoe is het in Singapore?  Shell in Singapore - Singapore. UniLeiden : RT @Beerkens: Singapore Minister ... Dubai. NYU Abu Dhabi University & College in UAE, New York University. Building World Class Research Universities Is Significantly More Complex than Many Countries Estimate―New World Bank Report. Workers-at-nyus-abu-dhabi-site-face-harsh-conditions. Oman. De leerstoelhouder van Oman: 'Ik heb absolute, academische vrijheid'
ScienceGuide: Vaak "down- graden" Europese uni's acd's standrdn om met China te kunnen samenwerken. China move may open floodgates. NYU booting blind Chinese dissident Chen Guangcheng amid Shanghai expansion: sources. China Dissident Says He's Being Forced From N.Y.U. Chinese Dissident Says NYU Is Forcing Him to Leave Over His Activism - The Ticker. WP: Jackson Diehl: Yale, NYU sacrifice academic freedom. Chris Smith, NYU Spar Over 'Control' Of Chinese Dissident Chen Guangcheng.
Wellesley College - Wellesley College. About the Partnership | Wellesley College. Image OqFI.
---