Free software
CIDETYS se complace en presentar su Catálogo de Software Educativo Libre, una iniciativa enmarcada en su estrategia de promoción de Software Libre en el sector educativo panameño que se lleva a cabo con el apoyo de instituciones como la Universidad Tecnológica de Panamá (UTP), la Autoridad Nacional para la Innovación Gubernamental (AIG) y la Secretaría Nacional de Ciencia, Tecnología e Innovación (SENACYT). Este catálogo incluye 43 aplicaciones educativas divididas en preescolar y primaria (primero a sexto grado), premedia (séptimo a noveno grado) y media (décimo a duodécimo grado). Además contiene una sección de introducción al Software Libre y el sistema operativo Edubuntu y se muestran programas de uso general incluidos en Edubuntu tales como aplicaciones de oficina, video, sonido, Internet y gráficos.
Lanzamiento de Catálogo de Software Educativo Libre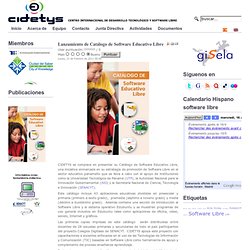 65 Open Source Apps That Replace Popular Education Software: Page 3
33. gnuplot Replaces Visual Math, Mathematica If you're comfortable working from the command line, you can use gnuplot to create 2D and 3D graphs of mathematical functions. Extensive help is available on the website, and there's even a book on Gnuplot that you can buy. Operating System: Windows, Linux, Unix, OS X, and others. 34.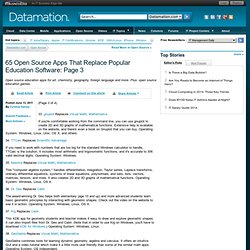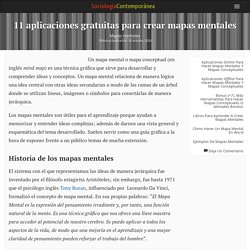 Un mapa mental es un diagrama donde se representan gráficamente ideas, palabras o conceptos emanados de una idea central. Su función principal es gestionar y potenciar el flujo de información entre nuestro cerebro y el exterior conectando semántica y jerárquicamente diferentes tipos de concepciones. Históricamente el sistema de representación jerárquico fue inventado por el estagirita Aristóteles; sin embargo fue hasta 1971 que el psicólogo inglés Tony Buzan, basado en ideas de Leonardo Da Vinci, formalizó el concepto de mapa mental. En sus propias palabras: "El Mapa Mental es la expresión del pensamiento irradiante y, por tanto, una función natural de la mente. Es una técnica gráfica que nos ofrece una llave maestra para acceder al potencial de nuestro cerebro.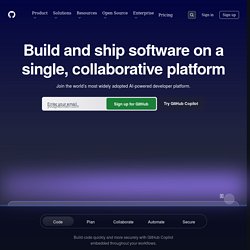 Great collaboration starts with communication. Review changes, comment on lines of code, report issues, and plan the future of your project with discussion tools. Friction-less development across teams. Work with project collaborators or teams of people in organization accounts to communicate with ease. World's largest open source community.
Descripción de Evolución
Descripción E volución 4.0 es un software que permite modelar y simular fenómenos complejos con Dinámica de Sistemas, para su desarrollo se utilizan técnicas de Programación Orientadas a Objetos (POO), diseño basado en componentes, patrones de diseño y el Lenguaje Unificado de Modelado (UML). Evolución brinda la posibilidad de crear, editar y guardar Diagramas de Influencias, como parte de la documentación del modelo, considerando que constituyen un eslabón importante en el proceso de modelado con DS, debido a su carácter cualitativo y su énfasis en las estructuras cíclicas (realimentadas) que presentan las relaciones de influencia entre los elementos de un sistema.
MiniLyrics - Show lyrics in iTunes, Windows Media Player, Winamp, etc.
Welcome to YouTube! The location filter shows you popular videos from the selected country or region on lists like Most Viewed and in search results.To change your location filter, please use the links in the footer at the bottom of the page. Click "OK" to accept this setting, or click "Cancel" to set your location filter to "Worldwide". The location filter shows you popular videos from the selected country or region on lists like Most Viewed and in search results. To change your country filter, please use the links in the footer at the bottom of the page. Xtranormal lets you to turn anything you type into a fully-animated CG movie.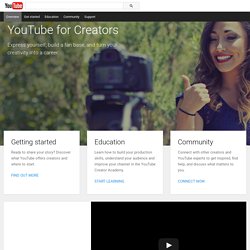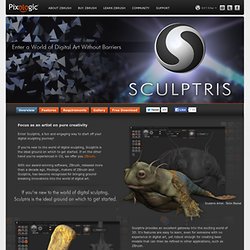 Focus as an artist on pure creativity Enter Sculptris, a fun and engaging way to start off your digital sculpting journey! If you're new to the world of digital sculpting, Sculptris is the ideal ground on which to get started. If on the other hand you're experienced in CG, we offer you ZBrush.
Scribus is an Open Source program that brings professional page layout to Linux, BSD UNIX, Solaris, OpenIndiana, GNU/Hurd, Mac OS X, OS/2 Warp 4, eComStation, and Windows desktops with a combination of press-ready output and new approaches to page design. Underneath a modern and user-friendly interface, Scribus supports professional publishing features, such as color separations, CMYK and spot colors, ICC color management, and versatile PDF creation.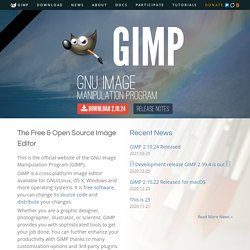 GIMP is the GNU Image Manipulation Program. It is a freely distributed piece of software for such tasks as photo retouching, image composition and image authoring. It works on many operating systems, in many languages.
Linux Users KompoZer is a GTK application, it has nothing to do with KDE — though it can be installed on KDE, too. Komodo and the Kernel aren't KDE applications either. ;-) KompoZer 0.7.10 is not compatible with GTK ≥ 2.14, hence the crashes on some recent Linux distros like Ubuntu 8.10 and 9.04. Please upgrade to KompoZer 0.8. Contribute!