FREE RESOURCES
Random name generator. Tumblr. Ebookdropbox. eBOOKland. Ebooks Gratuits. The #1 platform for free music. Free music downloads for private use - Royalty free music licenses for commercial purposes. More than 55,000 albums by independent artists. Oldsealer. EXERCISES. Book.jpg from myconfinedspace.com. Internet Memory | UK Government Web Archive. Teachers TV. GAME BASED LEARNING RESOURCES.
SEN SITES
POWERPOINTS. Simplify your life. WHITE BOARD RESOURCES. VISUAL MEDIA RESOURCES. Screen Tinter Lite. Screen Tinter Lite Allows you to change the text and background in colour in three clicks.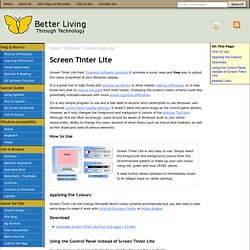 Applies to Microsoft Word and Internet Explorer. Does not enlarge fonts. Exminster.cps.
---