TNC
LIBYA - Growing influence of monarchists - MAGHREB CONFIDENTIAL. National Transitional Council of Libya. U.S. calls Libyan rebels legitimate. The U.S. says Libya's rebel National Transitional Council is "legitimate and credible.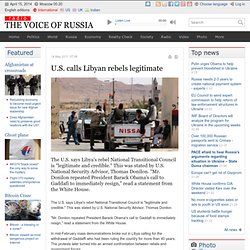 " This was stated by U.S. National Security Advisor, Thomas Donilon. "Mr. Donilon repeated President Barack Obama's call to Gaddafi to immediately resign," read a statement from the White House. In mid-February mass demonstrations broke out in Libya calling for the withdrawal of Gaddaffi who had been ruling the country for more than 40 years. ITNC. Des experts dénoncent la gestion du dossier libyen et les courants islamistes du CNT. Organisée à l'initiative du Centre international de recherche et d'études sur le terrorisme et d'aide aux victimes du terrorisme (CIRET-AVT) et du Centre français de recherche sur le renseignement (CF2R), et avec le soutien du Forum pour la paix en Méditerranée, une délégation internationale d'experts s'est rendue tour à tour à Tripoli et en Tripolitaire du 31 mars au 6 avril, puis à Benghazi et en Cyrénaïque du 19 au 25 avril.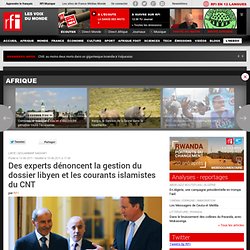 Le point noir disent ces experts est la composition du Conseil national de transition (CNT) qui représente les insurgés. Impossible de connaître la composition du CNT. « Seuls les noms de 13 des 31 membres sont publics. National Transitional Council of Libya.
---