Free Education Tools, Software and Applications
ArtThink | Tools and Games. Describes subject matter that is presented in a brief, simplified, often distorted manner, with little or no attempt to represent images realistically.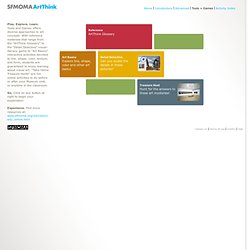 In La ngresse blonde (The Blond Negress) Brancusi dramatically simplifies a woman's face, delineating only her hair and lips. Mondrian's New York City 2 reduces and abstracts the appearance and energy of the city to a series of lines. Constantine BrancusiLa Négresse blonde (The Blonde Negress)1926bronze (polished)Gift of Agnes E. Meyer and Elise Stern Haas©Artists Rights Society (ARS), New York / ADAGP, Paris Piet MondrianNew York City 2 (unfinished)1941oil and tape on canvasPurchased through a gift of Phyllis Wattis©Mondrian/Holtzman Trust, c/o Beeldrecht / Artists Rights Society (ARS), New York. ArtThink | Art Basics.
Free Education Microsoft Office WorkArounds & Help for Micro
Content / Special Publications - SP 800 series / NIST SP 800-12 An Introduction to Computer Security - NIST IT Security. Mathematics 4.0 in the classroom. Abcteach -- Free Printables, Interactives, Custom Documents, Clip Art, and Games. Free products and services for teachers. Software at no charge. Sub-titling text add-in for Microsoft PowerPoint (STAMP) - PowerPoint. The Subtitling text add-in for Microsoft PowerPoint lets you add closed captions to the video and audio files you include in your presentations.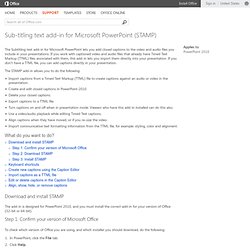 If you work with captioned video and audio files that already have Timed Text Markup (TTML) files associated with them, this add-in lets you import them directly into your presentation. If you don't have a TTML file, you can add captions directly in your presentation. The STAMP add-in allows you to do the following: Import captions from a Timed Text Markup (TTML) file to create captions against an audio or video in the presentation.
Training. Theoretical Foundation Courses. CDRHLearn > CDRH Learn Course List (English) Quick Links: Skip to main page content Skip to Search Skip to Topics Menu Skip to Section Content MenuSkip to Common Links Training and Continuing Education Section Contents Menu CDRHLearn CDRH Learn Course List (English) Listed below are the courses CDRH currently offers.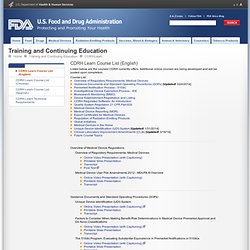 Templates & Tools. Professor Messer, CompTIA A+, Network+, Security+, Microsoft Certification Training.
---