Team Submissions
Recovered Free Ebooks Pearltree Search.
Free Ebook Download Sites. Free Ebook Search Engines & Apps. Sites Specializing In One Type Of Book. Free Charts, Maps, Magazines, News, Etc.
Not Books - Misc Related. Non-English Ebooks. DailyLit: Read books online by daily email and RSS feed. Ebookee: Free Download eBooks Search Engine! Non-fiction. Read Easily - Read Online (Only) Library. Directory Of The Best 150 Book Sites.
Lend & Borrow eBooks | eBookFling.com. With 14-day lending now available on tens of thousands of Nook and Kindle books, eBookFling makes it possible for readers across America to borrow and share their ebooks.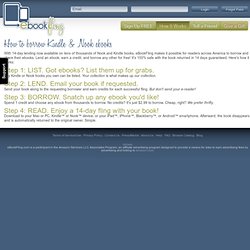 Lend an ebook, earn a credit, and borrow any other for free! It's 100% safe with the book returned in 14 days guaranteed. Here's how it works: Step 1: LIST. Got ebooks?
---