Paris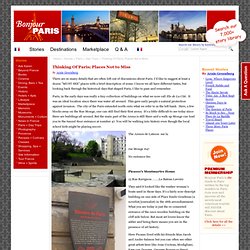 Thinking Of Paris; Places Not to Miss
By Arnie Greenberg There are so many details that are often left out of discussions about Paris. I'd like to suggest at least a dozen "MUST SEE" places with a brief description of some. I know we all have different tastes, but looking back through the historical days that shaped Paris, I like to pase and remember. Paris, in the early days was really a tiny collection of buildings on what we now call Ille de La Cité .
How about a pain aux cereales? Here's my list of Ten Great Things To Eat in Paris , things I think you shouldn't miss! 1. Dinner at Les Papilles This is one of my favorite restaurants, serving delicious well-presented food, at very reasonable prices.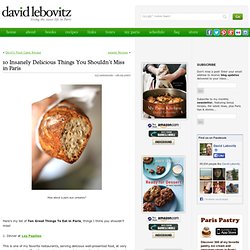 10 Insanely Delicious Things You Shouldn't Miss in Paris
Aug 28, 2012 5:00:33 AM Want to savour the French capital's best steaks, freshest baguettes, most welcoming bars and secret street markets? Discover the hidden gems of Paris' food scene with the help of the experts.
Not For Tourists Paris
Restos-Bars : Connaître sa Rive Gauche de sa Rive Droite
Par mikmak il y a 11 heures 1364734728 Chez Bruno Restaurant français | 75012 Contexte: On passait souvent devant ce resto et on a décidé de le tester un vendredi soir. Service: Agréable et disponible Ambiance/déco: J'aime... Lire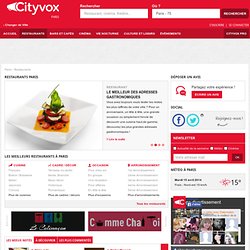 Restaurant A Paris - Le guide des bons restaurants parisiens