Jolicloud
Jolicloud Delivers The "Personal Cloud" - Tech Europe. A service that brings together all of your music, your photographs, all your social messages, just about everything that makes up your digital life, no matter where they are stored, was announced Thursday at the Dublin Web Summit.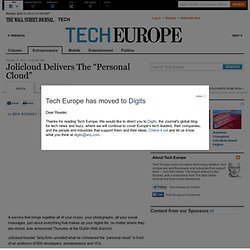 Jolicloud founder Tariq Krim unveiled what he christened the "personal cloud" in front of an audience of 600 developers, entrepreneurs and VCs. One of the problems for many of us is that our personal data is spread across many different services. You may have pictures stored on your local disc, on Flickr, on Facebook, on Picasa, on Instagram. Or you may have documents with Evernote, Dropbox and Google. But getting a single, unified, view of them all has been impossible.
Tariq Krim. Jolicloud 1.0 "the (free) iPhonesque OS for netbooks" goes live. It's been roughly a year since Jolicloud's alpha release and the company founded by Netvibes founder, Tariq Krim, has just launched Jolicloud 1.0 to the public.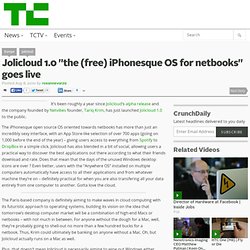 The iPhonesque open source OS oriented towards netbooks has more than just an incredibly sexy interface, with an App Store-like selection of over 700 apps (going on 1,000 before the end of the year) – giving users access to everything from Spotify to DropBox in a simple click. Jolicloud has also blended in a bit of social, allowing users a practical way to discover the best applications out there according to what their friends download and rate. Does that mean that the days of the unused Windows desktop icons are over ? Even better, users with the "Anywhere OS" installed on multiple computers automatically have access to all their applications and from whatever machine they're on – definitely practical for when you are also transfering all your data entirely from one computer to another. Gotta love the cloud. Web-Based Jolicloud OS Reaches 1.0. Jolicloud, makers of a cloud-based computer operating system that pre-dates Google's forthcoming "Chrome OS" by well over a year, has finally reached version 1.0.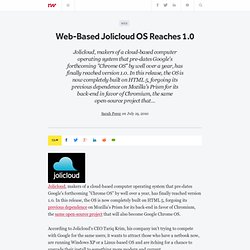 In this release, the OS is now completely built on HTML 5, forgoing its previous dependence on Mozilla's Prism for its back-end in favor of Chromium, the same open-source project that will also become Google Chrome OS. According to Jolicloud's CEO Tariq Krim, his company isn't trying to compete with Google for the same users; it wants to attract those who have a netbook now, are running Windows XP or a Linux-based OS and are itching for a chance to upgrade their install to something more modern and current. Transition from Desktop to Cloud One of the big benefits that Jolicloud has over the still-yet-to-launch Google Chrome OS is its ability to run both Web-based applications alongside traditional desktop apps such as Skype. In Google's OS, apps are Web-only.
Jolicloud Relaunches its Cloud OS, Now Built on Chrome. Jolicloud, one of the original standouts in the field of cloud-based operating systems, has just released their new Chrome-based web application platform as promised earlier this month.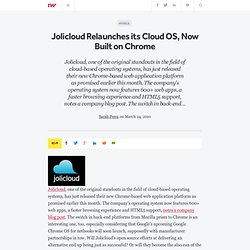 The company's operating system now features 600+ web apps, a faster browsing experience and HTML5 support, notes a company blog post. The switch in back-end platforms from Mozilla prism to Chrome is an interesting one, too, especially considering that Google's upcoming Google Chrome OS for netbooks will soon launch, supposedly with manufacturer partnerships in tow. Will Jolicloud's open source efforts at delivering an alternative end up being just as successful? Or will they become the also-ran of the forthcoming cloud computing landscape? Jolicloud has always been an intriguing company to watch.
Next10: Tariq Krim talks up new version of Jolicloud based on HT. During his presentation at next10 today in Berlin, Jolicloud founder and CEO Tariq Krim talked up the move to HTML5 (via Google's Chrome browser engine) and indicated that the company's netbook OS will open up to 3rd party developers within a couple of weeks.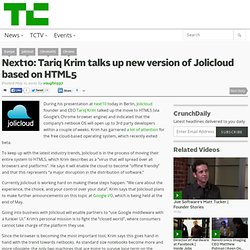 Krim has garnered a lot of attention for the free cloud-based operating system, which recently exited beta. To keep up with the latest industry trends, Jolicloud is in the process of moving their entire system to HTML5, which Krim describes as a "virus that will spread over all browsers and platforms". Sneak Peek at Jolicloud's Latest Update. Before Google ever breathed a word about Google Chrome OS - the company's forthcoming lightweight computer operating system that consists of nothing but a Web browser - there was Jolicloud.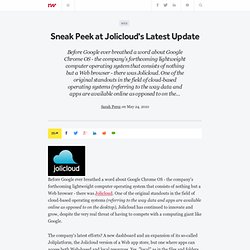 One of the original standouts in the field of cloud-based operating systems (referring to the way data and apps are available online as opposed to on the desktop), Jolicloud has continued to innovate and grow, despite the very real threat of having to compete with a computing giant like Google. The company's latest efforts? A new dashboard and an expansion of its so-called Joliplatform, the Jolicloud version of a Web app store, but one where apps can access both Web-based and local resources.
Yes, "local" as in the files and folders you had on your computer prior to upgrading to Jolicloud.
---