Framework
General Jackson Tutorial: the best place to start; covers basic processing approaches and covers common usage patterns.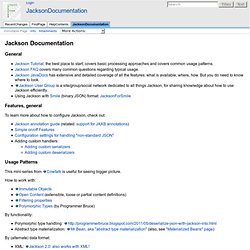 Jackson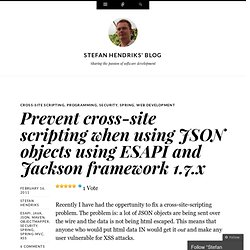 Prevent cross-site scripting when using JSON objects using ESAPI and Jackson framework 1.7.x « Stefan Hendriks' Blog
i 1 Vote
The WAR Plugin is responsible for collecting all artifact dependencies, classes and resources of the web application and packaging them into a web application archive. Usage General instructions on how to use the WAR Plugin can be found on the usage page.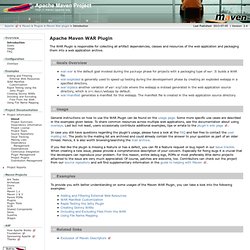 war plugin
XFire
Lazy Query Container
Google Chart Tools / Interactive Charts (aka Visualization API) for Vaadin Also requires gwt-visualization.. which can be found here http://code.google.com/p/gwt-google-apis/downloads/list Should be included in (Eclipse) WebContent...WEB-INF.. lib.. Includes: AnnotatedTimeLine AreaChart and AreaChartImage BarChart and BarChartImage ColumnChart Gauge GeoMap ImageChart IntensityMap LineChart and LineChartImage Map (Google Map) MotionChart OrganizationChart PieChart and PieChartImage ScatterChart SparklineImage Table NEW Image Chart allows you to create charts such as a Radar Chart, see demo for example
Google Visualization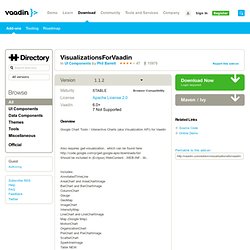 I have somehow ended up maintaining a few open source projects related to Vaadin, GWT and GIS.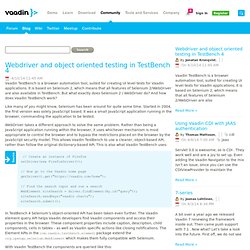 Team Blog
Team Blog
The sweet spot for Spring Web Flow are stateful web applications with controlled navigation such as checking in for a flight, applying for a loan, shopping cart checkout, or even adding a confirmation step to a form. What these scenarios have in common is one or more of the following traits: There is a clear start and an end point.The user must go through a set of screens in a specific order.The changes are not finalized until the last step.Once complete it shouldn't be possible to repeat a transaction accidentally Spring Web Flow provides a declarative flow definition language for authoring flows on a higher level of abstraction. It allows it to be integrated into a wide range of applications without any changes (to the flow programming model) including Spring MVC, JSF, and even Portlet web applications. The following are common issues observed in stateful web applications with navigation requirements:
Spring Web Flow
Spring Security
Whilst working on my Javascript, ExtJS 4 and Apache CXF skills I came across a solution to a problem I encountered getting ExtJS to talk to Apache CXF using JSON. The basis for this issue revolves around "wrapping" in JSON and two different schools on what is correct way to encode it.
Using Jackson with Apache CXF | wolfeidau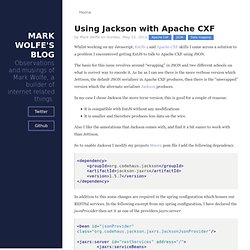 Pragmatic Web Services With Apache CXF
Apache CXF [1] is an open-source Java-based framework whose goal is to help users develop standard-based, interoperable and robust web services. The ultimate goal of writing web services is to ensure that a given web service implementation can be consumed by a variety of design- and run-time clients in an interoperable and effective manner. A lot has been written recently about how web services have to be designed.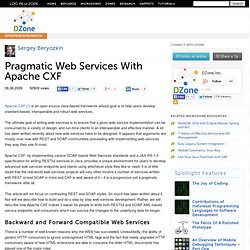 CXF : les intercepteurs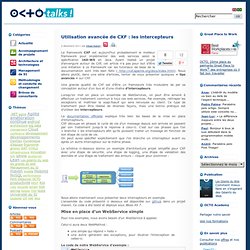 Le framework CXF est aujourd'hui probablement le meilleur framework pour implémenter des web services selon la spécification JAX-WS en Java.
La mise en œuvre d'une requête HTTP avec le framework d'intégration Java Open Source est assez simple. Le point sur la configuration des temporisations HTTP et des routes.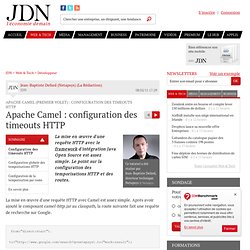 configuration des timeouts HTTP
EhCache