ICT Strategy
Get flash to fully experience Pearltrees
Subscribe to this blog About Author Tony Collins is an investigative and campaigning journalist and former Executive Editor at Computer Weekly. With his friend and colleague David Bicknell he wrote "Crash", which found common factors in the world's largest public and private sector IT-related failures. He wrote "Open Verdict", a book on the strange deaths of defence scientists.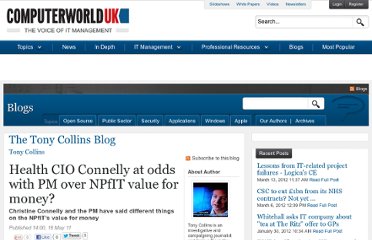 "UK Government Promises To Go Open – Again" In a post entitled UK Government Promises to Go Open – Yet Again Glyn Moody provides a rather cynical view based on his experiences of Government promises regarding ICT and openness: " after years of empty promises, the UK government assures us that this time is will really open up, embracing open source and openness in all its forms" . However there is also some optimism in the column:
The Strategic Implementation Plan on ICT planning and deployment provides a reference for central government and is designed to be read alongside the government's ICT Strategy.
Wednesday 30 March 2011 01:01 The government has launched its much-anticipated new IT strategy, with open source highlighted as a key part of its plans, and a promise that the coalition is "determined to do things better." "We want government ICT to be open. Open to the people and organisations that use our services.