Agrégateurs
Niche publishing Cover all the relevant news for your town or community, on an industry or event, or any topic you find fascinating. Content marketing Easily publish relevant, curated content daily to engage your community, build relationships and attract the right visitors to your brand. Web monitoring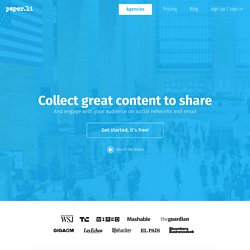 Add your favorite content From leading publications, to blogs you follow, you can browse, read, and share favorite content, presented in a swipable magazine format. Follow breaking news stories Google search technology identifies and delivers the hottest breaking stories in categories such as world, entertainment, sports, science, and more. Designed for all your devices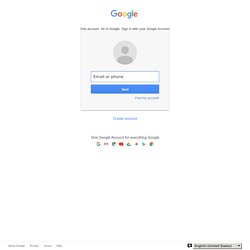 Lilina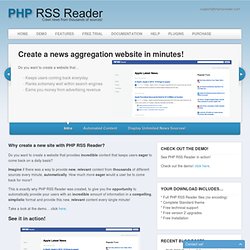 PHP RSS Reader
Do you want to create a website that provides incredible content that keeps users eager to come back on a daily basis? Imagine if there was a way to provide new, relevant content from thousands of different sources every minute, automatically. How much more eager would a user be to come back for more? This is exactly why PHP RSS Reader was created, to give you the opportunity to automatically provide your users with an incredible amount of information in a compelling, simplistic format and provide this new, relevant content every single minute!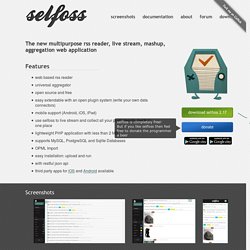 selfoss is not a hosted service. It has to be installed on your own webserver. This webserver must fulfill the following requirements (which are available from most providers) PHP 5.3 or higher MySQL, PostgreSQL or Sqlite Apache Webserver (ngnix and lighttpd also possible) Ensure that you have mod_rewrite and mod_headers enabled. selfoss supports all modern browsers, including Mozilla Firefox, Safari, Google Chrome, Opera and Internet Explorer. selfoss also supports mobile browsers on iPad, iPhone, Android and other devices.
The RSS_PHP commercial version (v3) is now more of an XML_PHP - you can use it to quickly interface with ANY XML document; Further, you can now also convert any Array to XML. RSS_PHP Introduction RSS_PHP is a RSS Parser and XML Parser for PHP 5+, utilising the DOM to parse any valid XML Document including RSS, with provisional support for ATOM feeds. Unlike many RSS Parsers, RSS_PHP also gives you full access to every part of the original RSS feed; including RSS attributes, RSS extensions, XML namespaces, XML stylesheets and node values.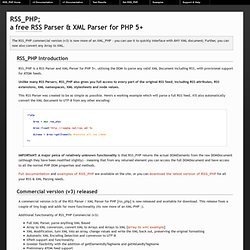 RSS PHP
MagpieRSS is compatible with RSS 0.9 through RSS 1.0. Also parses RSS 1.0's modules, RSS 2.0, and Atom. (with a few exceptions)