Tools & apps
Topicmarks - summarize your text documents in minutes. Is Your Website Ready For the Coming Tablet Explosion? If the vast majority of analysts and pundits are to be believed, 2011 will be the year of the tablet, and the popular adoption of the devices won't stop there.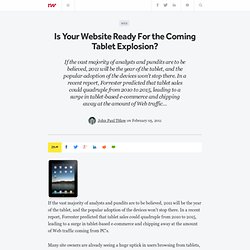 In a recent report, Forrester predicted that tablet sales could quadruple from 2010 to 2015, leading to a surge in tablet-based e-commerce and chipping away at the amount of Web traffic coming from PC's. Many site owners are already seeing a huge uptick in users browsing from tablets, and that upward trend will continue. Is your company's Website ready for these visitors? Test Your Site on a Tablet Using your own site on a tablet computer is the only way to get an accurate idea of what other users experience when they browse your site from such a device.
Free Web2.0 Tools for Really Cool Schools. NikPeachey's Channel. Share with Delivr. I'm taking a break from writing a post about QR-Codes to share a little HTML and offer my first impressions of Delivr – a new tool that has been making the rounds on Twitter this past week.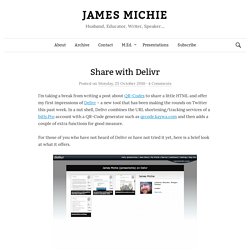 In a nut shell, Delivr combines the URL shortening/tracking services of a bitly.Pro account with a QR-Code generator such as qrcode.kaywa.com and then adds a couple of extra functions for good measure. For those of you who have not heard of Delivr or have not tried it yet, here is a brief look at what it offers. Signing up to Delivr gives you a variety of features including a profile page . However, unlike many other URL shorteners, rather than a simple text based list of the links you have shared, you get a series of thumbnails. I like this a lot as I am a big fan of the visual web. Firefox Add-ons by InBasic. Snagit, screen capture software, home page. Free Educational Software And Games.
Welcome | Flat World Knowledge. ClickView - for schools. SharedCopy. WikiDashboard. Glass. FLOW - Home. What if the distinction between business and doing good vanished?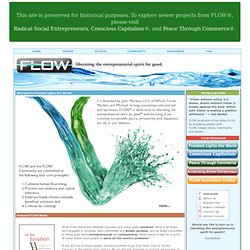 What if all those who engaged in business were committed to a deeper purpose, and all those committed to doing good were entrepreneurial and enterprising? What would it take for a world of seven billion such people to solve all the world's problems? App Inventor for Android. Remember Everything | Evernote Corporation. Explore our library of video tutorials, demos, tips and tricks, success stories, and more. | Evernote Corporation.
---