Food Stuff
Bake It in a Cake. 10 Japanese foods you can make at home worldwide. Even though Japanese cuisine has more or less infiltrated most of the major cities worldwide, domestic foodstuffs and condiments still remain mostly inaccessible and rare in most countries.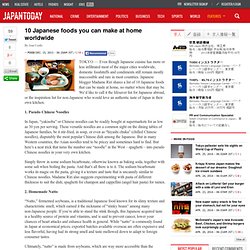 Japanese blogger Madame Riri shares a list of 10 Japanese foods that can be made at home, no matter where that may be. We'd like to call it the lifesaver list for Japanese abroad, or the inspiration list for non-Japanese who would love an authentic taste of Japan in their own kitchen. 1. Pseudo Chinese Noodles In Japan, "yakisoba" or Chinese noodles can be readily bought at supermarkets for as low as 30 yen per serving.
Pull Apart Bread Recipes (PHOTOS) Grilled Flatbread. Dissolve yeast in 3 cups warm water in a large bowl.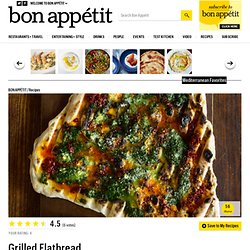 Add all-purpose and whole wheat flours; mix with your fingertips until a shaggy dough forms. Cover bowl with plastic wrap and let rest at room temperature for 20 minutes. Sprinkle salt over dough, then add sour cream; knead until well incorporated and dough pulls away from sides of bowl and holds together in a loose, wet ball, about 5 minutes (dough will be very soft and wet; lightly moisten your hands to prevent sticking if needed). Cover bowl with plastic wrap and let dough rise at room temperature for 30 minutes. Knead dough an additional 4–5 times to deflate. Irish Soda Bread. Hey y'all!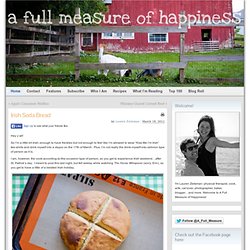 So I'm a little bit Irish–enough to have freckles but not enough to feel like I'm allowed to wear "Kiss Me I'm Irish" tee-shirts and drink myself into a stupor on the 17th of March. Plus, I'm not really the drink-myself-into-oblivion type of person as it is. Avocado strawberry + goat cheese sandwich. I am about to show you something that is way too much fun.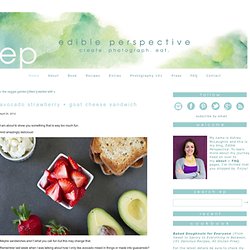 And amazingly delicious! Maybe sandwiches aren't what you call fun but this may change that. Soft Buttery Pretzels and Pretzel Bites. I love soft pretzels, but I hate having to go to the mall to get a good one.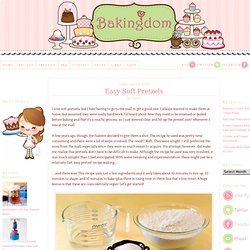 I always wanted to make them at home, but assumed they were really hard work. I'd heard about how they need to be steamed or boiled before baking and that it's a touchy process, so I just steered clear and hit up the pretzel joint whenever I was at the mall. A few years ago, though, the hubster decided to give them a shot. The recipe he used was pretty time consuming and there were a lot of steps involved. The result? Soft Breadsticks Recipe. Veggie Belly | Vegetarian & Vegan recipes food blog.
Veggie Lasagna. Pages This Blog Friday, February 24, 2012 Veggie Lasagna Oh my...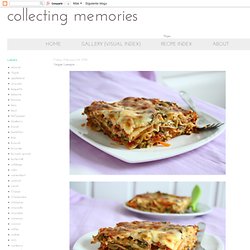 Getting The Protein You Need. Photo by Kelly Rossiter Hands down, the number one response I get from people when I mention that my children are both vegetarian is "but how do they get enough protein?
" Getting your daily requirement of protein is actually pretty easy. Supercook: recipe search by ingredients you have at home. The Asylum Pantry.
---