Food & Gardening
Grown in Detroit. Garden Resource Program Collaborative. Welcome to Detroit!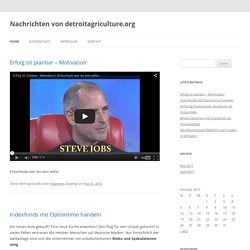 Urban gardens and farms play an important role in the City of Detroit. They provide thousands of pounds of fresh, nutritious produce for Detroit families and improve our communities by connecting neighbors, providing an attractive alternative to trash-strewn vacant lots, improving property values, and reducing crime. Detroit Eastern Market - Detroit Eastern Market. Detroit Black Community Food Security Network. Earthworks Urban Farm. As a society, we have become dangerously disconnected from the land and the sources of food that sustain life.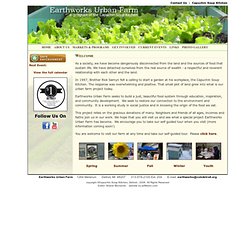 We have detached ourselves from the real source of wealth - a respectful and reverent relationship with each other and the land. In 1997, Brother Rick Samyn felt a calling to start a garden at his workplace, the Capuchin Soup Kitchen. The response was overwhelming and positive. That small plot of land grew into what is our urban farm project today. Food Gatherers. Gleaners Community Food Bank of Southeastern Michigan: Home. For more than 36 years, Gleaners Community Food Bank has been "feeding hungry people and nourishing our communities."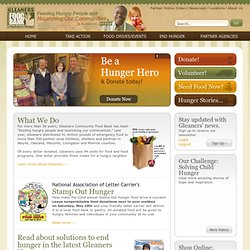 Last year, Gleaners distributed 41 million pounds of emergency food to more than 550 partner soup kitchens, shelters and pantries in Wayne, Oakland, Macomb, Livingston and Monroe counties. Of every dollar donated, Gleaners uses 94 cents for food and food programs. One dollar provides three meals for a hungry neighbor. Learn more about Gleaners →National Association of Letter Carrier's Help make the 22nd annual Stamp Out Hunger food drive a success!
---