Général
Mais qui sont les wikipédiens ? Résultats d'étude
Au tout début de l'année 2011, le laboratoire M@rsouin de TELECOM Bretagne a mené une grande étude sur les utilisateurs (lecteurs et contributeurs) de Wikipédia. Cette enquête a été réalisée dans le cadre du projet ANR CCCP-Prosodie ( cccp-prosodie.org ) et en partenariat avec Wikimédia France , qui a notamment participé à l'élaboration des questionnaires, afin que cette enquête puisse poser aux lecteurs et contributeurs des questions adaptées à leur expérience d'utilisation de Wikipédia. Cette enquête est encore en cours d'analyse et de traitement par l'équipe de TELECOM Bretagne, mais Nicolas Jullien , qui a coordonné le projet en partenariat avec Wikimédia France, a souhaité nous livrer quelques premiers résultats, qui pourront déjà permettre de découvrir, bousculer ou conforter quelques idées qu'on pouvait avoir sur les usages de Wikipédia et la population de ces usagers.
Jimmy Wales and Andrew Keen Debate Web 2.0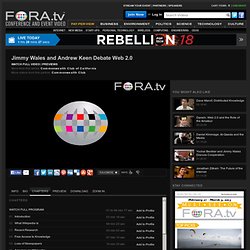 Bio David Ewing Duncan
Vidéo qui parle de la hiérarchie de savoir by garcipe Nov 3
Le phénomène Wikipédia : une utopie en marche
Y a-t-il un bon usage de Wikipédia ? Entretien
Why I'm Talking About This For this week's post, I discuss Wikipedia for two reasons; it is related to the broader topic of this blog and it is a big topic within academia. 1. I am very interested in how the growth of the Internet and media convergence is changing the way we learn about the world. Wikipedia is one of the most visited websites in the world today , and as a result it is safe to assume a lot of people get their information about the rest of the world from the site.
Idée pour Vidéo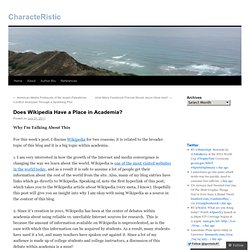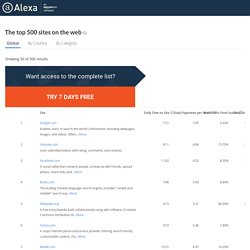 The top 500 sites on the web. The sites in the top sites lists are ordered by their 1 month alexa traffic rank. The 1 month rank is calculated using a combination of average daily visitors and pageviews over the past month. The site with the highest combination of visitors and pageviews is ranked #1. 1 Google google.com Enables users to search the world's information, including webpages, images, and videos.